Apple iPad Pro 10.5 Review: Apple's finest, but still not a true laptop replacement
Quick Verdict:
Apple's 10.5 inch Apple iPad Pro is the best tablet the company has ever made, but it still falls a little short of being the laptop replacement Apple seems to think it is.
Strengths
Great battery life

Improved app performance
Superb display
Apple still has superior tablet apps
Could be better
Expensive
Can't expand storage
Still not a true laptop replacement
---
The 10.5 inch iPad Pro is the best iPad Apple's ever produced, but its argument that it can fully replace your laptop still falls short in most cases.
Apple seriously signalled its intent in the tablet space earlier in the year with the release of the 2017 model iPad. That's the model within the family that used to encompass the iPad Air 2, now simply called iPad.
It was a fine tablet for its purposes and one of the cheapest ways to get into the iOS ecosystem by a fair margin from the iPad Pro family. That move put pressure on the iPad Pro 9.7 inch and iPad Pro 12.9 inch, however, because they retained their price points.
Similarly, the recently released iPad Pro 10.5 is a premium priced tablet that can cost you up to $1629 depending on configuration. That's a lot of money to drop on a tablet no matter how you look at it.
Design
There's certainly no particularly radical reinvention in play when it comes to the iPad Pro 10.5 inch's visual design.
The most obvious point of difference lies in the smaller bezels around the core display, allowing for a 10.5 inch screen on a unit that only measures in at 250.6x174.1x6.1mm with a carrying weight of either 469 or 477 grams, depending on whether you opt for the Wi-Fi or LTE-enabled model.
By way of comparison, the 9.7 inch iPad Pro that it replaces measures in at 240 x 169.5 x 6.1 mm with weights of 437/444 grams. You're getting quite a bit more screen real estate for only a small bump in overall size, in other words. If you really want to supersize your iPad experience, Apple has also upgraded the 12.9 inch iPad Pro with the same processing internals as the 10.5 inch model, although I haven't had the opportunity to test that model.
Still, I've long held that the smaller Pro model was the better overall bet, as a 12.9 inch tablet is, by any definition, huge.
Pop the iPad Pro 10.5 inch next to this years much cheaper iPad. and the key differentiator you'd spot straight away is that the Pro line gets to keep the fixed flush glass display where the lower cost variant has a noticeable and somewhat reflective air gap. The display on the iPad Pro 10.5 inch runs to 2224x1668 pixels at 264ppi, and like the previous generation, features a very wide colour display.
The overall effect, even if you do pop the optional smart keyboard onto the iPad Pro is that you're carrying around an ultralight laptop or tablet.
I've been dropping it into my daily bag for a couple of weeks, and I often have to check that it's still there, because its overall impact in my bag is so light. Other than the display, everything in the iPad Pro 10.5 inch screams "standard iPad design", from the lightning port on the base to the volume buttons on the right and power button and headphone socket at the top.
Opt for the LTE version and you also get a tiny nano SIM tray on the left hand side, but just as it's always done, Apple doesn't supply an easy way to expand your storage with microSD cards. If you want more storage in the Apple world, either pony up for more iCloud storage, or buy a larger capacity iPad Pro in the first place.
Performance
Apple's strong pitch for the iPad Pro line is that they're devices that you could very much use as your daily laptop, with the benefits of iOS' significantly more secure app model keeping most malware and viruses at bay.
With that in mind, it's saved its best and brightest processor to date, the Apple A10X Fusion for the iPad Pro 10.5. Apple has huge advantages in both the tablet and smartphone space in the way that it controls the entire process of building both hardware and developing software to run on it, because it can optimise to a razor-thin edge.
The iPad Pro 9.7 was no slouch, but the iPad Pro 10.5 is markedly faster and smoother across multiple applications, and even when multi-tasking in the way that iOS 10 currently handles it. iOS also has a significant lead in terms of apps written with tablets in mind over its Android and even Windows 10 competition.
In the latter case while many Android apps do support tablet viewing modes, it's often a guessing game as to how they'll work due to the wide variety of devices and screen sizes. For the latter Windows 10 case, far too many apps still rely on touch as a backup to mouse input, making selection a chore rather than a joy.
The display screen on the iPad Pro 10.5 isn't just large and high resolution, either. Apple's display on the 10.5 inch iPad uses a 120Mhz refresh rate for content that requires it, and the overall effect is stunning in real world use.
If you're a fan of the Apple Pencil (I'm not, to be clear) you'll also find it more responsive thanks to that improved refresh rate. The Pencil is still an added cost extra, though, so if you're not a fan, you're not lumbered with it.
The ever so slightly larger size of the iPad Pro 10.5 inch also means that it gets a new Smart Keyboard with wider key sizes. It's also a noticeable improvement over the 9.7 inch model, although it does lack some features found on other Bluetooth iPad keyboards, such as volume control or a dedicated home button.
The higher power processor on the iPad Pro 10.5 and its increased display haven't been reflected in any added thickness in the device. That's fine for carrying purposes, but it does also limit the amount of space Apple had to play with in order to maximise battery life.
Apple drops a 30.4‐watt‐hour lithium‑polymer battery into the iPad Pro 10.5 with a claimed battery life of "up to" 10 hours of usage. Any figures that start with "up to" automatically get the hairs on the back of my neck standing up, because they're often best case scenarios, not real world ones.
Still, Apple seems to have hit a happy medium point with the iPad Pro 10.5's battery performance. You can run heavy duty apps at it and run it down faster, but that 10 hour battery figure, and maybe more is quite achievable.
Geekbench 3's battery test isn't specifically geared for tablet usage, but I ran it anyway to get a feel for where the iPad Pro 10.5's battery life might compare to its 9.7 and 12.9 inch siblings, as well as this year's iPad:
| Geekbench 3 | Geekbench 3 Battery life | Geekbench 3 Battery score |
| --- | --- | --- |
| Apple iPad Pro 10.5 | 16:14:40 | 8746 |
| Apple iPad Pro 12.9 (2015) | 16:45:40 | N/A |
| Apple iPad Pro 9.7 (2016) | 11:42 | 7020 |
| Apple iPad (2017) | 12:41:20 | 7613 |
That's the older original iPad Pro 12.9 model in those figures; it failed to complete Geekbench 3's entire test when we ran it, hence the lack of a battery score figure. Still, the verdict is very favourable towards the 10.5 inch iPad Pro, because it hits within shooting distance of the larger tablet's battery life. It's feasible that the newer 12.9 inch model, with its larger battery could do even better.
There's a huge and important caveat here, however. When Apple announced the iPad Pro 10.5, it used the upcoming iOS 11 to show it off with. iOS 11 will feature enhanced multi-tasking and Apple's new "Files" app to give the iPad Pro more of a traditional computer feel.
Buying an iPad Pro 10.5 now means you're living within the way that iOS 10 handles such apps, and that's a markedly more limited experience than you'd get from, say, a Windows 10 tablet or even a MacBook or MacBook Pro.
Were the iPad Pro a fraction of the asking price of such devices it wouldn't be so much of an issue. The reality here is that Apple's particular pitch and price point for the iPad Pro means that if productivity is your core concern, you're probably going to hit a brick wall at some point.
That doesn't mean that the iPad Pro can't be productive, but within the confines of iOS it's still best suited for those whose computing needs are modest. If that describes you, in some ways the iPad Pro is overkill.
I've tried using the iPad Pro for typing out a few articles during the test period, and it's perfectly fine at that, with the current multi-tasking environment improving all the time. The reality here, though is that I could write with just about any iPad and a decent keyboard, and I'm still going to hit the same walls of multiple-app multi-tasking and file management that I do now.
Apple's new Files app looks to go some of the way towards fixing that latter problem, but even there apps will have to talk to Files in order to appear there. If they don't, it'll be a very limited solution.
Verdict
The Apple iPad Pro 10.5 is an absolutely superb tablet, and easily the best tablet on the market right now.
Then again, it doesn't have much direct tablet competition, with most of the major Android players having abandoned that particular space. If you live and breathe iPad and can afford the asking price anyway, it's an easy recommendation.
However, Apple's shipped it well before iOS 11 hits, and that promises to significantly up the iPad Pro 10.5's multi-tasking and file management game. Those are both critical planks of most people's productivity approaches, and as such even if you are keen, it might be wise to hold off until iOS 11 is the standard. Apple will undoubtedly be charging the same price for the iPad Pro 10.5 when iOS 11 launches, most likely in the September/October time frame.
Then there's the issue of the iPad Pro being your ideal productivity device in the first place. That has to be placed against the price point Apple sells the iPad Pro for, because it's on the high side, especially if you opt for the 256GB or 512GB models.
Apple supplied me with the 512GB $1629 model for review, and it's a lovely bit of tech, but the same asking price is within striking distance of the cost of an entry level MacBook Pro or MacBook if I wanted to keep it within the Apple family.
If you want work out of me, and you gave me the choice between the constrained world of iOS or the more open world of a MacBook or MacBook Pro, I'm not going to jump towards the iPad Pro.
Yes, before anyone points it out, $1629 could buy a pretty serious Windows 10 touchscreen enabled tablet or 2-in-1, and maybe even that entry level iPad with the change left over.
That makes the iPad Pro 10.5 the equivalent of a supercar. It's lovely to look at, it's very fast indeed, but it's absolutely overkill in terms of price for the way that most folks will use it. If you're in the supercar tax bracket it's an easy buy, but for the rest of us, it's not an essential item.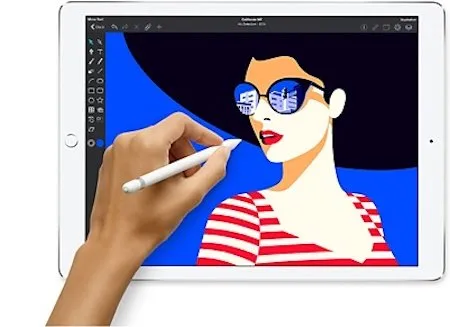 Purchase the Apple iPad Pro
from Apple Store
The Apple iPad Pro 10.5 and 12.9-inch are now available for purchase from Apple's online store.
View details
Apple iPad Pro 10.5 Specifications
Display

10.5 inches
Resolution

2224x1668
Pixels per inch

264ppi
Weight

469/477g (Wi-Fi/LTE)
Rear Camera

12MP
Front camera

7MP
Processor

Apple A10X Fusion
Storage

64/256/512GB
Battery

30.4 watt-hour; up to 10 hour battery life
Software

iOS 10
Pricing

$979-$1629
Latest Technology Reviews