Apple's HomePod offers superlative sound for its price, but it struggles to really be a "smart" speaker.
Apple is often a latecomer to markets that it ends up dominating, as any phone manufacturer could readily tell you. Its latest effort, the Apple HomePod meshes Apple's existing commitment to music with the world of smart speakers, but the results are very mixed.
Design
Most smart speakers to date have focused on low cost and, as a result, rather simple styles that don't particularly differentiate from the existing normal designs you might find on Bluetooth speakers.
Apple's HomePod design team clearly had different ideas because the HomePod is instead more squarely aimed at the high-end audiophile market in terms of its design. For a start, it's much larger and quite a bit heavier than existing smart speakers, measuring in at 172x142mm with a carrying weight of 2.5kg. To give that some perspective, that's almost the same weight as 2.5 Amazon Echo Plus speakers or 5 Google Home speakers.
However, weight in a speaker isn't necessarily a bad thing as it gives the HomePod some robustness for heavier music without distortion. More on that later.
The whole point with smart speakers is that they're essentially hands-off affairs and the HomePod is really no different, with the only controls comprising a touch panel at the top that allows for volume control and to quickly summon Siri. This is also where it'll light up when it hears its command tone or when pressed. Rather predictably, if you do end up using the glossy touch control panel frequently, it can quickly become a home for fingerprint smudges.
The actual construction of the HomePod is typical Apple, which is to say that it's more attractive than most of your other smart speaker choices, while still being plain enough that you can tuck it into a corner without it disrupting your home decor. The speaker itself is wrapped in a fine mesh in either black or white fabric. I do wonder how long-lasting the white version might be in the average home, so the black, sorry Apple, Space Grey (grr) might be the smarter long-term solution.
One minor long-term design catch with the HomePod is that the fabric-wrapped power cable is sealed into the speaker itself, which could be problematic if it frays or breaks.
Installation
Apple has a good handle on how to remove friction points when setting up technology, and as long as you're already in the Apple ecosystem, this is entirely true. It's even easy to take out of the packaging.
You can't in fact set up a HomePod without an iPad or iPhone nearby running Apple's Home App. However, as long as you can jump that barrier, the setup is very smartly guided. I set up the HomePod using an iPhone 8 Plus already signed into my Apple ID, and as soon as I powered up the HomePod, the iPhone reacted to it, noting that it needed an iOS update to properly talk to it.
That hurdle jumped, it then used audio tones to pair to your iPhone and to slurp up your Apple ID (including wireless network info and Siri preferences) before setting itself up. The entire process only took a couple of minutes before the swirling Siri indicator was up and waiting for a voice command.
However, that's not quite the whole installation story in terms of audio processing. One very smart trick that the HomePod has up its non-existent sleeves is in using an array of tweeters around the entire speaker body to acoustically measure and modify its equalisation based on where it finds itself located. An onboard accelerometer notes when it's been moved, so this happens every time you shift it around your home for the ideal audio representation wherever you place it.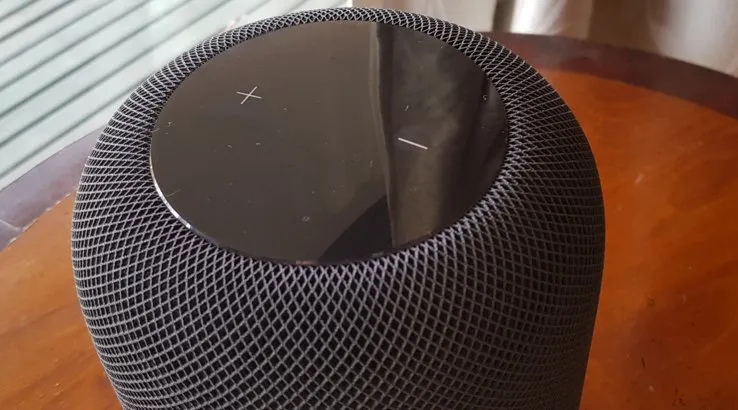 Performance
Apple's strong focus on pitching the HomePod has been on its musical chops, and it's very clear that it has spent significant time and engineering money in building out its internal speakers to give the best possible audio at a given price point. That's not a step that too many smart speaker manufacturers bother with.
This puts the HomePod into slightly different territory to most of Google's or Amazon's smart speakers because the HomePod is intended to appeal to more of an audiophile crowd than just folks who want a weather update or control of their home lights from their speakers.
It's hard to fault the HomePod on audio grounds for what is a single standalone speaker under $500. There's plenty of hype around the audio quality of the HomePod, and I won't say that it absolutely lives up to that hype.
It does come pretty close though because the only way I could get less than good sound out of it was by deliberately placing it on a soft surface, at which point its audio representations dropped due to the soft material it was surrounded by. Or in other words, the HomePod is not built to be used while it relaxes on your sofa.
General audio representation is very good, even at the highest possible volumes. Thankfully, my neighbours are relatively deaf because the HomePod can get quite loud, but even when pushed distortion isn't a particular issue.
The crisp guitar work at the start of Let's Go Crazy came through nicely in my own tests as did the more muddied strumming on Dirty Deeds Done Dirt Cheap. You can taste the regret in the vocals on Joe Cocker's version of Five Women.... and, well, I could go on, but your musical tastes probably vary widely from my own. No matter because Apple gets music and has invested heavily in audio quality for the HomePod, and it shows.
Your experience of its audio quality will naturally depend on what your usual listening profile is. For anyone coming from a high-quality stereo or surround sound system for music listening, you'll probably appreciate how good the HomePod sounds, but it won't seem revolutionary. If all you've ever used are cheap Bluetooth speakers, it'll sound amazing.
However, it is slightly jarring that Apple spent that much time on good music reproduction only to use the same robotic Siri voice (male or female) as with other products. Ten out of ten for consistency, Apple, but quite why Siri needs to tell me the precise details of the very music I've requested every single time I request it in a flat monotone escapes me.
Your actual listening environment will also change the experience, even with the HomePod's self-balancing act in play. In smaller rooms, its ability to surround you with sound is far more impressive and immersive than in larger rooms, especially since you can't actually pair HomePods yet for proper stereo sound. There's also no support as yet for multi-room audio, although Apple claims that both of these features will come later this year.
The actual pickup microphones for Siri on the HomePod are also noteworthy, simply because they're very good. Even with loud music playing, a quick "Hey Siri" is all you need to make changes or request new tracks in your playlist. It is possible to dwarf it in certain circumstances, as I discovered when using it as a kitchen speaker while filling a sink with water, but compared to the Echo or Home, the HomePod's actual pickup is exceptional.
If all you wanted was a good Apple-branded music speaker for playing Apple Music content, you could stop reading this review right now and go buy one.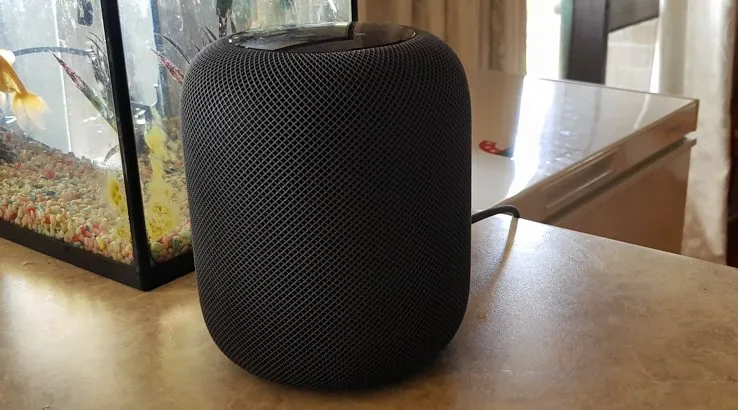 Here's the problem, though. The HomePod isn't just meant to be a standalone speaker, but also a smart speaker, and here it's competing with the much cheaper Google Home and Amazon Echo families, and generally competing quite poorly. Siri's not exactly a new voice assistant, but you could be mistaken for thinking that based on its HomePod integration.
For a start, Siri only "talks" to Apple Music and not competitors such as Spotify, Google Play Music, TuneIn Radio or Tidal. You can share out content to HomePod from those services over Bluetooth, but if you want to specifically search by voice for an artist or song, you've got to have an Apple Music subscription to do it with. It's Apple's way, or not at all, and while that's a very Apple kind of play, it's not exactly admirable.
Siri also isn't fussy about who she talks to, with no support for individual voice recognition or profiles of any type at launch. Yes, your iPhone X can lock Siri to just your voice, but the HomePod explicitly won't do this at all in any way, whether it's for selecting music or for sending or reading incoming iMessages.
This also means that as long as your iPhone is on the same local Wi-Fi network, anyone can ask HomePod to read out your iMessages, and it'll happily do so.
Likewise, while it builds a profile of your listening preferences to deliver you more accurate results, it only does so for one Apple ID. You can opt to switch off listening history in the Home app, but if you forget (which you inevitably will) and someone else makes a bunch of selections that you'd never want to listen to, you're plumb out of luck and your listening preferences and recommendations will be way out of whack.
HomePod also acts as a HomeKit hub if you've already installed other Apple-compliant smart home automation gadgets, which is broadly in line with the same approaches taken by Google's Home or Amazon's Echo speakers. It's only when you want to stretch the smart speaker definition further that the cracks really show in the HomePod's "smart" status.
Put simply, Siri as currently present in HomePod is remarkably dumb, with many queries returning no answer at all or very limited information.
Only selected general queries will get a response, and even then within limited parameters. If you want the news, you'd better want it from the ABC, Seven or Sky because they're your only choices for spoken news.
Ask Siri questions you actually could ask an iPhone, and you'll often be told that the HomePod version can't handle that query or at least not yet. HomePod can set a timer for you, but only the one timer. Why? Only Apple knows why because HomePod certainly won't tell me why!
It's rather baffling, really, because Apple's equipped the HomePod with the same A8 processor as found on the iPhone 6, and it doesn't have the same host of phone, display or app tasks to manage with all that raw processing power.
The use of the A8 does give HomePod a lot of scope for improvement in the future, and hopefully, Apple has big plans in that direction. Right now, though, Apple's HomePod sits rather firmly at the bottom of the smart speaker class and must try harder.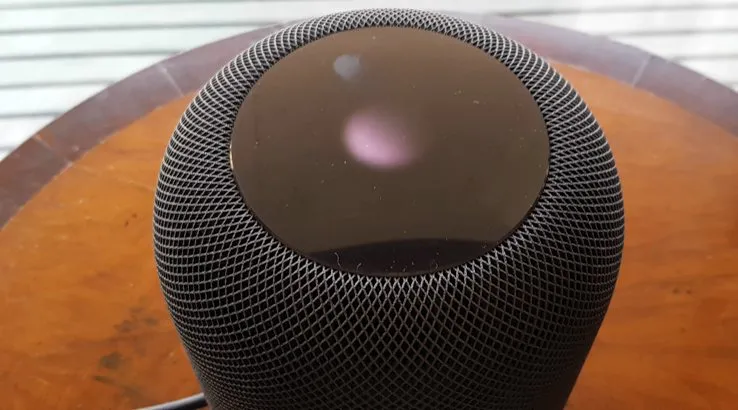 Verdict
Whether the HomePod is right for you very much depends on what you want from a smart speaker. If you're happily ensconced within the Apple ecosystem with an Apple Music subscription and you're looking for a high quality single speaker solution, it's an easy recommendation. Apple rarely makes its products hard to use, and the HomePod is no exception.
That being said, once you get past the music playback, there's an awful lot of what the HomePod does that ultimately isn't that smart. It lags badly behind in smart integration compared to Google Home or Amazon Echo at a much higher price.
HomePod only talks music to Apple Music, so if you're already in, say, the Spotify listening world, you'd be stuck just sending tracks to it from your phone, at which point you may as well just buy a standard Bluetooth speaker and leave the smart control to your existing smartphone.
The Apple HomePod has a lot of potential, and clearly Apple has plans to expand it via software alone, with the AirPlay 2 update set to get it talking properly to Apple TV as well as providing stereo and multi-room options as long as you're happy to buy multiple HomePods. However, that's all for the future, and right now, the HomePod doesn't quite do enough to justify itself to a broader audience. For the Apple faithful, it's a much better music speaker than the Home or the Echo families, but for the everyday consumer, it's not smart enough or flexible enough to have genuine appeal.
Testing out the HomePod reminded me that while Apple does a lot of iteration and testing on products, its version one products are rarely all that great. The iPhone might be the bestselling individual model in the world now, but that first generation iPhone was 2G only and had no app support whatsoever. You wouldn't even consider it a "smart" phone these days.
The first iPad was derided as a "big iPod Touch", and compared to an iPad Pro or even a 2017 iPad, it's horribly clunky and heavy. The first MacBook Air may have been an engineering marvel, but it cost way too much to be worthwhile.
That's where the Apple HomePod is right now because while it has its moments of brilliance, and a lot of promise, right now, it's still too early to generally recommend. Even if you're keen, there's little reason not to hold off and wait for updates to actually make the Apple HomePod smart.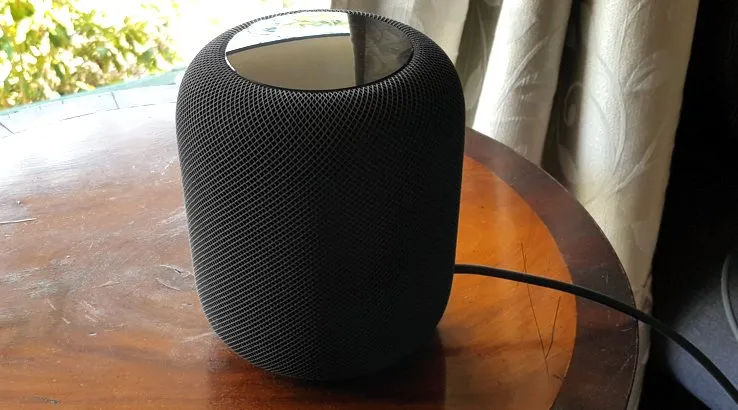 Alternatives
Again, your choice of alternatives depends on what you're after. In the streaming-music high-quality space, one of Sonos's systems would be the obvious alternative to a HomePod, although until Sonos gets its Google Assistant/Alexa integration into place, those aren't entirely "smart" speakers.
In the actual smart speaker space, you could consider the Google Home speaker, which has a much wider array of voice capabilities, albeit with much weaker music audio. Google does have a high-end offering in the Google Home Max, but that unit isn't currently available in Australia, so the best you'd get locally in audio terms would be the Google Home.
In the Echo family, the Amazon Echo Plus sits at the top of the family tree, although as we found in our Echo Plus review, it's not quite smart enough to justify its purchase price. What you could do with the Amazon Echo or Amazon Echo Dot, however, is pair them up to a set of good quality speakers via their 3.5mm output jacks for an effective HomePod competitor.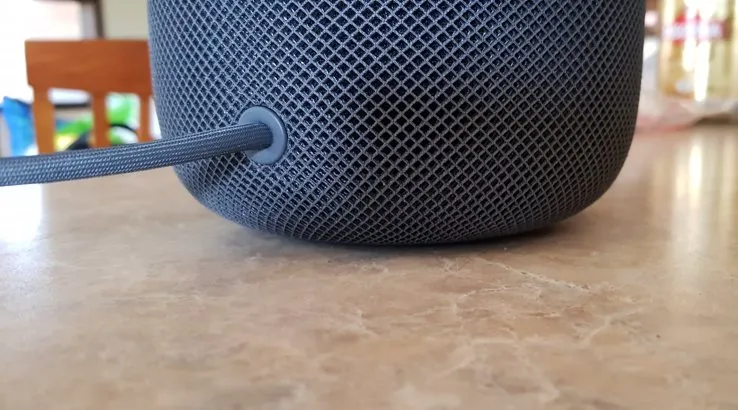 Apple HomePod: What the other reviewers say
| Site | Comment | Score |
| --- | --- | --- |
| AFR | "We've only had Apple's new HomePod in the Labs for three days, but already we want to take to it with a screwdriver, pull Siri out and tell her to SHUT UP AND JUST PLAY THE DAMNED MUSIC." | N/A |
| Forbes | "Big league sound, minor league smarts" | N/A |
| TechRadar | "Superb sound, so-so smart speaker" | 3.5/5 |
| What HiFi | "The best-sounding, most music-oriented smart speaker currently available." | 5/5 |
| 9to5 Mac | "For all that the HomePod does right in the area of sound quality, it's noticeably lacking in areas that competing smart speakers have mastered by now." | N/A |
| Gizmodo | "A great piece of hardware, hampered by some seriously restrictive software." | N/A |
| CNET | "Great sound, but it's trapped in Apple's world." | 4/5 |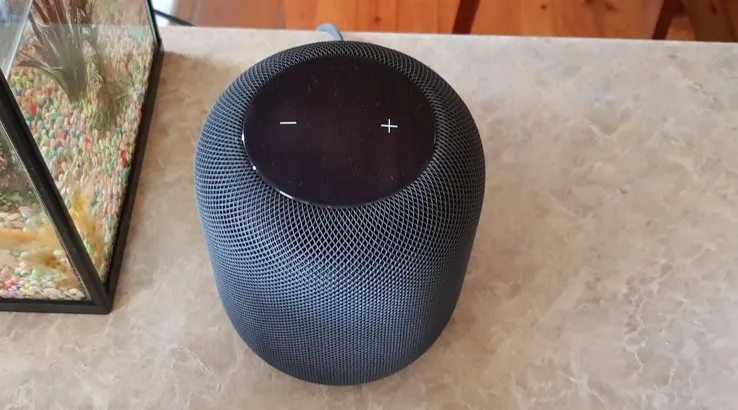 Pricing and availability
The Apple HomePod sells in Australia for $499 outright, available through Apple, The Good Guys, Telstra, Harvey Norman, JB Hi-Fi and Myer.
Back to top
Apple HomePod at a glance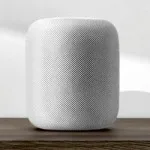 What is the Apple HomePod? Apple's first Smart speaker brings the power of Siri to a powerful, high-end speaker for your home.
When does the Apple HomePod come out? You can purchase the Apple HomePod now, with the speaker having launched in Australia on 9 February 2018.
How much does the Apple HomePod cost? Official RRP for the Apple HomePod is $499.
What is HomePod?
HomePod is a voice-controlled smart speaker developed by Apple, the company behind the phenomenally-popular iPod, iPhone, and iPad. Similar to other smart speakers like Amazon Echo and Google Home, HomePod is designed to serve as a hands-free interface for a wide variety of services including smart home automation, news aggregation, and of course, playing music.
Powered by Siri, Apple's virtual personal assistant, HomePod listens for voice commands and processes them with the aid of the internet. It can source information and send orders to other services and smart devices without requiring any physical interaction from the user.
Audio plays a big role in Apple's pitch for HomePod. The smart speaker can detect where it has been placed in a room and adjust its omni-directional audio output accordingly, directing music away from nearby walls to minimise echo and maximise clarity. Apple promises that this technology is capable of delivering superior acoustics when compared to ordinary speakers.
HomePod is also built to work in concert with other AirPlay 2 compatible devices, including other HomePod speakers. When it detects a supported device in the same room, it will balance its audio levels to complement rather than compete with the second device. Similarly, when multiple HomePod speakers are distributed amongst different rooms, they're able to communicate using AirPlay 2 to play music throughout an entire house.
What can HomePod do?
Thanks to its integration with Siri, HomePod is capable of an extensive range of information, communication, and automation services. These include reporting the current news, providing weather and traffic information, answering fact-based questions, and managing your personal calendar.
HomePod can also serve as the command centre for your smart home. Any HomeKit-compatible smart device can be controlled through HomePod: these include Philips Hue smart lights, ecobee thermostats, De'Longhi Multi Dynamic Heaters, and many other popular products.
For music lovers, HomePod integrates with Apple Music, Apple's subscription-based audio streaming service. Through Siri, you can browse Apple Music's library of over 40 million songs, and based on what you tell Siri you like and don't like, Apple Music will build a profile of your music tastes. You can then let Apple Music pick out songs for you, playing them through HomePod without you having to issue a single command.
Should you wish to control HomePod without using your voice, the speaker also features a touch surface on its top side. A quick tap will pause and resume your music, and you can adjust the volume with a simple gesture.
When will HomePod be available in Australia?
HomePod released in Australia in on 9 February 2018, with pre-orders through Apple commencing on 27 January 2018. In terms of retailers, it is available through Apple, The Good Guys, Harvey Norman, JB Hi-Fi, Myer and Telstra.
How much will HomePod cost?
The Apple HomePod retails for $499 in Australia.
Back to top
| | |
| --- | --- |
| Name | Apple HomePod |
| Assistant | Siri |
| Wireless Network | 802.11a/b/g/n/ac (2.4GHz/5GHz) |
| Weight (grams) | 2,500 |
| Height (mm) | 172 |
| Width (mm) | 142 |
| Depth (mm) | 142 |
| Speaker Information | 4" woofer + 7 tweeters |
| Bluetooth | Yes |
| Min. Frequency Response (Hz) | |
| Max. Frequency Response (Hz) | |
| Audio Out | No |
| Water Rating | N/A |
| Review Score | 3.5 |
Pros
Amazing sound quality
Very simple to set up
Attractive design
Great microphone pickup
Cons
Siri isn't as smart as it should be
No stereo or multi-room audio at launch
No personal profiles or easy privacy for your iMessages
No native support for anything but Apple Music
Back to top