AO Tennis review: Starts serviceable, but there are faults [UPDATED]
AO Tennis isn't serving aces but it's a solid chop that breaks the tennis video game drought.
We're reader-supported and may be paid when you visit links to partner sites. We don't compare all products in the market, but we're working on it!
UPDATE 31/1/2018: After spending some more time with AO Tennis post-launch, we've experienced some bad netcode and some pre-launch promises of an expanded roster haven't been filled. We've updated our review and score to match our experience now the game is out in the wild.
It's been ages since I've smashed through a good tennis game. Sega's Virtua Tennis series ran out of breath in 2011 with its fourth iteration, and 2K Sports tossed in the racquet during the same year, though it did inspire the development of a spiritual successor titled Tennis World Tour (due out in 2018). And these are the competitors AO Tennis must now face down – legendary ghosts of the past and a future wildcard brimming with potential.
Crafted by Melbourne-based Big Ant Studios, AO Tennis serves up quite a decent experience despite its modest budget and this being the developer's first time out on the court. (International readers should know that Big Ant is quite well-known in Australia for its cricket, rugby and AFL titles – sports is what they do best.) AO Tennis is a damn good first serve, but fans of the aforementioned genre legends will find that this offering has some faults in a number of areas.
From the main menu, you're lobbed the following: Australian Open (grand slam your way through seven rounds), Casual (singles, doubles or mixed doubles), Career (multiple tournaments set across a number of years), Online and Tennis Academy (a par-for-the-course character/uniform/logo editor). Personally, I went through the entirety of the Australian Open mode in a few hours, just to get a feel for the mechanics. Then, after winning, but receiving no celebratory cutscene (not even a splash menu that said "You Are The Winner"), I somewhat dejectedly shuffled off and got stuck into Career mode then some online tests with a mate.
---
---
What's it like out there on the hard court? Fun, but not worth a boisterous Lleyton Hewitt c'mon salute. Big Ant pitches AO Tennis as a serious simulation of the sport, where the timing of shots, court positioning, movement and real-world tennis strategies are all critical for success. That's definitely the case; this had me pulling out some of my old Top Spin 4 strategies, though I do feel both AO Tennis and Top Spin fall short of the control nuances and career depth of Tennis Elbow 2013 (a criminally-overlooked ugly duckling available on Steam).
If you've never played a tennis sim before, the concepts here are pretty simple. You'll need to mix up the variety of shot types on your face buttons (lob, topspin, flat and slice) to set your own rhythm on the court and cross up your opponent. Working the angles is made easy with a handy white "delivery dot" that appears across the net; it sure does help when you're using shoulder button modifiers to sneakily make a drop shot, rush the net or do an inside out. Timing a shot is a cinch too thanks to a coloured bar that appears overhead. Obviously, early releases fall short of your intended destination, and over-long presses cause you to put too much pepper on the shot.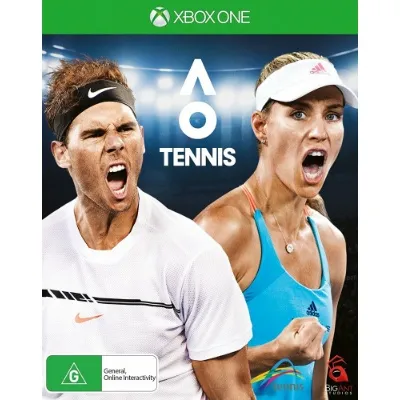 Buy AO Tennis
from Amazon
Take to the court in the first big tennis game of the current console generation.
View details
Amusingly, if you do smack it too close to the boundary, you can challenge the umpire on their call. Big Ant notes that their linesman AI is deliberately built to be less-than-perfect. So hammer those shoulder buttons like Kyrgios on a bad day. You never know, mate.
In terms of presentation, I still think Top Spin 4 (2011) has the edge with livelier crowds and more fluid and realistic inter-point moments. I'm talking about the incidental stuff here. Celebratory animations that flesh out the game a bit better – a handshake at the net, holding a won cup aloft or a long lateral pan of the crowd as the players reset positions. AO Tennis has few signs of player-to-player interaction beyond a taking-a-drink-after-a-set and a few air-punch-after-a-point animations, and the virtual cameraman knows better than to give air time to the plastic surgery horror stories lurking in these stands.
Speaking of animations, the players in AO Tennis seem to be lacking a few – namely the desperate scramble moments. You know, the half-hearted lunge towards a ball well out of reach, the power stance slide to desperately get some strings onto something just inside striking distance. Be it human-controlled or AI, the players seem to know what's within their power to hit, and, if the ball is outside of that, they accept their fate and dutifully let it pass. It feels a little passionless at times. There's also an emotional disconnect to what's happening in the match – a minor screw up early on can be met with rapturous celebration. Conversely, the instant my Nadal won the Australian Open, he put his head down, put his racquet in his bag and left Rob Laver Arena like a parking meter was about to run out somewhere.
Unfortunately, that odd sensation is reinforced in the audio department. With Top Spin 4, we were spoiled with the scritches and screeches of tennis shoes sharply changing direction, not to mention the oohing and aahing of the crowds during particularly intense rallies or the odd interjection of a lone, particularly excitable fan during the mid-point moments. Meanwhile, the forthcoming Tennis World Tour looks like it'll deal in a bit of commentary every once in a while, too. Sadly, you'll hear none of the above in AO Tennis. Compared, it offers a respectable yet featureless audioscape.
The career mode is a bit of a flavourless slog, too.
Essentially, you start with a couple of million bucks with which to feed into your 13 skills and 5 base abilities of a "star player" or a "new player". That moolah is enough to get you a mid-40s OVR rating; getting a higher rating requires a prize money grind. The general idea is to make smart decisions about what tournament you want to enter – the more prestigious the venue, the tougher the opponents and the less likely you'll be to advance your career. Keeping your aspirations modest by smashing out a few hoodrat events is paramount as is playing to your stat/shot-type strengths. The career mode feels a little staid, but I'm still keen to continue and I'd like to run some more tests with online multiplayer (I'm operating on a 12-hours-before-launch headstart here).
In the end, the total package is beneath what we got in the last-gen with Top Spin 4 – and that was 2011, folks Bells and whistles are missing in the presentation, and I suspect this was a little rushed to market (if my buggy multiplayer experiences are anything to go by). Worse, the roster rollouts and other improvements promised in subsequent post-launch patches have not been anywhere near as generous as they ought to be. Looking out on the horizon, Tennis World Tour 2018 looks to be in all ways superior.
AO Tennis
5.0 AVERAGE
What we liked...
Rock solid tennis action reminiscent of Top Spin 4
Respectable player creation and (local) multi is fun

The pros available look the part
What we didn't like...
"Legend" AI sure does like to double fault
Perfunctory career mode lacks flair
Looks and sounds passionless in spots

Iffy net code
VERDICT
If you've a burning desire to break the long, no-tennis-games drought, AO Tennis is a flawed court appearance you could attend right now. But there's a better competitor on the horizon.
For more information on how finder scores games, check our review guidelines.
---
More guides on Finder
Handypay Green Loan

A Green Loan from Handypay could help you make your home more energy-efficient. Handypay green loans are available up to $75,000 on terms of up to 10 years.