Antiviral sanitisation services
Rid your house of germs, viruses and bacteria with a quick antiviral treatment.
We're reader-supported and may be paid when you visit links to partner sites. We don't compare all products in the market, but we're working on it!
Since the global pandemic struck, more of us have been searching for ways to protect ourselves and our families from falling ill. Washing your hands and keeping surfaces clean is considered to be one of the most effective ways to do this.
Whether you've had an outbreak in the workplace and need to make sure its safe for employees to return, or you simply want to make sure your house is as clean as clean can be, an antiviral sanitisation service is there to help you out.
In this guide, we explore exactly what an antiviral sanitation service is and where to book one.
What is an antiviral sanitisation service?
An antiviral sanitisation service aims to stop the spread of harmful diseases, such as coronavirus, by disinfecting every corner of your home or property. These cleaning specialists use certified virucidal chemicals that are proven to kill 99.99% of germs on any surface.
What does an antiviral sanitisation service do?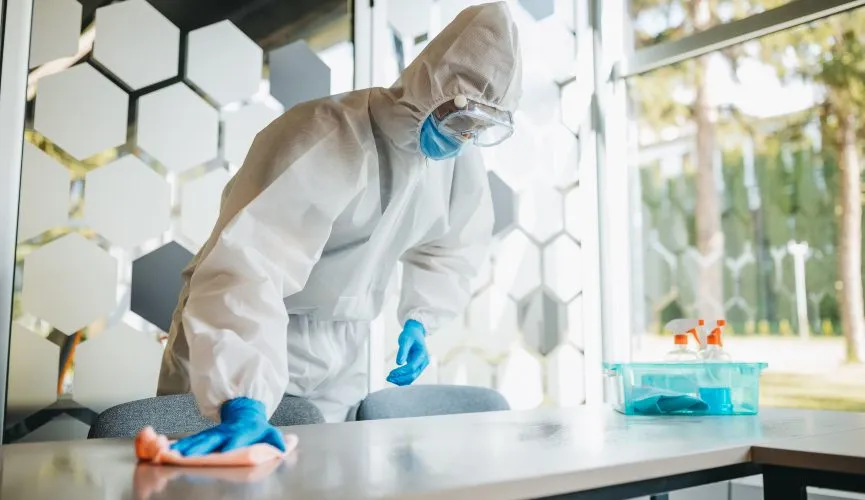 Equipped with masks, gloves and certified disinfectant, a team of cleaning experts will come to your property at a specified time. In a bid to eliminate any dangerous germs, they will target areas that are regularly touched around your home. These include doorknobs, toilets, light switches and taps. The team will then go on to disinfect your floor and surfaces around the property.
You can book an antiviral sanitisation service for a host of different property types. These include:
Houses
Schools
Cars
Workplaces.
How do I hire an antiviral sanitisation service?
You'll need to do a bit of research to find an antiviral sanitisation service in your area as not all cleaning businesses provide the service. Saying this, a quick Google search should conjure up several options of cleaning services local to you, allowing you to compare reviews and prices with just a few clicks. You may also find it useful to check out listings on marketplaces like Airtasker or Oneflare.
Compare antiviral sanitisation services
Does your company belong in this list?
How much does an antiviral sanitisation service cost?
Antiviral sanitisation services typically cost between $115 and $500+, depending on the size of your premises and if you want the team to deep clean your property beforehand. Here are some of the prices to expect when you book through Fantastic Cleaners.
One bedroom house: $125 ($265 with a deep clean)
Three bedroom house: $170 ($450 with a deep clean)
200-400 square meter commercial property: $370.
How do I compare antiviral sanitisation services?
One of the easiest ways to compare antiviral sanitisation services is by sifting through reviews from past customers. As well as giving you a better idea about the service a company provides, reviews will provide an insight into the quality of a team's work. Once you've settled on a few companies to choose from, hunt around for the best price by collecting quotes.
How should I prepare for antiviral sanitisation services?
To ensure effective treatment, you'll need to give your house the once over before the team arrive. Remove all items and appliances from surfaces and tables to allow the disinfectant to reach every corner. It can also be a good idea to remove any large and bulky pieces of furniture if you are having your floors sanitised.
Most antiviral sanitisation services will offer a deep-clean beforehand, in which case, you just need to give your house a general tidy up before they arrive. Do note that opting for a deep clean will double the price of the service.
Do I need to be at home for an antiviral sanitisation service?
It's usually better if you can avoid being at home during an antiviral sanitisation service. This will allow the team to sweep through your house without any interruption. Some services will ask you to stay away from your property for a few hours while the chemicals get to work.
Pros and cons of an antiviral sanitisation service
Pros
Rid your home of any harmful diseases.
Targetted cleaning for effective results.
Saves you the time and hassle of doing it yourself.
Cons
Quite an expensive treatment.
May need to leave your home for a few hours while the service takes place.
Frequently asked questions
How do you disinfect surfaces to prevent the spread of coronavirus disease?
Cleaning high-traffic surfaces regularly is an effective way to combat the spread of coronavirus. Experts recommend that you wipe down surfaces each time you use them, and use a disinfectant daily.
What is the best household disinfectant for surfaces during COVID-19?
Most household cleaning products and disinfectant solutions will help to rid your surfaces of COVID-19. It's recommended that ethanol-based products are used for the best results.
What is the difference between cleaning, sanitizing and disinfection?
Cleaning often involves the use of soap and water to remove dirt and grime from surfaces. Disinfection and sanitization take cleaning to the next level, using stronger products and chemicals to kill germs and viruses on objects and surfaces.
More guides on Finder