Anki Vector Review: A robot with personality and potential
Anki's Vector robot is cute and nicely interactive, but it's the promise of future features that is the most exciting part of this digital companion.
Quick Verdict
It's not an essential home companion – at least not yet – but Anki's Vector robot has a sense of fun, and once it gets Amazon Alexa integration, it could be pretty handy too.
The good
Awfully cute
Decent tracking and safety AI
Promised Alexa integration in the future
The bad
Expensive for what it is
Visual and voice recognition doesn't always kick in
A little awkward for some voice responses
---
Anki Vector: Design
Vector is probably the lovechild of Wall-E and R2D2
Tractor treads pick up a lot of fluff
Bright animated display screen
No in-box charger
As any fan of the classic The Hitchhiker's Guide To The Galaxy by Douglas Adams would be able to tell you, the Sirius Cybernetics Corporation in his darkly satirical novel series defines a robot as "your plastic pal who's fun to be with". I'd always taken the Sirius Cybernetics Corporation to be an entirely fictional construct, but having spent the past few weeks playing around with Anki's Vector robot, I'm no longer so certain.
Vector, you see, can very neatly be described as precisely being that plastic pal who's fun to be with.
Vector is a small robotic toy on tank treads that looks rather like Pixar's Wall-E, with just a dash of R2D2-esque noises thrown in for good measure.
I have no definitive proof either way, but I could easily see a night, a jar of the finest motor oil and... well, you get the picture. Vector itself can talk, but it won't tell me anything about its parents – although, I have my suspicions.
Vector also comes with his own play cube. A companion cube if you will that he uses as a visual marker as well as a minor play object. It's battery powered with a standard E90/LR1 battery, held in place with a simple screw.
Charging Vector is via his custom charging base, which he's (generally) smart enough to find when he's been out for a play.
Annoyingly, it's a charger which finishes with a simple USB-A type plug, not a wall socket. You'll need to grab a mobile phone charger to power Vector up because there's none in the box. Given his asking price, that does feel rather cheap.
One slight downside to Vector is that the tank treads it rolls around on easily pick up fluff and cat hair, which does rather spoil its look. Maybe it's Vector's passive-aggressive way of telling me I should sweep up more.
Vector's big claim to fame is that he's an entirely autonomous robot, where so many other comparable desk toys/robots require a companion smartphone app to operate in any way.
You will need Anki's Vector App to set up Vector in the first place. With the app, you can configure him for your home or office Wi-Fi, track his usage stats and get clues to the many ways you can interact with him. However, once you've completed this relatively painless step, you can operate Vector purely by your voice.
Well... mostly.
Back to top
Anki Vector: Performance
Cute range of animations and interactive options
Vector's voice and face recognition can be slow
2.4Ghz Wi-Fi only
Asking questions is awkward – and the answers are not always correct!
Back to top
Where a lot of autonomous robot toys leave the thinking to a smartphone app, Anki's gone the other way, equipping Vector with a Qualcomm Snapdragon 200 processor on board to allow it to process its many inputs onboard. These include far-field microphones to pick up voice commands, pressure sensors for when it bumps into objects and cameras to help it see the world around it and avoid tumbling over edges.
Vector is quite charming to just watch as it explores whatever world you put it in. Like the more classic versions of the Daleks, he's happier and more mobile on flat ground. It's especially cute if he comes to an edge with a drop of any kind, as he'll rapidly roll back and let out an alarmed noise to show his fright. It's clear that a lot of work has gone into Vector's facial animations, turning what could be a smart robot car (more or less) into a robot with some genuine personality.
Vector's connection to the outside world is via Wi-Fi, and specifically 2.4Ghz Wi-Fi only. If you're in an environment that only uses 5Ghz Wi-Fi networks, you'll have to switch on a 2.4Ghz radio at the router level if you want Vector to do anything at all.
Once you've set Vector up, you then have to work out the ways you can interact with him. Through the app you can see his essential stats, such as how often you've patted him or the total distance he's rolled around since his inception, but the intent is largely that you'll control him with your voice.
Actual voice pickup, even for the basic "Hey Vector" command wasn't spectacular compared to most fixed smart speakers, but then I guess I have to cut Vector some slack as he's remarkably more mobile than most of those devices. Typically, raising my voice worked well enough, and he seemed to cope with a broad Australian accent without too much trouble. Likewise, facial recognition isn't always terribly rapid, but it's nice when he does recognise me and shouts out my name in his distinctive robotic squeal.
You can also ask Vector questions, although it's a fiddly process compared to any other smart assistant.
You've got to grab his attention with a "Hey, Vector" command, then say "I have a question", then wait for him to respond that he's ready and then actually ask your question.
Even then, you might get a less-than-accurate answer. Here's a transcript of one of my interactive sessions with Vector:
Alex: "Hey Vector"
Vector rolls around on the floor, ignoring me
Alex: "HEY VECTOR"
Vector stops, and his blue lights come on, indicating he's heard me
Alex: "I have a question"
Vector's lights wobble for a second or two
Vector: "Ready"
Alex: "Who's the prime minister of Australia?"
Vector thinks for a bit
Vector: "The prime minister of Australia is... Malcolm Turnbull!"
Vector might need to read the news just a little bit more often, I think.
If you're concerned about data privacy, Anki states that Vector never stores any questions or voice data at any time beyond when it's processing it.
Vector's charge is generally good for around 45 minutes of play per charge, and as long as he's not tangled on a cord, he's pretty good at making his own way back to his charging base if he's running low on power. The idea here is that you'll mostly leave him to his own exploring devices, interacting with him from time to time.
Anki's claim is that they'll continue to add improvements to Vector over time, leveraging its always-on Wi-Fi connection to deliver seamless performance and feature updates.
One of the more fascinating is the promised delivery of Amazon Alexa integration, switching Vector over from what's basically a toy into a fully fledged (and somewhat autonomous) smart speaker of sorts, capable of controlling your smart home appliances and answering a far wider range of query types.
It's always tricky assessing these kinds of features when they're not available at review time because while Anki may try to get Alexa integration working, there's no promise that it will succeed. In other words, if you're keen on the Alexa side of matters, it would be wise to hold off until Anki makes that feature available.
Anki Vector: Should you buy it?
A cute, fun and evolving toy
Alexa integration will bring it to the next level – when it arrives
It's always hard assessing products that have built-in upgrades as a feature because you're very much looking at them at a point in time. If Anki had Alexa integration ready to go for Vector, it'd be an entirely different kind of device with a great deal more flexibility, not to mention hopefully a better understanding of Australian politics.
That's not quite what I've reviewed of course because Vector's not quite there yet. With its current feature set, it's a fun toy at a somewhat high price.
Back to top
Anki Vector: Pricing and availability
Vector sells in Australia for a retail price of $449.95.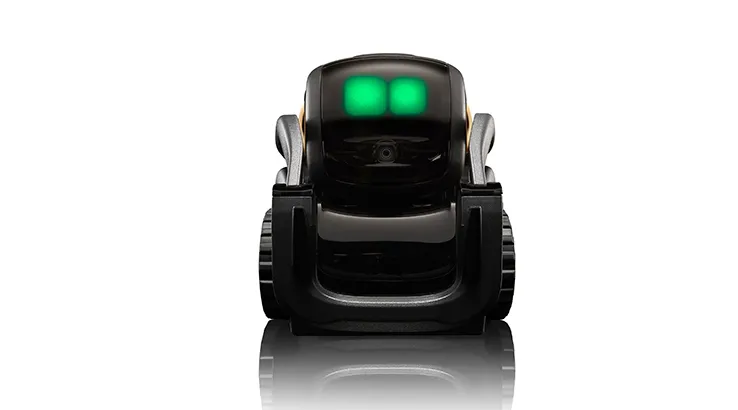 Buy the Anki Vector
from Amazon
With an ever-evolving cloud-based AI engine and loads of charm, Vector's the personal robot that combines cuteness with smarts.
View details
---
---