American Express Local Champion: how to maximise your points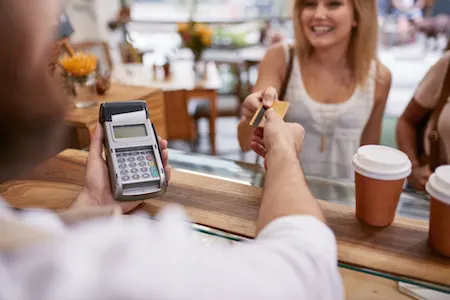 Earn up to 10,000 bonus points while supporting your local businesses with American Express Local Champion.
If you have an American Express card, you can pick up Membership Rewards at your local cafe or favourite boutique with the launch of the Local Champion initiative. Built into the American Express app and free to use for iOS and Android users, the Local Champion function acts as a points accelerator game, allowing you to pick up bonus points at participating local businesses. Designed to debunk the myth that you can't use your American Express at your local stores, the initiative is a great way to support local businesses while understanding the potential of your card.
Not everyone can be crowned the Local Champion and enjoy the bounty of bonus points, though, so read on to find out how you can compete for the title at your local stores below.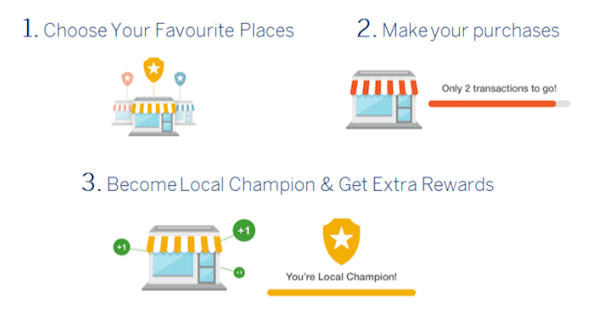 How does the Local Champion game work?
The Local Champion initiative is pretty simple:
Select local stores. You'll be asked to choose up to 10 local and participating retailers, so make sure they're ones that you spend with regularly. The app will recommend places based on previous purchases and your location, helping you rack up bonus points more easily.
Compete. As you spend with your American Express card at your chosen retailers, you'll be competing with other users. If you have the highest number of transactions at any of the partnered retailers within a 30 day period, you'll be crowned the Local Champion. However, as soon as someone exceeds your number of spends with that merchant, you'll lose the title. The App LC dashboard notifies you of the competition, how many transactions you need to swipe the crowd, quick wins and once you've secured or lost the local champion title.
Bonus points. If you're dubbed the winner, you'll be awarded one extra bonus point per $1 spent at the retailer for as long as you hold the title. Plus, if you're using an accelerated earn card like Platinum Edge, you'll pick up 4 points per $1 spent. Each cardholder gets the chance to earn up to 10,000 bonus points across their 10 retailers. Once you've racked up 10k points, you'll no longer be able to participate in the local champion competition.
You can compete for the Local Champion title across a variety of participating retail, dining, entertainment and service industries, meaning that you won't have to go too much out of your regular spending habits to play the game.
How can I register my card to the local champion app?
Open app. When you open your American Express app, click the menu button in the top left corner and select 'Local Champion'.
Register card. You'll need to register your card, so it'll help to have your details handy. If you have multiple American Express cards, you can register them all to increase your ability to earn points.
Select retailers. You'll then be asked to select your top 10 local champion stores. You can either search for participating stores or browse through AMEX's suggestions based on your recent purchases and location. Online retailers aren't included, so keep that in mind when searching for your favourite stores.
Which cards are eligible?
If you have an American Express card that's enrolled in the Membership Rewards program, a Qantas American Express card or a Velocity American Express card, you'll be able to compete for the Local Champion title. However, David Jones cards, Small Business cards and Corporate cards are all currently excluded from the program.
Compare American Express Credit Cards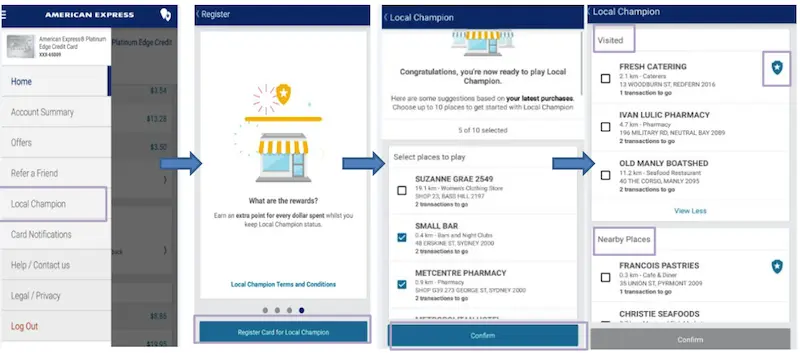 What other features can I use?
Earning your bonus points and securing that Local Champion title will be much easier if you understand how these features of the app work:
Local champion tracker. The app will keep track of yours and your competitors' purchases, so you'll be able to see how many more transactions you need to make to reach local champion status.
Transaction history. As well as the tracker, the app is an easy way to keep track of how much you're spending at your local and most frequently visited stores. Not only will this make it easier to know where you have a chance of holding the title, it's also a useful way to keep track of your spending.
Special offers. American Express customers can also take advantage of exclusive cash back offers through the app. You can filter your offers by your using your location to grab deals near you or by events such as AMEX's Shop Small and Click Frenzy promotions.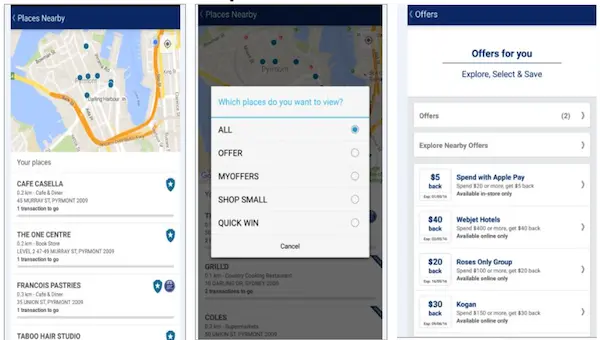 What are the drawbacks of the American Express Local Champion app?
Undeniably a unique and innovative initiative, the Local Champion game doesn't come without its flaws, though. Unless you're using your American Express credit card to buy coffees or lunch every day, it might be difficult to rack up enough transactions at the one place to secure the Local Champion. As it's only once you've got the title that you earn the extra bonus points per $1, the return on investment isn't massive. Plus, you might've put a lot of effort towards securing your title, but the second someone else makes one more transaction than you, you'll lose your crown.
If you're taking this bonus points potential seriously, make sure to use the Local Champion function tracker to follow how many more transactions you need to make or to keep track of any competition.
Not only is the Local Champion app an innovative way to earn bonus points on your regular purchases, it's also an easy way to discover which of your local restaurants, cafes and retailers accept your AMEX card. So what are you waiting for? Download the American Express app and let the battle for the Local Champion begin!
Pictures: American Express and Shutterstock
You might also be interested in