Amazon Prime Video Australia review: Is getting a subscription worth it?
While you weren't looking, Prime Video grew into a worthy competitor to the likes of Netflix and Stan.
We're reader-supported and may be paid when you visit links to partner sites. We don't compare all products in the market, but we're working on it!
Prime Video Australia verdict
In the last couple of years, Amazon has significantly expanded its Aussie offerings. You can now enjoy all the benefits of Prime shopping, including expedited and free delivery on select items. Plus, Prime Video is free with any Prime subscription, which gives you instant access to a generous library of TV shows and movies featuring intriguing original content and blockbusters straight from the cinema. All for a very affordable price. In other words, a Prime membership brings plenty of bang for your buck.
Amazon Prime Video didn't have a lot going for it when it initially landed Down Under in late 2016 as part of a global rollout. The library was small and the service was just starting to produce interesting original content. Fast-forward a few years and the situation is completely different.
Amazon made its subscription delivery service Prime available in Australia in 2018 and integrated Prime Video in the monthly price, along with plenty of other appealing perks. Suddenly, the streaming platform became a nice bonus for those interested in the shopping benefits of Prime. Yet, based on how it looks today, we'd argue that the video service would be worth the monthly price as a standalone.
Amazon launched its Prime Video Store in Australia in 2020, making it easier for Amazon users to rent or purchase media content not available on Prime Video. This only shows that Amazon is invested in further expanding its Aussie offerings, so we might be getting access to even more exciting services in the future. Until then, let's take a quick look at Prime Video and figure out if it's worth the investment.
The pros and cons of Prime Video Australia
Pros
Free with Prime, which comes with shopping perks
Only one price tier
Growing collection of TV shows and movies
Quality original productions
4K quality and offline viewing
Free 30-day trial
Cons
Clunky interface
Pre-roll ads
Prime Video Australia price
As we've already mentioned, Prime Video is free with a Prime subscription, which costs $6.99 per month or if you pay in advance, $59 per year. This buys you free and expedited delivery for select items and early access to deals and discounts. Besides Prime Video, you also get access to Prime Reading, Prime Music, Twitch and Prime Photos as part of your membership.
It's important to note that you cannot sign up to any of the services mentioned above, including Prime Video, as standalones. In other words, even if you're only interested in Prime Video, you'll still get all the benefits of a full Prime membership.
However, the price is more than fair. In fact, Prime Video costs less than most streaming services available in Australia. Netflix's cheapest plans start at $9.99 per month and Stan's at $10 per month. Even newcomer Disney+ is more expensive at $8.99 per month. Overall, the Prime membership offers great value.
Prime also comes with a free 30-day trial, so you can test the service for an entire month without paying anything and decide if it's the right fit for you. That's pretty generous considering that the current trend is to keep trials at around one week, with Netflix dropping free trials in Australia altogether.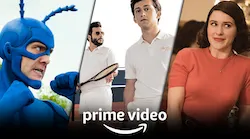 FREE TRIAL: 30 days of Prime Video's premium TV shows and movies for free
from Prime Video
Prime Video's free 30-day trial will give you instant access to thousands of premium TV shows and movies.
View details
Prime Video Australia design and features
Let's get the bad out of the way first: Prime Video's interface is unlikely to dazzle. In fact, it's crowded and clunky. Shows and movies are displayed in rows as with most streaming services and you can browse by genre, but it lacks the sophistication of Netflix or even Disney+. Another downside? There are pre-roll ads you'll have to sit through every now and then. However, these are fairly short and limited to Prime Video programming.
As far as features are concerned, Prime Video doesn't disappoint. There's only one (affordable) price tier and it comes with access to 4K video content. In other words, if you have speedy Internet and compatible hardware, you can watch videos in 4K without paying anything extra. You can share your subscription, as Prime Video allows you to stream on up to three devices at once. Users can also download titles for offline viewing.
As of July 2020, Prime Video started rolling out profiles to customers in Australia. The feature enables Prime members to create and manage multiple profiles within their account. You can have up to six user profiles (one primary profile and five additional profiles, which can be a mixture of adult or kids' profiles) within Prime Video on a single Amazon Prime account.
Prime Video works on pretty much any device you can think of. You can watch on laptops, smart TVs, smartphones/tablets, media streaming devices and game consoles. The platform also has direct IMDb integration, so you can see a title's score directly in the website/app. When you pause a video, a list of the actors currently on screen will magically appear. Pretty cool!
Plus, the platform has a dedicated app available on the Microsoft Store on Windows 10 devices, including desktop PCs, laptops and tablets. You can use it to stream and download content to your Windows 10 device with more ease.
Prime Video Australia content
---
---
The Prime Video library has grown significantly since the platform's early days in Australia. There are now thousands of hours of programming available, both on the TV and movie front. The service also offers kids' shows, so you can keep the little ones busy for a few hours.
Where the service really shines is in the original productions department. TV highlights include series like The Marvelous Mrs. Maisel, Hunters, Tales from the Loop, Homecoming, Undone and The Man in the High Castle, to name a few. As for Amazon Studios movies, we recommend you check out The Reports, Brittany Runs a Marathon and The Aeronauts to get started. We have lists of the best shows on Prime Video and best movies on the service if you're looking for more.
Amazon has also started to produce local content. Docu-series The Test: A New Era for Australia's Team is already streaming, as are a series of hilarious comedy specials featuring local talent. Amazon has also commissioned a Packed to the Rafters reboot.
Finally, the platform has been efficient in making blockbusters available to stream in a timely manner, similarly to Foxtel. Recent examples include Once Upon a Time… in Hollywood, Rocketman and Downton Abbey.
Is Prime Video worth it?
The short answer is yes. With a growing content library and all the perks that come with a Prime membership, the platform is a bargain. Check out the one-month free trial and see if it works for you. There are no contracts, so you can cancel anytime.
More guides on Finder
Handypay Green Loan

A Green Loan from Handypay could help you make your home more energy-efficient. Handypay green loans are available up to $75,000 on terms of up to 10 years.
Stream the best and save