Amazon Prime Video comes to Fetch TV: 1000s of movies and shows
From 21 April, Fetch TV users can access 1000s of additional movies and shows with an Amazon Prime Video subscription.
While many industries around the world are suffering under the coronavirus outbreak, streaming TV isn't one of them. Indeed, with hundreds of millions of people around the world in lockdown, many have turned to streaming TV online for entertainment and there's no shortage of content available. It's a perfect opportunity then for Fetch TV to expand its offering.
Fetch TV is a small box that connects to your TV and allows you to access and stream content available over the Internet. It's a competing product to the Foxtel Now box, Apple TV+ box, NVIDIA SHIELD and more. Amazon Prime Video, on the other hand, is a streaming TV service that sits within the suite of products offered by Amazon, which most notably also includes shopping, ebooks and music. It provides tons of content, such as 1000s of movies, TV shows, documentaries, kids programming and more, including plenty of high-profile originals like Star Trek: Picard.
From 21 April 2020, Australians who are already members of Amazon Prime or who sign-up to the 30-day free trial here, can start watching content via Fetch TV. Well, assuming the app has rolled out to their Fetch TV box.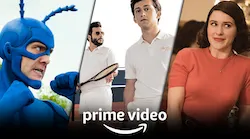 FREE TRIAL: 30 days of Prime Video's premium TV shows and movies for free
from Prime Video
Prime Video's free 30-day trial will give you instant access to thousands of premium TV shows and movies.
View details
How will the Amazon Prime app roll out onto Fetch TV?
Unfortunately, the update won't occur overnight for existing Fetch TV users. While the addition of the Amazon Prime Video app will begin rolling out to customers on 21 April 2020, it will take around two weeks to reach everyone with a Fetch Mighty box. So, if you don't see it straight away, you'll just have to be patient.
It's worse news for Fetch Mini owners, with the Amazon Prime Video functionality not expected to be added until the scheduled June update. A bit of a shame really for an addition that seems relatively minor.
How much does Amazon Prime Video on Fetch TV cost?
The partnership between Fetch TV and Amazon Prime Video is not overly complex. An app will be downloadable through the Fetch TV dashboard, and once it is on your box, you simply log in to it using your Amazon Prime Video details. It effectively works just like a Netflix app.
The good news is, you can try Amazon Prime Video for free for 30 days. A subscription then costs $6.99 per month or $59 per year. If you're a frequent Amazon shopper, the year subscription is worth considering, too. This is because you also get shipping benefits when you shop on Amazon as well as access to a huge catalogue of songs through Amazon Music, ebooks and more.
What content is available on Amazon Prime Video?
Amazon Prime Video's catalogue is massive and growing. There has been a big focus in recent times on more original content, too. This includes regionally specific programming, including a number of Australian stand-up comedian specials and documentaries like The Test. Amazon Prime Video is also the home of Star Trek: Picard and The Expanse.
Other popular shows in 2020 include Tom Clancy's Jack Ryan, The Marvelous Mrs. Maisel, Fleabag, The Man in the High Castle and Good Omens. You can find a full list of TV shows on Prime Video here and a look into some of the best movies this month here.