The best Amazon Prime Video movies in Australia for April 2021
Prime Video has over 5000 movies, but which are the best ones to watch?
We're reader-supported and may be paid when you visit links to partner sites. We don't compare all products in the market, but we're working on it!
Amazon Prime Video once had a very minimal library of content. That's no longer the case with a now huge movie library. Here are the best titles we've found so far.
1. Coming 2 America
---
Year: 2021
Cast: Eddie Murphy, Arsenio Hall, Shari Headley
---
A highly-anticipated sequel to the 1988 film Coming to America, Coming 2 America sees Eddie Murphy reprise his role as Akeem. Together with his confidante Semmi, he once again embarks on hilarious adventure that will take him to New York, this time in order to meet his unexpected heir.
The fact that Murphy and Arsenio Hall have great chemistry is no secret – and that connection stands the test of time. Coming 2 America is funny and comforting. In other words, it's perfect for fans of the original who want to see their favourite characters once again.
WATCH NOW

RENT/BUY

Sorry, we've found no buying or renting options for this title.

CURRENT OFFERS
2. The Mauritanian
---
Year: 2021
Cast: Tahar Rahim, Jodie Foster, Shailene Woodley, Benedict Cumberbatch
---
Based on true events, The Mauritanian centres on Mohamedou Ould Slahi, who fights for freedom after being detained and imprisoned without charge by the US Government for years.
With the help of a defense attorney and her associate, who are willing to go the extra mile, he might finally be able to see the outside of Guantanamo Bay. The story is heartbreaking and riveting. If that's not reason enough to tune in, Jodie Foster and Tahar Rahim are excellent.
WATCH NOW

RENT/BUY

Sorry, we've found no buying or renting options for this title.

CURRENT OFFERS
3. Sound of Metal
---
Year: 2019
Cast: Riz Ahmed, Olivia Cooke, Paul Raci, Lauren Ridloff
---
Sound of Metal follows a drummer who is slowly losing his hearing. He thinks his life is over, but his girlfriend manages to get him some help. Soon, he'll be welcomed into a community that teaches him how to accept his new circumstances, even as he's dreading silence more than anything else.
A stunning and powerful movie, Sound of Metal is a triumph. With a great performance from Riz Ahmed in the lead, it's the kind of film you'll be thinking about for long after the end credits roll.
4. I Care a Lot
---
Year: 2020
Cast: Rosamund Pike, Peter Dinklage, Eiza González, Chris Messina, Dianne Wiest
---
A deliciously dark comedy thriller, I Care a Lot centres on a crooked legal guardian whose specialty is to drain the savings of the elderly people she's supposed to protect. Things take a turn, however, when she finally meets her match in the form of a nefarious gangster.
Rosamund Pike gives an amazing performance in the lead role, but that's just the cherry on top. I Care a Lot is engaging, fast-paced, funny, clever and outrageous. You'll be glued to the screen from beginning to end.
WATCH NOW

RENT/BUY

Sorry, we've found no buying or renting options for this title.

CURRENT OFFERS
5. One Night in Miami...
---
Year: 2020
Cast: Kingsley Ben-Adir, Eli Goree, Aldis Hodge, Leslie Odom Jr., Lance Reddick
---
Directed by Regina King, One Night in Miami is a fictional account of one incredible night back in the '60s where four Black icons of sport, music, and activism gathered to celebrate one of the biggest upsets in boxing history. They were Muhammad Ali, Malcolm X, Sam Cooke and Jim Brown.
One Night in Miami... is a phenomenal film with excellent performances from everyone involved. As the title suggests, the story is set over the course of one monumental night, but the themes the movie touches on are as relevant today as they were back in the '60s.
WATCH NOW

RENT/BUY

Sorry, we've found no buying or renting options for this title.

CURRENT OFFERS
6. Sylvie's Love
---
Year: 2020
Cast: Tessa Thompson, Nnamdi Asomugha, Ryan Michelle Bathe, Regé-Jean Page, Aja Naomi King
---
Sylvie's Love is a beautiful romantic drama about young couple in the '50s who are separated as life takes them in different directions. When they reunite years later, their feelings are still there, but finding their way back to each other isn't as easy as they might desire.
Moving and compelling, Sylvie's Love will make you sigh and say something along the lines of – 'they don't make movies like this anymore.' Thankfully, they do. Stream it when you're in the mood for an old-fashioned, memorable romance.
WATCH NOW

RENT/BUY

Sorry, we've found no buying or renting options for this title.

CURRENT OFFERS
7. Sequin in a Blue Room
---
Year: 2019
Cast: Conor Leach, Simon Croker, Jeremy Lindsay Taylor
---
Sixteen year old Sequin favours the instant gratification of anonymous, no-strings sexual encounters over meaningful relationships. But after he connects with a stranger at an anonymous sex party, he begins to hunt through a hook-up app to track down the mystery man.
A queer coming-of-age story straight from the Australian independent film scene, Sequin in a Blue Room is sexy and clever. The movie highlights both the allure and the dangers of online dating and social media. If you like thought-provoking indies, this one is a must-watch.
WATCH NOW

RENT/BUY

Sorry, we've found no buying or renting options for this title.

CURRENT OFFERS
8. Borat Subsequent Moviefilm
---
Year: 2020
Cast: Sacha Baron Cohen, Maria Bakalova
---
Originally titled Borat Subsequent Moviefilm: Delivery of Prodigious Bribe to American Regime for Make Benefit Once Glorious Nation of Kazakhstan, the mockumentary follows the real-life adventures of the infamous and fictional Kazakh television journalist, just released from prison for bringing shame to his country. This time around, Borat risks life and limb when he returns to America with his 15-year-old daughter.
Poignant and insightful, the sequel may be even smarter than the original. Don't worry though, it's just as hilarious. As for what happens when Borat arrives in the US, you'll need to tune in to find out.
WATCH NOW

RENT/BUY

Sorry, we've found no buying or renting options for this title.

CURRENT OFFERS
9. The Invisible Man
---
Year: 2020
Cast: Elisabeth Moss, Oliver Jackson-Cohen, Harriet Dyer
---
When Cecilia's abusive ex takes his own life and leaves her his fortune, she suspects his death was a hoax. To her terror, she soon begins to be tormented by an invisible being. When the police won't take her story seriously, she has to find a way to prove that she is being hunted by someone nobody can see.
Gripping and clever, The Invisible Man has much more to offer than your run-of-the-mill horror film. Prepare to be completely mesmerized.
10. Little Women
---
Year: 2019
Cast: Saoirse Ronan, Emma Watson, Florence Pugh, Eliza Scanlen, Timothée Chalamet
---
Directed by Greta Gerwig, Little Women is an adaptation of the classic novel of the same name by Louisa May Alcott. The movie chronicles the lives of the March sisters — Jo, Meg, Amy, and Beth — during the 19th century. While each sister has her own aspirations, their unbreakable bond is what really makes the story stand out.
Little Women has a terrific cast, gorgeous costumes and an unconventional structure that gives the adaptation a bit of an edge. As for the story itself, it's timeless.
11. Knives Out
---
Year: 2019
Cast: Daniel Craig, Chris Evans, Ana de Armas, Jamie Lee Curtis
---
The plot of Knives Out is fairly straightforward - a detective investigates the death of the patriarch of an eccentric family. What's interesting is that literally everyone in the wildly dysfunctional family is a suspect, and it's up to the detective and the viewers to comb through the lies and red herrings in order to get to the truth. Add a stellar ensemble cast into the mix and you've got yourself a hit.
Intriguing and suspenseful, Knives Out manages to pay homage to classic locked-room murder mysteries while also breathing fresh life into the genre. You'll have a whole lot of fun with this one.
12. Hustlers
---
Year: 2019
Cast: Constance Wu, Jennifer Lopez, Julia Stiles, Keke Palmer, Lili Reinhart
---
Working as a stripper to make ends meet, Destiny's life changes forever when she befriends Ramona, the club's top earner. But when the 2008 recession hits, the gals look for alternative ways to make money and come up with a daring scheme to take advantage of their wealthy Wall Street clients.
Hustlers is a stylish and powerful film, with a tremendous performance from Jennifer Lopez – who dazzles from the first time she hits the screen. A mix of comedy, crime and social commentary, the movie is well worth your time.
13. The Very Excellent Mr. Dundee
---
Year: 2020
Cast: Paul Hogan, Jacob Elordi, Mel Gibson, Chevy Chase
---
Paul Hogan is enjoying the quiet life, but he is reluctantly thrust back into the spotlight when he finds out that he's going to receive a knighthood for services to comedy. As a result, he desperately attempts to restore his sullied reputation.
A light-hearted comedy, The Very Excellent Mr. Dundee is a good time, especially if you're a fan of the always charming Hogan. Buckle up for some exciting cameos.
WATCH NOW

RENT/BUY

Sorry, we've found no buying or renting options for this title.

CURRENT OFFERS
14. The Farewell
---
Year: 2019
Cast: Awkwafina, Shuzhen Zhao, X Mayo, Tzi Ma
---
The Farewell is a bittersweet tragicomedy about a family who returns to China under the guise of a fake wedding to stealthily say goodbye to their beloved matriarch. However, they decide to keep the matriarch in the dark, so she's the only one who doesn't know that she only has a few weeks left to live.
If you're a fan of complicated family dynamics, The Farewell is an absolute delight. It will make you laugh and cry, managing to perfectly encapsulate both the wonder and ridiculousness of families.
15. Midsommar
---
Year: 2019
Cast: Florence Pugh, Jack Reynor, Vilhelm Blomgren, William Jackson Harper
---
One of the most hyped horror flicks to come out in 2019, Midsommar follows a couple who travels to Sweden to visit a rural hometown's fabled mid-summer festival. However, the festivities quickly devolve into an increasingly violent and bizarre competition at the hands of a pagan cult.
Midsommar features incredible cinematography and a tremendous performance from Florence Pugh. More than that, it's just the right kind of unsettling. Get ready to spend most of the movie's runtime on the edge of your seat.
16. Late Night
---
Year: 2019
Cast: Emma Thompson, Mindy Kaling, John Lithgow
---
Late Night centres on an acclaimed late-night show host who is forced to hire a female writer due to her decline in popularity. There's plenty that divides the two women, but they're both interested in writing timely jokes, which might eventually work in both their favour.
At its core a female buddy film, Late Night is relaxing and well-written, with an appealing cast and plenty of lough-out-loud jokes. At the same time, the movie isn't afraid to approach deeper topics – and it does so with emotion and wit. Watch it when you need a little pick-me-up.
17. Downton Abbey
---
Year: 2019
Cast: Stephen Campbell Moore, Michael Fox, Lesley Nicol
---
Just as sumptuous as the series, the Downton Abbey movie welcomes back familiar faces thanks to an endearing plot. The story follows the Crawleys and their intrepid staff as they prepare for the most important moment of their lives: a royal visit from the king and queen of England.
A treat for long-time fans of the show, the movie boasts both humour and drama, offering an extravagant and nostalgic trip back to Downton. As a nice bonus, the sets and costumes are just as lavish as you'd expect.
WATCH NOW

SUBSCRIBE

Sorry, we've found no streaming options for this title.

CURRENT OFFERS
18. Rocketman
---
Year: 2019
Cast: Taron Egerton, Jamie Bell, Richard Madden, Bryce Dallas Howard
---
After completing his studies, Reginald begins to perform rock music at local pubs. Later, he meets a music manager who helps him rise to fame, but also brings plenty of chaos into his life. The rest, as they say, is history.
A biographical movie based on the life of Elton John, Rocketman boasts a fantastic performance from Taron Egerton in the lead role. Moreover, it manages to beautifully capture the highs and lows of artistic life, while also giving some insight into the musician's exceptional journey. Whether or not you're a fan, this is a must-watch.
19. The Aeronauts
---
Year: 2019
Cast: Felicity Jones, Eddie Redmayne, Himesh Patel
---
In 1862, headstrong scientist James Glaisher and wealthy young widow Amelia Wren mount a balloon expedition to fly higher than anyone in history. But as their chances of survival become slim, the two start to discover things about themselves that will help both of them find their place in the world.
The Aeronauts is a thrilling adventure from beginning to end, greatly benefiting from the amazing chemistry between the two leads, who also starred together in the universally beloved The Theory of Everything. Moreover, the special effects are well-done, creating some memorable visuals.
WATCH NOW

RENT/BUY

Sorry, we've found no buying or renting options for this title.

CURRENT OFFERS
20. The Report
---
Year: 2019
Cast: Adam Driver, Annette Bening, Jon Hamm
---
The Report chronicles the real investigation into the CIA's use of torture on suspected terrorists in the aftermath of the 9/11 attack. The movie centers on Daniel J. Jones, who works under a Senator and is tasked with running the investigation. He compiles a massive report about his findings, but discovers that the CIA isn't particularly keen on bringing his discoveries to the public's attention.
Here's the deal: The Report is mostly about people in suits staring at computers. Yet, the movie manages to be clever and tense, keeping viewers glued to the screen, eager to find out what happens next. Plus, the cast is A+, with Adam Driver in particular shining in the lead role.
21. Brittany Runs a Marathon
---
Year: 2019
Cast: Jillian Bell, Michaela Watkins, Utkarsh Ambudkar, Lil Rel Howery
---
Inspiring and often hilarious, Brittany Runs a Marathon follows a hard-partying woman who receives worrisome news during a doctor's appointment. As a result, she gets motivated to lose weight and decides to compete in the New York City Marathon.
The premise of the movie can seem overdone - after all, it follows someone who is struggling to overcome the odds and achieve success. But Brittany Runs a Marathon is like a breath of fresh air, especially because Brittany isn't always a likeable character. Yet, you won't be able to help yourself and root for her anyway.
WATCH NOW

RENT/BUY

Sorry, we've found no buying or renting options for this title.

CURRENT OFFERS
22. Suspiria
---
Year: 2018
Cast: Dakota Johnson, Tilda Swinton, Chloë Grace Moretz
---
One of the most hyped horror releases of the last few months, Suspiria revolves around a world-renowned dance company, whose female directors are accused of witchcraft. At the same time, an inquisitive psychotherapist and a member of the troupe uncover dark and sinister secrets as they probe the depths of the studio's hidden underground chambers.
Bonkers and ambitious, this horrific flick is not recommended for the faint of heart. Everyone else, buckle up for a wild ride. Suspiria is inspired by the 1977 Italian film of the same title directed by Dario Argento, which quickly gained cult status. We're guessing this one will follow in its footsteps in no time.
23. Beautiful Boy
---
Year: 2018
Cast: Steve Carell, Timothée Chalamet, Maura Tierney, Amy Ryan
---
Beautiful Boy centres on Nic, a teenager who seems to have it all - including talent, good grades, and a knack for several extracurricular activities. But when Nic's addiction to meth threatens to destroy everything, it will come down to his father to do whatever it takes to save his son and family.
Timothée Chalamet and Steve Carell both deliver mesmerizing performances in this inspiring tale of addiction, survival, recovery, and relapse. Beautiful Boy is often devastating, but it's a fascinating and important movie as it doesn't glamorize drug use. Instead, it perfectly captures addiction in its most destructive form.
24. Generation Wealth
---
Year: 2018
Cast: Lauren Greenfield, Limo Bob, George W. Bush, Caitlyn Jenner
---
For the past 25 years, photographer and filmmaker Lauren Greenfield has travelled the world, documenting a vast range of cultural movements and moments. Yet, she realized that much of her work pointed at one uniting phenomenon: wealth culture. That's what this documentary is all about - it examines materialism, celebrity culture, and social status.
Greenfield forces viewers to examine the current culture of wealth and understand that humanity should strive for balance - and she does so by showing, not telling, which makes this whole endeavour even more compelling. All in all, Generation Wealth might be a tad bleak, but it's very thought-provoking.
25. The King of Comedy
---
Year: 1982
Cast: Robert De Niro, Jerry Lewis, Sandra Bernhard
---
The King of Comedy, directed by Martin Scorsese, is a satirical black comedy that follows Rupert, a mentally-deranged and unsuccessful stand-up comedian. After he meets a popular talk show host, Jerry Langford, he's convinced that the encounter will lead to his big break. As a result, Rupert kidnaps Langford and ask for a guest spot on the talk show in exchange for his release.
A movie ahead of its time, The King of Comedy explores the desperation among common people striving to achieve fame and the lengths some fans are willing to go to in order to see their dreams come true. The movie is sharp and unsettling, offering some memorable performances and plenty to talk about once the end credits roll.
26. Indiana Jones 1 - 4
---
Year: 1989
Cast: Harrison Ford, Sean Connery, Denholm Elliott, Alison Doody
---
If you want to hear a heated debate, try asking my friends what the best Indiana Jones film is after they've all been drinking. There's always the purist who stands up for the original Raiders of the Lost Ark, Lucas and Spielberg's incredibly tight re-imagining of ye olde action serials. There's often an ever-so-slightly larger group who insist that the best entry was Indiana Jones and The Last Crusade, a father and son quest for the Holy Grail. And then there'll be that edgier outlier who swears by the darker, heart-ripping antics of Indiana Jones and the Temple of Doom.
Before fist fights can break out, my crew usually bond over one simple fact: despite our differences, we can universally agree on the letdown nature of Indiana Jones and The Kingdom of the Crystal Skull. Avoid it, stick to the original trilogy and you can't go wrong. You're guaranteed to be swinging into a priceless, (whip) cracking action-adventure series that belongs in a museum.
27. No Country For Old Men
---
Year: 2007
Cast: Tommy Lee Jones, Javier Bardem, Josh Brolin, Woody Harrelson
---
Prepare to meet Anton Chigurh, the most magnetic on-screen villain since Anthony Hopkins was laced into a face mask as Hannibal Lector. Chigurh's an absolute terminator, an implacable hitman hired to locate Llewelyn Moss, a good ol' boy who's stumbled across a suitcase full of cash left in a drug deal gone wrong. Slight problem: said luggage carries a fairly primitive tracking device, too, and what follows is a state-wide game of cat-and-mouse. To make matters even more complicated, an ageing and disillusioned Sheriff Bell is only half a step behind them both, plus the cartels have decided to hire a plan-B merc.
Admittedly, the ending isn't for everybody, but there's also a general consensus that everything leading up to it represents an incredibly taut neo-noir thriller. Couple this with intense moments of ultra-violent action, plus some darkly humorous musings on the moral rot in America, and No Country For Old Men is a modern masterpiece.
This week's streaming deals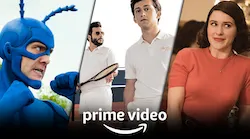 FREE TRIAL: 30 days of Prime Video's premium TV shows and movies for free
from Prime Video
Prime Video's free 30-day trial will give you instant access to thousands of premium TV shows and movies.
View details
---
---
For all the latest in TV and movie streaming, follow and subscribe below
---
More guides on Finder
Stream the best and save