Amazon Kindle Hub
Everything you need to know
The Amazon Kindle rules the eBook reading world, but which model should you purchase? Make sure you read our comprehensive guide before you buy.
Amazon's Kindles have relatively little competition in the e-reading space, with only stalwart competitors Kobo offering the same kinds of features at most of the same price points.
Kindles are perfect for reading: the standard model is small and light and reads like real paper without glare even from the sun. They also have the advantage of low power consumption, allowing you to read for up to a month on a single charge—based on half hour of reading per day.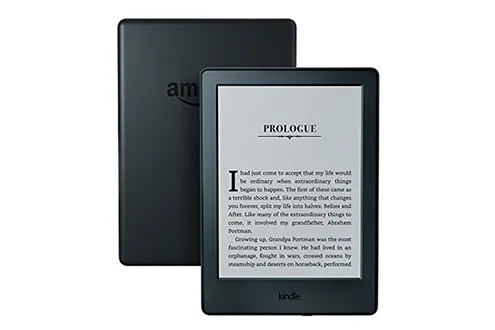 Kindle E-reader
from Amazon
Kindle E-reader is available to purchase now for $109
View details
Kindle Features
Read anywhere. The lightweight nature of the Kindle means you can carry more than 1,000 books in a device that weighs as little as little as 131 grams, depending on model.
Adjustable text sizes. We've all got different eyesight and different ways of holding a book -- even an electronic one. It's incredibly simple to adjust the text size and even font of every standard book you read on a Kindle.
International language support. If your reading choices include content not presented in Latin characters, you're covered with a range of additional character -- and therefore literature -- options.
Organise your library. You can organise your Kindle into custom collections or categories, depending on how you want to sort your reading material.
Built-in dictionary. The New Oxford American Dictionary is included into your Kindle so can look up the definition of any word.
---

What is the Kindle and how does it work?
Kindle is the original ereader as well as the market leader. It is made by Amazon and dominates the market with its wide selection of models that cater to every budget.
The central point of e-reader technology is the utilisation of e-ink screens which mimic the look of a regular book page. E-ink screens are high visibility, high contrast screens that reflect rather than emit light. They are more gentle on your eyes than regular LCD screens you find on your tablet or laptop. They refresh slowly and require minimal battery power to run, so Kindles can stay charged for weeks on end.
Which Kindle should I buy?
The choice is relatively wide, but it essentially boils down to your budget and particular mania for reading. The entry level Kindle is a decent way to ease into the Kindle ecosystem, but if you do intend to spend a lot of time reading, or you're replacing an existing Kindle then one of the more advanced models such as the Paperwhite could be a good buy. Here's how the individual Kindles compare from a technology standpoint:
| Amazon | Kindle | Kindle Paperwhite | Kindle Voyage | Kindle Oasis |
| --- | --- | --- | --- | --- |
| Screen Size | 6" | 6" | 6" | 6" |
| Resolution | 167 ppi | 300 ppi | 300 ppi | 300 ppi |
| Battery Life | Weeks | Weeks | Weeks | Months |
| Connectivity | Wi-Fi | Wi-Fi or Wi-Fi+3G | Wi-Fi | Wi-Fi or Wi-Fi+3G |
| Built-in Light | No | Yes | Yes + adaptive light sensor | Yes 10 LEDs for enhanced page consistency |
| Inputs | Touchscreen | Touchscreen | Touchscreen + PagePress | Touchscreen + page turn buttons |
| Dimensions | 169 x 119 x 10.2 mm | 169 x 117 x 9.1 mm | 162 x 115 x 7.6 mm | 143 x 122 x 3.4-8.5 mm |
| Weight | 191g | 205g (Wi-Fi) 217g (Wi-Fi+3G) | 180g | 131g (Wi-Fi) 133g (Wi-Fi+3G) (without cover) |
| | Buy Now | Buy Now | Buy Now | Buy Now |
---
Amazon Kindle Fire comparison
Amazon's Kindle Fire tablets as shipped to Australia currently come in two varieties; the Kindle Fire HD6 and Kindle Fire HD7.
Here's how the two compare:
| Amazon | Kindle Fire HD6 | Kindle Fire HD7 |
| --- | --- | --- |
| Screen Size | 6" | 7" |
| Resolution | 1280 x 800 (252 ppi) | 1280 x 800 (216 ppi) |
| Processor | Quad-core up to 1.5 GHz | Quad-core up to 1.5 GHz |
| Audio | Mono speaker, Built-in microphone | Dual stereo speakers, Built-in microphone |
| Storage | 8 GB | 8 GB |
| Camera | Front-facing VGA camera + 2 MP rear-facing camera with 720p HD video recording | Front-facing VGA camera + 2 MP rear-facing camera with 720p HD video recording |
| Connectivity | Single-band Wi-Fi b/g/n | Single-band Wi-Fi b/g/n |
| Battery Life | Up to 8 hours of reading, surfing the web, watching video, and listening to music | Up to 8 hours of reading, surfing the web, watching video, and listening to music |
| Weight | 290 g | 337 g |
| Dimensions | 169 x 103 x 10.7 mm | 191 x 128 x 10.6 mm |
| | Buy now | Buy now |
---
Where should you buy a Kindle from?
In Australia, Amazon's primary method for Kindle sales is through its own online store, and that's generally also the best place to buy one from, simply because it's usually a little cheaper that way, even taking Australian shipping into consideration. The Kindle Store on Amazon has comparison charts and a full list of features. If you want full customer service support, then Amazon is probably the best place to purchase your Kindle as they have trained staff available to help. Amazon also has a forum where you can find support from community members, or help others. When your Kindle arrives, it will already be set up with any ebooks that you've purchased.
How to compare Kindles
Price. Amazon sells a wide variety of Kindles, although not every single model is specifically shipped to Australia by Amazon specifically. Local pricing starts at $109 for the entry level Kindle, up to $449 for the very swish Kindle Oasis.
Screen quality. For the Kindle variants that use an e-ink display, you've got a single choice of a 6 inch (15.24cm) display. Not all Kindles are made equal, however, with the screen resolution of the entry level Kindle measuring in at 167 ppi compared to the 300ppi display on the Kindle Paperwhite, Kindle Voyage and Kindle Oasis.
Built in light. If lighting is an issue for you, or if you have sensitive eyes it may be worthwhile to purchase one that has inbuilt lighting so you can read easier. Only the entry level Kindle lacks a light, but the quality and number of lights expands the further up the current Kindle e-ink range you go.
Connectivity. Amazon sells its e-ink Kindles with Wi-Fi connectivity as standard, while some units also offer 3G connectivity. While a limited web browser is provided, this is primarily to allow you to access Amazon's Kindle store to purchase more books, which could be compelling if you like to read extensively when you travel.
Battery life. The battery in the Kindle can last multiple weeks even with regular reading, and on high-end models that can stretch into a month in-between charges.
E-Ink or full tablet? What most people think of with the Kindle brand are the e-ink based readers, but Amazon still also sells a number of tablet products under the Kindle Fire brand. These offer full Kindle connectivity for reading as well as a curated store for Kindle Fire apps. As full tablets they are significantly more flexible devices, but with full LCD displays you do lose the exceptional battery life of the e-ink Kindle readers. The Kindle Fire tablets are essentially Android tablets, but rather than source your apps through Google Play, you do so through Amazon. The downside here is that if you've got existing Android apps, you can't transfer your Google account without jailbreaking a Kindle Fire.
Commonly asked questions:
Do Kindles have Bluetooth?
There are many different Kindle models, some with Bluetooth and some without.
If you are looking for Bluetooth capability, consider the Kindle Fire (excluding Kindle Fire Second Generation), Kindle Oasis and the newest release of the standard Kindle.
Is it free to download books on the Kindle?
Usually, when you download books from the Kindle store, you pay per download unless you have a subscription with Kindle Unlimited. There is also a free section that you can browse through, but the titles are more limited. It is free to browse and usually free to download excerpts of books you are interested in so you can try them out before you make a purchase.
You can also read PDFs and EPUB files on Kindles, but you might lose some of the original formatting unless you first convert them into MOBI files, which is the native Kindle file type.
What are the most popular books on Kindle right now?
The most popular books right now in the Kindle store include Extremely Loud and Incredibly Close by Jonathan Safran Foer, The Unremembered Girl by Eliza Maxwell, A Tangled Mercy by Joy Jordan-Lake, The Honest Spy by Andreas Kollender, The House by the River by Lena Manta and The Rooster Bar by John Grisham.
Where can I buy Kindle ebooks?
Kindle ebooks are found and bought through the Kindle store, which is accessible from a regular web browser or from your Kindle home screen.
You can use the Kindle store to compile wishlists, reading lists and manage your purchases.
What is Kindle Unlimited?
Kindle Unlimited is a subscription service that gives you unlimited access to millions of titles at no extra cost other than the subscription fee. It's slightly different to purchasing a book through the Kindle store because you don't retain a copy. When you have finished reading your book, it will no longer be held on your device.
The subscription applies to magazines, audiobooks and regular ebooks and you can retain up to ten titles at once on your Kindle. Not all books available on the Kindle store are available through Kindle Unlimited. If you would like to try out the service before signing up, you can use the 30-day free trial.
Latest Amazon Kindle news
The biggest name in audiobooks is Audible by Amazon, but is it worth the cost for Australians? Is it better than Kobo, Scribd and Blinkist?
Read more…