Amazon Echo Spot Review: Amazon's smart alarm clock is stylish and fun
It probably shouldn't be your first Echo speaker, but if you're already in the Alexa ecosystem and want something with visual appeal then the Echo Spot should fit the bill nicely.
Clear display screen.
Home decor friendly design.
Decent audio.
Video calling capability.
Video monitoring is on a permissions basis.
Still no multi-voice support.
Drop-in feature could be embarrassing.
You can get an Alexa speaker for less.
We're reader-supported and may be paid when you visit links to partner sites. We don't compare all products in the market, but we're working on it!
---
The arrival of Amazon's Echo family of smart speakers was notable both for how long we'd been waiting for it to happen, as well as what we didn't get. A number of Amazon's highest-profile and most fancy Alexa-powered speaker devices simply weren't on the menu when it first launched down under, including both screen-enabled models, the Amazon Echo Show and Amazon Echo Spot.
There's no sign of the Echo Show yet, but you can now purchase an Amazon Echo Spot with support for Australian English and services here in Australia.
Design
Distinct alarm-clock design sets it apart from other smart speakers
Bluetooth support and a 3.5mm jack cover your basic audio needs
---
Performance
Better audio quality than the Echo Dot, but nothing to write home about
Touch screen opens up a variety of new features and functions
Supports connections with numerous other smart home devices including security cameras and video doorbells
---
Versatile while still being simple to use
A little on the pricey side
The Echo Spot is a very different kind of smart speaker, because the inclusion of a display screen adds all sorts of smartphone-style capabilities into what is otherwise a voice-driven world.
In some ways, Amazon hasn't done a lot with that screen, in order to keep voice the focus, but that also means they've kept it simple and easy to use, which is a big plus. It's also a speaker with cute industrial design, so where you'd probably hide an Echo Dot, your Echo Spot is much more likely to be proudly displayed.
You'll pay a premium for the privilege, and it's going to work a lot better in a house that's already Alexa-enabled rather than being your first Echo speaker, but within those constraints it works well.
---
Pricing and availability
The Amazon Echo Spot is available to purchase from Amazon Australia for $199.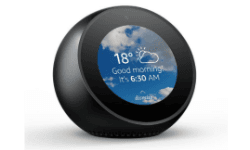 Click to buy Amazon Echo Spot - Black
from Amazon
View details
---
Alternatives
The smart speaker space is a very busy one, with many options open to you.
Within the available Echo space, the Echo Dot is the closest match to the Echo Spot in terms of features and audio quality, and is considerably cheaper at just $79. If you do want audio quality better than the Spot, consider the $149 Amazon Echo or the $229 Echo Plus if Zigbee integration is important to your smart home plans.
If you're not already in a particular ecosystem, you could consider the Google Home Mini for a low-cost solution, or its Echo equivalent, the Google Home speaker. Other Google Assistant compatible speakers that focus on audio quality that you could consider include the Panasonic SC-GA10, Sony LF-S50G, JBL Link 20, Sonos ONE or LG's upcoming $299 LG WK7 speaker.
If you're an iOS user with a focus on HomeKit smart home features and a love of high-end audio, you could also opt for Apple's exceptional sounding HomePod speaker
---
What the other reviewers say
| Site | Comment | Score |
| --- | --- | --- |
| Techradar | "This addition to the Echo family is a fun, versatile video device." | 4/5 |
| The Verge | "Amazon's new Echo Spot is the perfect smart alarm clock for your bedroom, except for one super annoying thing: it has a camera on it." | N/A |
| Engadget | "This alarm clock's tiny screen belies a big feature set." | 84/100 |
| Sydney Morning Herald | "The Spot seems most practical as an alarm clock for your bedside, or video phone for the living area, but $199 might be a big ask when the smartphone in your pocket can do the same job." | N/A |
---
Specifications
---
Connectivity
Wireless Network Support

802.11b/g/n/ac (2.4GHz/5GHz)
---
Audio
Speaker Information
1.4-inch speaker
Streaming Support
Spotify (Premium)
TuneIn
iHeartRadio
Amazon Music
Audible

---
Latest smart home reviews