Amazon to invest $10 million in AFL documentary series
Hot on the heels of The Test, Amazon is preparing an AFL documentary series in a bid to lure more Australian fans to its streaming TV service.
If you've been following the streaming TV market in Australia, then you'll know the competition has never been hotter. The traditional big three in Stan, Netflix and Foxtel Now have been overshadowed in recent times by the arrival of a number of other giants.
Kayo Sports has completely changed the landscape for sports fans, then there's Disney+, Apple TV+ and new kid on the block Binge. YouTube Premium has continued to grow and then, of course, there's Amazon Prime.
It is Amazon Prime that has been investing in growing its brand in the Australian market through the most intriguing means. The global giant found success recently with a documentary series centred on the Australian test cricket team. Called The Test, the documentary series begins this March, and if interest from Finder readers is anything to go by, it'll be huge.
Amazon isn't waiting for final viewing figures to kickstart its next Australian sport documentary series, however. Next up, Amazon is focusing on Australian Rules Football.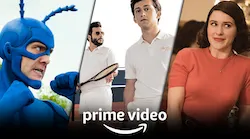 FREE TRIAL: 30 days of Prime Video's premium TV shows and movies for free
from Prime Video
Prime Video's free 30-day trial will give you instant access to thousands of premium TV shows and movies.
View details
What is Amazon's AFL documentary series about?
It's being widely reported that Amazon has signed a deal with Jam TV to produce a six-part documentary series exclusively for the Amazon Prime streaming TV service. Jam TV is a television production company owned by colourful AFL media personality and president of the Collingwood AFL club, Eddie McGuire.
The series is said to focus in on six clubs, and in particular on a key figure from that club. While the final details have not been confirmed, it's believed that eight clubs have confirmed an interest: Carlton, Geelong, Gold Coast, GWS, Port Adelaide, Sydney, Richmond and West Coast Eagles.
Interestingly, Collingwood is not said to be involved at this stage despite McGuire's stake in the AFL documentary series. However, other reports are suggesting that all 18 clubs have been invited to be involved in some capacity.
Some of the personalities being mentioned as potential faces for each chapter of this documentary series include Lance Franklin (Sydney Swans), Nic Naitanui (West Coast Eagles), Eddie Betts (Carlton), Majak Daw (North Melbourne) and Dustin Martin (Richmond Tigers).
What will Amazon's AFL documentary be like?
For an insight into what the experience could be like, AFL fans are encouraged to check out Six Dreams on Amazon Prime. This Amazon Prime original documentary series took a similar approach to the one described above, but applied it to the La Liga football league in Spain. Its six episodes followed three players, one coach, one sports director and a club president through an entire season.
You can learn more about Amazon Prime here, or grab a 30-day free trial to check it out now.
When will Amazon's AFL documentary come out?
At this stage, there is no release date for the AFL documentary series. Given that it needs to film over an entire season, it's unlikely that post-production will even begin before the end of the 2020 AFL season. With that in mind, we can speculate Amazon Prime would release in March 2021, just as excitement is building for the next season.
This is purely Finder's speculation. We've received no suggestion of a date from anyone off-the-record.
Store
Discount

Kayo Sports

Stream Kayo Sports for 14 days FREE and no lock-in contract

Take Kayo Sports' Basic or Premium plan for a spin and stream new sports content daily plus 15,000+ hours of on-demand archives.

Last verified
How to watch every match of the 2020 AFL season
Assuming talks are as advanced as is being reported, it's likely the Amazon AFL documentary series will focus on the 2020 season. It's added incentive to follow the ups and downs on what's sure to be another blockbuster year.
We have a detailed breakdown of all your options for watching the 2020 AFL season here. But for the quick summary, the best bang for buck can be found with Kayo Sports. It has every game live and on-demand, all the magazine shows, documentaries, highlights, news and unique viewing features.
You can grab a 14-day free trial here.
Latest streaming headlines