Alienware Alpha R2 Review
Alienware's latest iteration on its proto Steam Machine is a powerful and compact gaming PC that sometimes sounds like a fighter jet taking off.
We're reader-supported and may be paid when you visit links to partner sites. We don't compare all products in the market, but we're working on it!
The Alienware Alpha R2 is the popular gaming company's latest attempt to steer people away from the PlayStation 4 and Xbox One with a TV unit-friendly PC. With its small form and sleek design, the Alpha is a perfect TV companion that's not that much bigger than a Fetch TV box.
It's also a good deal more powerful than the 2014 model before it. However, its noisy fan and hefty pricetag will turn away some, more specifically those who have the time and know-how to build their own gaming PC.
| Specs | Alpha r2 |
| --- | --- |
| Price | $999 |
| CPU | Intel Core i3 |
| RAM | 4GB Single Channel DDR4 |
| Hard Drive | 500GB HD |
| Operating System | Windows 10 |
| Video Card | AMD Radeon |
| Dimensions | H: 55mm W: 200mm D: 200mm |
| Weight | 1.81 Kg |
Upsides: Why you might want the Alienware Alpha R2
The Alienware Alpha R2's form fit design, powerful Nvidia GeForce GTX 960 graphics card and Hivemind UI make it a formidable couch-based PC gaming experience. Here are some of the reasons why you might opt for Alienware's latest take on the Steam Machine.
Perfect for small apartments: Living in a tiny one bedroom apartment means my PC tower lives semi-permanently in the last bastion of available space (between my lounge and the wall). Having a more than competent PC that's roughly the size of two Apple TVs stacked on top of each other (200 x 200 x 55), is a godsend. And the HDMI input means I can switch from Fetch or Foxtel to Steam with the same ease as any other gaming console. The RGB lighting that lines the iconic Alienware logo and its edges are also customisable and while I liked the look of the preset red, it was nice to be able to change it up to suit the sea of blue that emanated from my TV unit. For myself and others in stuffy apartments around the country, there's no comparable computing experience.
Plug and play: While the fact remains that you could always build your own gaming PC at a cheaper price, there's value for the layman in being able to throw down a little extra cash to get a powerful and reliable gaming PC up and running with relative ease. While there is a notable lack of a DisplayPort support in the Alpha R2, it does use HDMI 2.0 which is compatible with most G-Sync-ready monitors. And again, this is a machine built for the living room and you will have no problem connecting it to most televisions with HDMI.
Hivemind UI perfects the couch-based experience: Though the Alpha R2's default launcher is a clean, clutter-free Windows 10, you also have the option to launch in Alienware's own Hivemind user interface. This was my first time toying with Hivemind, and what a smooth experience it was. You will be prompted to create a Alienware account when your first boot up the Alpha R2 (which in itself is painless). Once you've registered you will be walked through the basics with Hivemind's helpful quick start guide and directed to Hivemind's more advanced settings if you so wish. Because I was operating the Alpha R2 with a Wireless Xbox One controller and not the packaged keyboard and mouse, Hivemind offered the smoothest way to navigate my games on Steam, Origin and Battle.net and TV shows and videos through Netflix and YouTube. I was comfortably switching between Inside on Steam to Stranger Things on Netflix with all the ease my consoles offer. There's also the option to use Steam's similarly-styled Steam Big Picture mode if you prefer, but the Hivemind UI is best for all-round use.
Playing with power: The Alpha R2 is packing some heat under its tiny hood. The original Alienware Alpha housed a Nvidia GeForce GTX 860M chip, which itself was an impressive chip back in 2014. The GTX 860M was however a dedicated chip for laptops. The GTX 960 found in the R2 is a full-blown desktop graphics card. While the R2's Nvidia GeForce GTX 960 can't really compare with more powerful gaming PCs, it's a mark above anything the current console generation offers. The Alpha R2's CPU has also received a pretty significant overhaul, offering Intel's sixth-generation Skylake CPUs. You get the choice between the i3, i5 and i7 (at a cost) and can opt for a 265GB solid state drive. The upgraded hardware, while a welcome update in 2016, comes at a cost.

Downsides: Why you might not want the Alienware Alpha R2
The Alpha R2 is without doubt a stellar machine, but it's hard to ignore the fact that you could build your a more powerful machine for less. Here's some points to consider why you might not want the Alienware Alpha R2,
Fan can be a little noisy at times: A very small gripe, but due to the Alpha R2's updated graphics card and a cooling system that covers both the CPU and GPU, this tiny machine tends to make one hell of a racket when it's working hard. Honestly, when the volume's cranked up, the noisy is fan is barely noticeable. However, when the game's idling on pause, it sounds like a console on its last legs. The combined cooling solution is a compromise made due to the Alpha R2's small form, so it's a tradeoff we were willing to overlook.
A pretty penny: Considering the Alpha R2 is vying for real estate under your living room television, its price is a sore point when compared to the $399 to $499 price tags of the PlayStation 4 and Xbox One. Yes, you're getting a considerably more powerful device in a smaller box and PC gaming itself opens up a treasure chest of options unavailable to console owners. But at up to three times to the price of a traditional console, you really have to consider whether those benefits are worth the extra cash. The other side of the price card is that it's hard to ignore the fact that you could build a more powerful machine for less with a small amount of technical know-how and a little free time on your hands. You might be stretched to build something we the same form factor as the Alpha R2, but you could get pretty close with a Mini-ITX case.
Wired keyboard and mouse: One baffling inclusion with the Alpha R2 is the wired keyboard and mouse. Being a console suited to couch-based use, the omission of a wireless mouse and keyboard seems like a pretty annoying oversight. Obviously, you can throw down the comparatively insignificant amount of money to purchase wireless yourself, but considering $999+ price of the Alpha R2, you really shouldn't have to. For what you're paying, I would expect a wireless keyboard and mouse at the very least and even a Steam controller at most (I realise this isn't Alienware's Steam Machine, but it's just one emblazoned logo away).

Who is it suited for? What are my other options?
The Alienware Alpha R2 will suit anyone looking to access Steam, Blizzard.net, Origin and more from the comfort of their lounge. Its formfit design is perfect for those lacking space and takes no effort to get up and running. However, if you're a little more serious about your PC gaming, building your own rig from scratch is bound to save you a few dollars.
Those looking for a more portable gaming experience could drop the extra cash for the Razer Blade Stealth, which houses an Intel Core i7 processor.
The Razer Blade Stealth and the Alienware Alpha are both compatible with external graphics boosters, the Razer Core and Alienware Graphics Amplifier. These enclosures were built to house a desktop-quality graphics cards that your portable notebook or laptop could plug into when at home. The Alienware Alpha can also benefit from the extra juice the graphics amp provides, though it admittedly defeats the purpose of the Alpha R2's tiny stature as the amp is 173mm high and 409mm deep. Both the Razer Core and the Alienware graphics amp come at a pretty hefty price considering you also need to fork out the extra cash for an actual graphics card. Still, the Alienware Graphic Amplifier comes a lot cheaper than the Razer Core, so it has that going for it. While there's no Australian pricing on the Razer core yet, it's currently selling at $500US, a good deal more than the Alienware Graphics Amplifier's $199AUD price tag.
Where can I get it?
The Alienware Alpha R2 is now available through Dell's online store at $999 (Core i3, AMD Radeon R9), $1,299 (Core i5, GeForce GTX 960) and $1,499 (Core i7, GeForce GTX 960).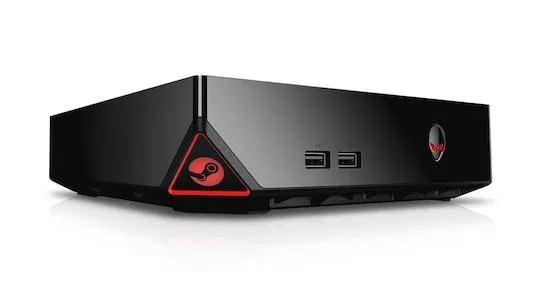 Alienware Alpha R2
from Amazon US site
Order Alienware Alpha R2 today from Amazon
View details