Alienware 17 Review: Big, bold and bulky
Quick Verdict
Alienware knows its constituency well, and while the style isn't as brutally in your face as many gaming laptops are, this is still a gamer's laptop first and foremost.
Strengths
Doesn't go over the top on gaming design
Very powerful
Highly configurable
Great keyboard
Business in front, port-y out the back
Eye tracking built in
Could be better
Ludicrous size
Poor battery life
High cost
---
Alienware's latest high-end laptop stands out for size and power, although predictably battery life is nothing to get excited about.
Gaming laptops are a niche unto themselves; while the rest of the market concentrates on getting thinner or adding USB C ports seemingly to the exclusion of everything else, a good gaming laptop should provide plenty of both CPU and GPU grunt to meet your every gaming desire. That's especially true given the premium pricing usually associated with most gaming-centric laptops. Dell's Alienware 17 line starts at $2,999 and goes up from there depending on configuration, so it's got a lot to live up to.
| Dell | Alienware 17 |
| --- | --- |
| Display | 17.3in |
| Resolution | 2560x1440 |
| Weight | 4.42kg |
| Front camera | 5.0MP |
| Processor | Intel Core i7-6700HQ |
| Memory | 16GB |
| Storage | 512GB SSD/1TB 7200RPM SATA |
| Battery | 68Wh battery |
| Software | Windows 10 Pro |
| Price | From $2,999 |
Upsides: Why you'd want the Alienware 17
Doesn't go over the top on gaming design: As soon as you put "gaming" into the description of a product, often you'll find it paired with crazy design that's meant to draw the eye in, no matter how much of an eyesore it might be. The Alienware 17 doesn't go down that route, with a slender LED that runs the sides of the laptop the sole nod to its gaming heritage. As befits an Alienware laptop, the Alien power button is also a nice nod, but the practical upshot here is that it's a device that you could quite happily use for other purposes without feeling awkward about it.
Very powerful: The combination of an Intel Core i7-6700HQ processor, 16GB of RAM and an NVIDIA GeForce GTX 1070 makes this a processing beast, at least from a gaming laptop point of view. We did try testing it with 3DMark's Time Spy benchmark, but the combination of a custom driver and laptop hardware gave its detection routines concerns, so the score of 5184 we got was an unverified one that was at least partially resting on it running off the CPU's own graphics prowess. Still, even there it punched up towards the best VR rigs, so this is a no-nonsense gaming system that should serve you well for some time if you invest in it.
Highly configurable: This should be no surprise, given that Alienware has been part of the Dell empire for some time now. The Alienware 17 that we tested was effectively the mid-range model with a QHD screen and hard drive upgrades already tacked on. You could spend more for even more storage or a UHD display, or shave off a few dollars and opt for Full HD and a smaller SSD. Dell being Dell, you may even find a special that upgrades you at no additional cost.
Great keyboard: Laptop keyboards often have to serve multiple purposes, and the Alienware 17's keyboard isn't just well suited to gaming, but also general productivity tasks. Key travel and response is good if you're a touch typist, and while many gaming keyboards go for that noisy intimidation factor, the Alienware 17's "TactX" keyboard is instead suitably silent for the most part.
Business in front, port-y out the back: At first glance you might think that the Alienware 17 was rather underserved when it comes to ports. There's a single USB 3 port on the right hand side, and headphone, USB 3 and Thunderbolt 3 on the left. That's because the larger than usual chassis on the Alienware 17 allows it to throw the rest of its ports right out of the back and out of the way. Full ethernet, HDMI, USB C and Alienware's own graphics amplifier sockets all rest out the back, along with the power supply.
Eye tracking built in: The Alienware 17 incorporates Tobii's eye tracking via a small front-mounted camera that can be configured to capture your eye movements for in-game camera selection. It's a tad gimmicky, and we honestly didn't have that many titles we could test it with, but as an additional feature it's got some promise.
Downsides: Why you might not want the Alienware 17
Ludicrous size: There's not much getting around this for any 17 inch laptop, to be fair. The Alienware 17 is huge and bulky, and while it's built in a laptop form factor, you really wouldn't want to lug it around for any longer than you absolutely had to. At this size, there's almost an argument for taking around a small form factor desktop, and you could probably build one with much the same heft as the Alienware 17. Alienware's claim is that the Alienware 17 is slimmer than previous generations, but this is still a chunky beast of a laptop. We've tested laptops that were lighter than the Alienware 17's power supply alone.
Poor battery life: Gaming laptops, to be fair, are rarely exemplary creatures when it comes to battery life. The push of such a large screen, speakers and processors is usually a combination that no amount of battery stuffing can overcome. The Alienware 17 managed a paltry 3 hours and 14 minutes in our looped Full HD video test with screen brightness maximised. As such, you'll really want to keep it tethered to its power supply at all times.
High cost: Again, this is pretty much par for the course if you want a gaming laptop, but for your buying dollar you may be better served by a full gaming desktop instead. Naturally, Alienware would be more than happy to sell you one of those as well.
Who is it best suited for? What are my other alternatives?
Alienware knows its constituency well, and while the style isn't as brutally in your face as many gaming laptops are, this is still a gamer's laptop first and foremost. If you want something powerful and don't want a desktop machine for LAN lugging, it's a solid if not always inexpensive option, especially if you opt for a machine with all the trimmings.
Alienware also sells smaller gaming laptops if the size is an issue, or switching brands you could consider something like the Razer Blade Stealth laptop.
Where can I get it?
Alienware sells its gaming desktops and laptops, including the Alienware 17 through its web site. Pricing at the time of writing for the Alienware 17 starts at $2,999 for a Full HD model, although the specifications for the unit we tested would currently cost you $3799.40.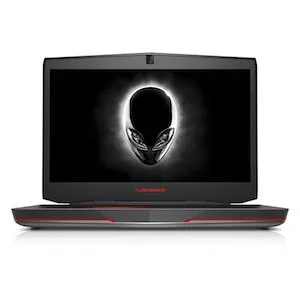 Order now Alienware 17
from Amazon US site
FEATURES: Windows 10 operating system; 17.3" Full HD display. The 1920 x 1080 resolution boasts impressive color and clarity.
View details
Latest technology headlines
---
For all the latest in TV and movie streaming, follow and subscribe below
---