Alienware 13 R3 OLED review: The sweet-spot between power and portability
Alienware's 13-inch OLED R3 is a solid choice for crisp, portable gaming but its bulky design shows its age.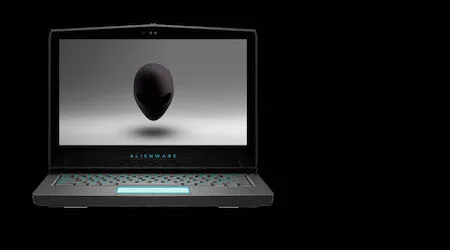 We're reader-supported and may be paid when you visit links to partner sites. We don't compare all products in the market, but we're working on it!
Quick Verdict
It covers the sweet-spot of gaming power versus portability. It's light and small enough to take with you, although being a 2016 laptop, it's starting to show its age a little.
Strengths
Visuals so delicious you'll want to lick the OLED
A tad long in the tooth, but still exemplary performance
Decent battery life
Easy expansion options to get more grunt
Could be better
Expensive
Chunky butt cooling solution is aesthetically divisive
It's nearly double the weight of others in its class
---
Let's get right down to brass tacks: the Alienware 13" OLED is a great blend of power and portability, the likes of which can go toe-to-toe with the Razer Blades of the world. Built like a futuristic-looking tank and boasting one of the most impressive visual experiences I've had on any laptop, ever, this unit becomes an object of envy in record time.
However, it's important to note that this is the R3 we're looking at, the apex configuration of the 13. At the tail end of 2016, the greys in the mothership of Alienware decided to redesign this series to be 21% thinner, plus it has a better GPU and CPU than its two forebears.
This time around you're getting a beefier quad-core i7-7700 HQ processor paired with 16 gigs of DDR4 RAM clocked at 24Mhz. Plus, a 512GB SSD and a 6GB Nvidia GTX 1060 graphics card. Honestly, that's a bunch of great components that have (somehow) been squeezed down into a small, sexy chassis.
Connections
Also, I expected more USB ports from a laptop that touts its "VR-ready" status so prominently. Hooking up the VR system of your choice will monopolise ports in no time, and that's without considering ones you'll want to dedicate towards charging motion controllers and the like on the go. Obviously, this can be solved with a hub, but that's an additional cost we can all do without and hubs on the go are always problematic.
The port selection is also good but could have been more expansive. On the right side, you have a full-sized USB 3.0 and a super speed type C one. On the left side is another regular USB 3.0, plus a mic and a headphone jack.
However, most of the party is out back, where you'll find your AC-in, Ethernet port, a gen 3 thunderbolt USB type c port, HDMI and a mini display out, plus the Alienware proprietary graphics amplifier port (layman's terms: you can connect an expensive, sizeable box that improves your graphical performance). Rounding that out, we have a pretty ordinary webcam that sits above the display.
Yes, its Tobii eye-tracking system is cool and has the infrared capabilities needed for facial sign-in options, but I would have swapped all of that sci-fi for a webcam that can do 1080p 60fps instead of 720p at 30.
Form and function
Bottom line: this is damn stylish looking and the build quality is second to none. When open and doing its thing, the Alienware 13" catches people's eye with its RGB-lit keyboard and synaptic-driven trackpad.
There are some other light points, too, including the logo below the display, the alien head on the lid and the power button on the right, all of which can be tweaked to the colour of your choice in the included Alienware FX software.
It's a shame that the keys are only zone lit, as opposed to individual, and you can't get results like Razer's technicolour Chroma cascades. That said, it's not a huge loss for non-show-ponies.
The lid itself is a lovely and shiny aluminium finish that resists fingerprints, though the same cannot be said of the matte black finish in and around the screen and keyboard. Keep your microfibre cloth close and your touchy-feely friends less close.
This model also has a large butt – a cooling solution that juts out behind the screen hinge in order to effectively eject hot air (fresh 02 is sucked in from underneath). Aesthetically, it's not especially pleasing to look at, but the plus side is I have never experienced my CPU or GPU get thermo-throttled during extensive testing.
Last, but not least, we have keyboard keys and touchpad buttons that are responsive, but have a LOT of travel to them (could just be a me thing, but having 2.2mm until a register is a culture shock coming from mechanical keyboarding). That said, they're more than fine for on the go, but if you're a serious gamer, you'll want to have external gear waiting at your desk if you want to stay competitive.
Lastly, there are some internals you can access quite easily from underneath the unit. Remove a panel and you can upgrade the Killer Wi-Fi card if you'd like (not that you'd want to as it's top notch at the time of writing). There are also two RAM slots that can be upgraded to 32GB. Not to mention two M2 drive bays, though the stock Toshiba SSD already offers very decent speeds.
Display
The biggest standout feature of this beast of a laptop is the OLED HD screen (which, by the way, was a first for laptops). It's vibrant and has a ridiculously high 380 nt brightness and colour gamut. Everything is sharp enough to put an eyeball out and the inky blacks are darker than your mother-in-law's soul. Basically, this thing turns heads and triggers murmurs like no other laptop screen I've tested. Unfortunately, this being a quad HD display, you may not be able to run hardware-sucking games on the screen's native resolution of 2560 x 1440 and achieve the framerate sweet spot of 60fps. More on this situation in a second.
Performance
I dialled down the resolution to 1920x1080, and, as is custom with all my gaming hardware tests, the first event was the chicken dinner test. PUBG performed reasonably well when on Ultra settings, though the FPS was at a slightly reduced 52fps, no matter what I turned off in the background. Open-world gaming filled with complex AI routines were a bit more taxing – Mafia 3's "high" settings delivered a less-than-groovy 50 fps and questing in Witcher 3 returned 48 fps. Sniping the Boche in Battlefield on "Ultra" fared much better with a very decent 80fps and Overwatch cranked right up and delivered 100 fps as well. Last but not least, the in-built benchmarking tool for Forza 7 came back with a consistently locked 60 fps. By and large, you can throw some of the most visually taxing games out there at this thing, and more often than not, it'll handle them with aplomb.
Why did I keep it to 1080p? Because I think on a 13.3" screen, you'd need eyes like a hawk to see further resolution benefits at 1440p. That and, oddly, though the screen has been designed to hit that resolution, the other specifications aren't quite up to snuff to make this happen with the current cutting-edge games. 2560 x 1440 capability seems a little redundant in this regard unless you're going to cough up the extra dough for Alienware's proprietary performance boosting options to reach that mark.
Whatever the case, VR gaming is handled extremely well (aside from the aforementioned issues with a lack of USB ports). I experienced lag-free fun in games like Star Trek Bridge Crew, Elite Dangerous and Virtual Rick-ality. A short dabble in 4K video editing proved to be a pleasant and speedy process as well. For the most part, this Alien will absolutely take whatever you throw at it.
Given how demanding AAA games can be on hardware, I fully expected this Alien's battery life to be pretty dismal. It may not hold a candle to something like a MacBook Pro, but within its own dedicated PC laptop field, it is impressively ahead of its competition. I experienced four hours of pushing the limits with the hottest games going and seven hours of just surfing the web and watching 1080p videos.
Drawbacks
Downsides for this unit are few and far between. Even though it features the unique derriere for displacing excess heat – something that results in no thermo-throttling during its battery life – she still runs a little hotter than most, and the fan noise will let you know about it. Not a huge problem if you're rocking some headphones, but in close quarters it may irritate others.
It also leans more to the durability side of things which means that some metal components (for example, the steel plate under the TactX keyboard) make this heavier than most other 13" laptops out there. And, once again, the chunky butt adds to the overall dimensions which means a carry bag advertised as 13" friendly most likely won't cut the mustard. One last thing, and this is a personal preference: I prefer my AC ports to be positioned off to the side – that way I can immediately see whether it's going to be bent or jammed by my shifting legs or other objects.
These are minor peccadilloes to be sure. The good heavily outweighs the bad here. The 13 R3 is a damn solid purchase, no matter which way you look at it. Plan an Alienware abduction of it at your earliest possible convenience.
Verdict
It covers the sweet-spot of gaming power versus portability. It's light and small enough to be taken with you. Being a 2016 laptop it's starting to show its age a little – some current AAA titles will need to be tackled at "high" and "highest" settings, rather than "ultra". That said, the power you're getting for the price of this portable experience is still truly impressive.
Pricing and availability
The R3 version of Alienware's 13" OLED retails for $3,385.70 from Alienware, Microsoft Store, Scorptec, PC Case Gear and other PC hardware retailers.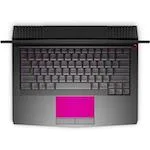 Purchase the 13-inch Alienware R3 OLED laptop from Dell
from Dell
Alienware's first 13-inch VR gaming laptop is available now from $1,999
View details
Alienware 13 R3 OLED specs
Display

13.3-inch Touch QHD OLED @60 Hz
Resolution

2560 x 1440 GraphicsIntel HD
Graphics

nVidia GeForce GTX 1060 with 6GB GDDR5 Overclocked
Memory

16GB DDR4 at 2400MHz
Processor

Intel i7-7700HQ (Quad Core, 6MB Cache, up to 3.8 GHz w/ Turbo Boost)
Storage

256GB SSD (PCIe M.2)
Battery

76Wh with approx 2 hours battery life
Software

Windows 10
Weight

2.63kg
Dimensions

22mm x 330mm x 269mm
Webcam

1280 x 720 (HD)
More guides on Finder