AIA Crisis Recovery
Receive cover for up to 50 serious illnesses with AIA Crisis Recovery
We're reader-supported and may be paid when you visit links to partner sites. We don't compare all products in the market, but we're working on it!
AIA Crisis Recovery Insurance is its branded form of trauma or critical illness insurance. AIA Crisis Recovery insurance provides a lump sum benefit if you suffer a major illnesses specified in the policy. It is an important cover to have if you are stuck with any big medical expenses resulting from your illness, especially when you are no longer able to work in order to earn an income. It will also enable you to pay off any debts so you can create a better cash flow that better fits in with your reduced earnings.
The AIA Crisis Recovery Plan can be purchased as a stand alone insurance policy or as an additional benefit attached to your Life Cover insurance. If you prefer to have it as an additional cover the amount of cover you want can not exceed that of the life cover benefit you already have, or intend to have. Any successful claim you make under the crisis recovery plan will reduce your life cover benefit by the same amount.
An adviser can help you find cover from trusted life insurance brands.
Get competitive quotes from multiple brands

Lower rate of declined claims (according to ASIC)

Save time and effort
---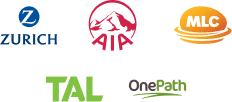 | Features | Included? |
| --- | --- |
| Premium Structure | |
| Level Premiums | |
| Stepped Premiums | |
| Optimum Premiums | |
| Available as: | |
| Crisis Recovery Stand Alone | |
| Built-in Benefits | |
| Crisis Events Benefit | |
| Partial Payments | |
| Death Cover | |
| Premium Freeze | |
| Benefit Indexation | |
| Complimentary Interim Accidental Crisis Recovery Cover | |
| Complimentary Interim Accidental Death Cover | |
| Financial Planning Reimbursement | |
| Complimentary Family Protection | |
| Conversion to Loss of Independence at age 70 | |
The key benefits of AIA Crisis Cover
AIA Crisis Cover enables you to benefit from invaluable protection from a highly regarded and reputable provider. This type of protection means that if you do suffer a debilitating or life threatening health problem, you will not have to cope with the added stress of money worries on top of the other emotions that you will be experiencing. Some of the benefits of AIA Crisis Cover include:
The benefits of a valuable protective policy that is from a well known and highly reputable provider
Peace of mind that there is coverage in place in case you or a member of your family is affected by debilitating illness or a life threatening condition
The financial lifeline that comes with the benefit that is paid out in the event of a claim, which can help you and your loved ones to reduce your financial worries and concerns, deal with treatment costs and loss of income, and keep things together at what will already be a very difficult time.
Option of taking out Double Crisis Recovery and Crisis Reinstatement available.
What's covered?
The following benefits are part of an AIA Crisis Recovery plan:
Death cover. Your nominated beneficiary will receive an amount of up to $5,000 if you should die (stand alone plan only).
Chronic diagnosis advance benefit payments.If we are able to confirm the diagnosis of certain Crisis Events (see below), we will pay an advance payment of your Crisis Recovery or Crisis Recovery Stand Alone benefit.If AIA is able to confirm the your diagnosis in regard to the approved critical events (listed below) AIA will pay you an advance payment. The payment made will be 25% of your insured cover up to a maximum of $25,000. An acceptable specialist medical practitioner must confirm the following crisis events:
Motor Neurone Disease
Multiple Sclerosis
Muscular Dystrophy
Parkinson's Disease

Converts to loss of independence at age 70. When you reach 70 years of age your AIA crisis recovery benefit will cease. However rather than allowing the benefit to expire it will be converted to a 'Loss of Independence' benefit. It will remain that way until you reach the age of 100 years. This benefit change only applies if your cover is attached as part of your Life Cover insurance plan (does not apply if you are covered under a Crisis Recovery stand alone policy).
Complimentary family protection. If you have children aged between 2 and 17 years, they will also be covered under your AIA Crisis Recovery Plan. Benefits will be paid if the child is diagnosed with one or more of the ailments listed in the policy as well as if the child dies. This complimentary benefit covers all your children but the maximum benefit paid will be whatever is the lower of the sum insured under the plan and $20,000. Only one payment will be made per each of your children although the total amount can not exceed the amount of insurance cover you have taken out under the plan.
Premium Freeze. Option to freeze your premiums if you are aged 35 or older. Freezing your premiums will mean that premiums will remain the same regardless of your age but the sum insured will be reduced according to the reduced premiums. AIA must be notified of a freeze 30 days before the policy anniversary.
Financial Planning Reimbursement. If a claim is paid for a crisis event, AIA will reimburse you for the cost of advice from a financial planner of up to $3,000.
Complimentary Interim Accidental Death Cover. Included at not extra charge, this will cover up to $5,000.
More reasons to take out a AIA Crisis Recovery
There are many benefits to be derived by signing up to an AIA Crisis Recovery plan some of these include the following:
You will be covered for crisis events. These events include illnesses such as cancer, a stroke, heart attack, loss of the use of your arms, legs or eyes, among many other ailments that are listed in the policy, as such diseases strike anybody without discrimination.
AIA will pay out a lump sum benefit. If you are diagnosed as suffering from any of these events you will receive your agreed benefit in the form of a lump sum payment.
Crisis recovery cover will ease financial stress. It will be a stressful time if you are ever unfortunate enough to be diagnosed with such a traumatic ailment. Having financial protection such as a Crisis Recovery plan in place will at least take care of the money side of things.
The providing of sufficient funds for necessary lifestyle changes. When diagnosed with such a serious life threatening or disabling ailment, you can be certain some lifestyle changes will have to be made. If you have an AIA crisis recovery plan to fall back on, the making of such changes will be much easier.
What is the qualifying period?
AIA Crisis Recovery benefits will not be paid if the claim of having suffered from one of the listed events is made within three months of obtaining the cover. This qualifying period will be waived however if your new policy is a replacement policy with the same or lower sum insured amount and the qualifying period has already been served. If you have your cover as a stand alone policy plan AIA will pay the benefit after you have survived the ailment for 14 days after being first diagnosed.
If you have suffered a pre-existing condition of the type listed as being covered under your AIA Crisis Recovery plan and you do not inform AIA of this condition before the cover being approved, or in the case of any improvement in the benefit, reinstatement, or increase of the insured amount, the benefit will not be paid if a later claim is made because of you being diagnosed with that complaint.
What crisis events are covered?
Over 40 Crisis events covered including:
Skin Cancer
Heart Attacks
Stroke
Kidney failure
Accidental HIV infection
Who is eligible for cover?
If purchased as a ride-benefit under life-cover, then the sum insured must not be more than the sum insured under the life-cover policy.
Entry age is between 16 and 64, and the expiry age is at 70.
More guides on Finder