Agents of Mayhem review: More spoof than satire
The best and worst of not taking yourself too seriously.
We're reader-supported and may be paid when you visit links to partner sites. We don't compare all products in the market, but we're working on it!
Volition has made a name for itself by pumping out sandbox titles that blend power fantasy with self-aware humour. The Saints Row series has always played second fiddle to GTA but has carved out its own little niche over the years by completely removing the shackles and heading in whichever direction it damn-well pleased. From its more humble roots as another gang-banging open world title to saving Christmas, ruling the Galaxy and taking over Hell, it's been a weird journey for Volition. AndAgents of Mayhem (AoM) proves the developer isn't planning on going straight anytime soon.
AoM looks, sounds and feels like a Saints game, but manages to strip away all the confusion that came with that series' many iterations by crafting a fresh universe based around superheroes rather than gangsters. It's a clean slate, one that's rife with comically evil organisations and sharp-tongued heroes with tons of powers at their disposal.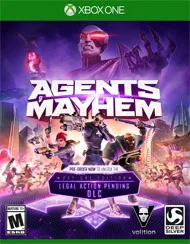 Agents Of Mayhem Day One Steelbook Edition Xbox One Game
from ozgameshop.com
OzGameShop
View details
Each Agent of Mayhem has their own unique abilities and weapons and can be customised to the wazoo with cosmetic and skill upgrades earned through completing missions and finding in-world loot boxes. There are fourteen characters all up: three available to begin with, nine unlocked through story missions and two DLC characters.
Agents of Mayhem's first 10 minutes
The player handles three of these characters at any given time (switching between them with the d-pad) and is tasked with juggling each character's abilities and perks to best accommodate the situation at hand. There are also some passive perks, like Rama's Deadshot that deals out extra damage to debuffed enemies or Daisy's Shieldbuster that pierces targets protected by hard shields. This allows for an insane level of customisation when rigging out your chosen trio, but unless you push the difficulty up a bit and tinker with some settings you'll rarely have any trouble delivering the smackdown anyway.
On AoM's default difficulty, you'll cut through crowds of your LEGION foes like butter (difficulty options are plentiful). But there's also one odd handicap setting the game doesn't tell you about, the 'auto target angle'. Cranked up to 10, this allows you to fire off bullets at just about any angle and still land a hit. Setting it at 0, meanwhile, gives you more of a natural hitbox and a pretty standard challenge.
This system seems to mess with some characters' abilities. There are characters like Joule, whose arc-lightning weapon only activates when aimed at an enemy. Joule's weapon feels like it should naturally ramp up that auto target angle and allow you to wildly spray lightning at groups of enemies, but the ability to manually override that setting means her weapon is restricted by the same default setting you choose for the rest of your crew. Considering there's already a more-than-helpful 'snap to target' setting, the auto target angle feels like some unnecessary hand holding and more trouble than it's worth.
While the level of customisation is impressive, there's nothing too exciting about it unless you're a big numbers person. Unlockable gadgets and abilities give each character's same three attacks different stats and effects, but there's no traditional skill tree for unlocking totally new abilities or weapon upgrades. Even new weapon and costume skins are just that, skins. Expecting something deeper might be a little much in a game consisting of fourteen playable characters, but I found myself getting bored with new characters quickly and there's a large handful I could see myself never using again. The stat and effect boosts new gear grants also don't impact combat enough to make them exciting. Luckily, a few characters like Joule, Oni, Rama and Scheherazade have truly unique weapons and abilities that are a thrill to play with.
Unlocking and playing as new characters is where Agents of Mayhem shines. New characters are mostly unlocked through "AoM special episodes", subplots where you play exclusively as the new character and learn the ropes with them. These one-shot episodes are all introduced with a very neat animated opening that sheds some light on the character's background and their reasons for fighting. These personal subplots are almost always more exciting than AoM's main narrative arc, which itself often boils down to the same rinse-and-repeat formula of "dig up the dirt on a boss, fight waves of same-same minions, fight the boss".
Even though the game wants to be the hardarse smart-mouth with no feelings, there are glimmers of real characterisation in these special episodes. Moments that lend real emotional depth to what would otherwise be generic caricatures. I just wish Agents of Mayhem's core story made more time for its titular team like the special episodes do.
The same goes for AoM's Seoul. The futuristic city serves as your open-world playground, and it's an interesting one at that. In AoM's future, Seoul is a technological hub buzzing with development. You have huge construction sites side-by-side with floating museums, nightclubs and intact cultural touchstones. However, much like AoM's under-developed roster of characters, Seoul is tragically underused. Way too many missions are spent in carbon-copy underground lairs, and even when you're roaming the streets there's little to do except zipping between missions which are inconveniently and unnecessarily spread across the map. Even the drone-like residents of Seoul are totally lifeless rag dolls whose only purpose is to get in the way of speeding cars and explosions.
These points all culminate into one glaring misstep: Despite its tendency to run its mouth, Agents of Mayhem never actually manages to say anything. It doesn't say anything about its culturally diverse cast. It doesn't say anything about Seoul under siege. It doesn't say anything about its bland villains. Even the outrageous cartoons Agents of Mayhem draws inspiration from said something about freedom in the face of fascism, but Agents of Mayhem seems content with throwing out a few one-liners, firing off a crotch rocket and calling it a day. I was expecting a satire along the lines of Team America but what I got was more in line with a genre spoof movie.
Agents of Mayhem wears its devil-may-care attitude on its sleeve like a regrettable tattoo. In doing so, it hands the player fourteen powerful characters to toy with in a huge sandbox that's littered with jokes about Uranus and openly sacrifices any depth or complexity that could have blossomed beneath the surface.
A while back I said that Agents of Mayhem is as good a Crackdown as any, and I stand by that. It has all the hallmarks of what made the first two Crackdowns popular: that powerful feeling of leaping over a building and into a speeding car while the skyline explodes behind you. It just doesn't add anything else.
We reviewed Agents of Mayhem on Xbox One with a copy provided by the publisher.
Agents of Mayhem
6.0 GOOD
What we liked...
Explosive, overwhelming action
80s cartoon style with a smorgasbord of superheroes to play as
What we didn't like...
Boring, repetitive underground lairs
Seoul is superficial. Looks pretty from a distance, but not much going on the closer you look.
VERDICT
While there are parts of Agents of Mayhem that really make me cringe, whether it be the sometimes grating humour or the awfully repetitive LEGION lairs, there's another side of it that I find (almost) charming. The colourful characters, the explosive shootouts and the animated cutscenes all add to its Saturday morning cartoon charm. It can be silly and juvenile but almost in an endearing way and I know that fifteen-year old me would be having the time of his life come 18 August.
For more information on how finder scores games, check our review guidelines.
---
More guides on Finder