Full 2020 AFLW draw: Fixtures list and schedule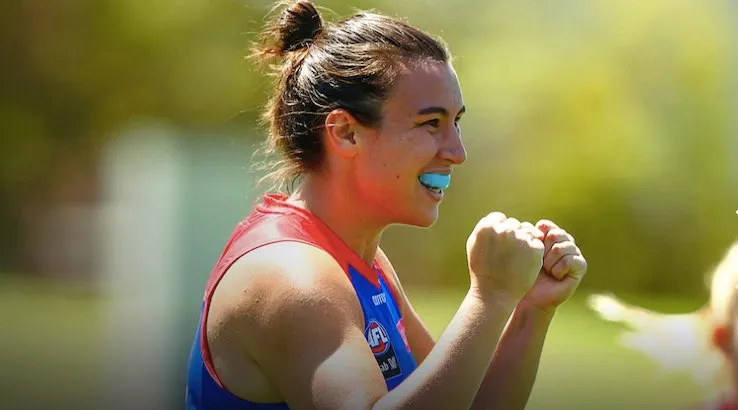 The latest AFLW season is here! The competition has been expanded to 14 teams and they are all chasing defending premiers Adelaide. This is the full 8-round fixture list.
With the addition of four new teams – West Coast, Richmond, Gold Coast and St Kilda – there are now seven games every week. The teams are split up into two conferences of seven sides apiece.
It all gets underway on Friday 7 February with Richmond taking on Carlton at Ikon Park. This season, there will be a Friday night blockbuster for all eight rounds. The regular season runs through until Sunday 29 March, with the grand final on Saturday 18 April.
The first women's edition of the Western Derby takes place in round two when newcomers West Coast meet Fremantle at Optus Stadium. There is also a double-header when the round four AFLW match-up between Collingwood and Melbourne will be the curtain-raiser to the AFL's Bushfire Relief State of Origin fixture at Marvel Stadium on 28 February.
This season the top three teams in each conference qualify for the finals series, which will consist of two elimination finals, two preliminary finals and the grand final.
Matches are being shown on Channel 7, 7mate, Kayo Sports, Foxtel iQ, Foxtel Now and on the AFLW Offical App and website. You can see our full guide to the season here.
2020 AFLW schedule
| Round | Date | Match | Venue | Kick-off (AEDT) | Watch |
| --- | --- | --- | --- | --- | --- |
| Round 1 | Friday 7 February | Richmond vs Carlton | Ikon Park | 7:40 PM | Kayo Sports, Foxtel, Channel 7 |
| Round 1 | Saturday 8 February | GWS vs Gold Coast | Blacktown ISP Oval | 1:10 PM | Kayo Sports, Foxtel |
| Round 1 | Saturday 8 February | Melbourne vs North Melbourne | Casey Fields | 3:10 PM | Kayo Sports, Foxtel, Channel 7 |
| Round 1 | Saturday 8 February | Brisbane vs Adelaide | Hickey Park | 5:10 PM | Kayo Sports, Foxtel |
| Round 1 | Sunday 9 February | Collingwood vs West Coast | Victoria Park | 1:10 PM | Kayo Sports, Foxtel |
| Round 1 | Sunday 9 February | St Kilda vs Western Bulldogs | RSEA Park | 3:10 PM | Kayo Sports, Foxtel, Channel 7 |
| Round 1 | Sunday 9 February | Fremantle vs Geelong | Fremantle Oval | 5:10 PM | Kayo Sports, Foxtel |
| Round 2 | Friday 14 February | Western Bulldogs vs Melbourne | VU Whitten Oval | 7:40 PM | Kayo Sports, Foxtel, Channel 7 |
| Round 2 | Saturday 15 February | North Melbourne vs GWS | UTAS Stadium | 3:10 PM | Kayo Sports, Foxtel |
| Round 2 | Saturday 15 February | Gold Coast vs Richmond | Metricon Stadium | 5:10 PM | Kayo Sports, Foxtel |
| Round 2 | Saturday 15 February | West Coast vs Fremantle | Optus Stadium | 7:10 PM | Kayo Sports, Foxtel, Channel 7 |
| Round 2 | Sunday 16 February | Geelong vs Brisbane | GMHBA Stadium | 1:10 PM | Kayo Sports, Foxtel |
| Round 2 | Sunday 16 February | Carlton vs Collingwood | Ikon Park | 3:10 PM | Kayo Sports, Foxtel, Channel 7 |
| Round 2 | Sunday 16 February | Adelaide vs St Kilda | Richmond Oval | 5:10 PM | Kayo Sports, Foxtel |
| Round 3 | Friday 21 February | St Kilda vs Melbourne | RSEA Park | 7:10 PM | Kayo Sports, Foxtel |
| Round 3 | Saturday 22 February | Western Bulldogs vs Carlton | VU Whitten Oval | 3:10 PM | Kayo Sports, Foxtel, Channel 7 |
| Round 3 | Saturday 22 February | Gold Coast vs Brisbane | Metricon Stadium | 5:10 PM | Kayo Sports, Foxtel |
| Round 3 | Saturday 22 February | Fremantle vs Collingwood | Fremantle Oval | 7:10 PM | Kayo Sports, Foxtel, Channel 7 |
| Round 3 | Sunday 23 February | GWS vs West Coast | Blacktown ISP Oval | 1:10 PM | Kayo Sports, Foxtel |
| Round 3 | Sunday 23 February | Richmond vs North Melbourne | Ikon Park | 3:10 PM | Kayo Sports, Foxtel, Channel 7 |
| Round 3 | Sunday 23 February | Geelong vs Adelaide | GMHBA Stadium | 5:10 PM | Kayo Sports, Foxtel |
| Round 4 | Friday 28 February | Collingwood vs Melbourne | Marvel Stadium | 5:40 PM | Kayo Sports, Foxtel |
| Round 4 | Saturday 29 February | Richmond vs Geelong | Queen Elizabeth Oval | 3:10 PM | Kayo Sports, Foxtel, Channel 7 |
| Round 4 | Saturday 29 February | North Melbourne vs Gold Coast | Arden Street Oval | 5:10 PM | Kayo Sports, Foxtel |
| Round 4 | Saturday 29 February | West Coast vs Western Bulldogs | Leederville Oval | 7:10 PM | Kayo Sports, Foxtel, Channel 7 |
| Round 4 | Sunday 1 March | Adelaide vs Carlton | Richmond Oval | 1:10 PM | Kayo Sports, Foxtel |
| Round 4 | Sunday 1 March | St Kilda vs Fremantle | RSEA Park | 3:10 PM | Kayo Sports, Foxtel, Channel 7 |
| Round 4 | Sunday 1 March | Brisbane vs GWS | Hickey Park | 5:10 PM | Kayo Sports, Foxtel |
| Round 5 | Friday 6 March | Gold Coast vs Geelong | Great Barrier Reef Arena | 7:10 PM | Kayo Sports, Foxtel |
| Round 5 | Saturday 7 March | North Melbourne vs Adelaide | North Hobart Oval | 3:10 PM | Kayo Sports, Foxtel, Channel 7 |
| Round 5 | Saturday 7 March | GWS vs Richmond | Robertson Oval | 5:10 PM | Kayo Sports, Foxtel |
| Round 5 | Saturday 7 March | Carlton vs St Kilda | Ikon Park | 7:10 PM | Kayo Sports, Foxtel, Channel 7 |
| Round 5 | Sunday 8 March | Collingwood vs Western Bulldogs | Morwell Recreation Reserve | 1:10 PM | Kayo Sports, Foxtel |
| Round 5 | Sunday 8 March | Melbourne vs West Coast | Casey Fields | 3:10 PM | Kayo Sports, Foxtel, Channel 7 |
| Round 5 | Sunday 8 March | Fremantle vs Brisbane | Fremantle Oval | 5:10 PM | Kayo Sports, Foxtel |
| Round 6 | Friday 13 March | Geelong vs North Melbourne | GMHBA Stadium | 7:10 PM | Kayo Sports, Foxtel |
| Round 6 | Saturday 14 March | Brisbane vs Collingwood | Hickey Park | 3:10 PM | Kayo Sports, Foxtel, Channel 7 |
| Round 6 | Saturday 14 March | St Kilda vs Richmond | RSEA Park | 5:10 PM | Kayo Sports, Foxtel |
| Round 6 | Saturday 14 March | Melbourne vs Carlton | TIO Traeger Park | 7:40 PM | Kayo Sports, Foxtel, Channel 7 |
| Round 6 | Sunday 15 March | Western Bulldogs vs Fremantle | VU Whitten Oval | 1:10 PM | Kayo Sports, Foxtel |
| Round 6 | Sunday 15 March | Adelaide vs GWS | Richmond Oval | 3:10 PM | Kayo Sports, Foxtel, Channel 7 |
| Round 6 | Sunday 15 March | West Coast vs Gold Coast | Mineral Resources Park | 5:10 PM | Kayo Sports, Foxtel |
| Round 7 | Friday 20 March | Richmond vs Brisbane | Ikon Park | 5:45 PM | Kayo Sports, Foxtel |
| Round 7 | Saturday 21 March | Carlton vs West Coast | Ikon Park | 1:10 PM | Kayo Sports, Foxtel |
| Round 7 | Saturday 21 March | North Melbourne vs Western Bulldogs | Arden Street Oval | 3:10 PM | Kayo Sports, Foxtel, Channel 7 |
| Round 7 | Saturday 21 March | GWS vs Geelong | Giants Stadium | 5:10 PM | Kayo Sports, Foxtel, Channel 7 |
| Round 7 | Sunday 22 March | Gold Coast vs Adelaide | Fankhauser Reserve | 1:10 PM | Kayo Sports, Foxtel, Channel 7 |
| Round 7 | Sunday 22 March | Fremantle vs Melbourne | Fremantle Oval | 4:10 PM | Kayo Sports, Foxtel |
| Round 7 | Sunday 22 March | Collingwood vs St Kilda | Victoria Park | 6:10 PM | Kayo Sports, Foxtel |
| Round 8 | Friday 27 March | Western Bulldogs vs GWS | VU Whitten Oval | 5:45 PM | Kayo Sports, Foxtel |
| Round 8 | Saturday 28 March | Carlton vs Fremantle | Marvel Stadium | 1:10 PM | Kayo Sports, Foxtel, Channel 7 |
| Round 8 | Saturday 28 March | Geelong vs Collingwood | GMHBA Stadium | 3:10 PM | Kayo Sports, Foxtel, Channel 7 |
| Round 8 | Saturday 28 March | Brisbane vs North Melbourne | Gabba | 5:10 PM | Kayo Sports, Foxtel |
| Round 8 | Sunday 29 March | Adelaide vs Richmond | Unley Oval | 1:10 PM | Kayo Sports, Foxtel, Channel 7 |
| Round 8 | Sunday 29 March | Melbourne vs Gold Coast | Casey Fields | 4:10 PM | Kayo Sports, Foxtel |
| Round 8 | Sunday 29 March | West Coast vs St Kilda | Mineral Resources Park | 6:10 PM | Kayo Sports, Foxtel |