Adelaide hotels | Where to stay in the South Australian capital
Get the latest deals, find the top hotels to stay in and the best sites to book them at.
We're reader-supported and may be paid when you visit links to partner sites. We don't compare all products in the market, but we're working on it!
South Australia's capital is famous for its wines and smaller city feel, but there's so much more to discover when one is in Adelaide. From escaping the city altogether on Mount Lofty to being in middle of all the action in the CBD, forget searching tirelessly on the webs for the perfect hotel - we've brought them all into one place.
We've chosen the best of the best when it comes to location, budget, whether you can bring your furry friend along and even hotels for those pesky 5am flights back to reality. Based on price, sightseeing proximity, location and accommodation reviews, we believe you'll find the perfect hotel to suit you and your getaway to Adelaide.
Today's available deals on Adelaide hotels
How did we pick these Adelaide hotels?
Our editorial team selected the Adelaide hotels on this list based on price, location and real customer feedback from hotel booking sites and review platforms. Where applicable, we used our own personal experiences to make recommendations.
Where to book Adelaide hotels
Where to stay in Adelaide
Our top picks for Adelaide hotels
Best hotels in Adelaide CBD
Adelaide's city centre plays host to an array of attractions from the Botanic Gardens to the Central markets. The Hilton Hotel is located right in the heart of the city centre next to Victoria's Square. You'll find the Adelaide Central Markets within three minutes of the hotel by foot.
Many of the city's main sights are located in the north. The Pullman Hotel is just a 15 minute walk away from the zoo and botanic gardens and five minutes from the Art Gallery of South Australia and the South Australian Museum. If you'd like to be in close proximity to the Adelaide Oval then the InterContinental Hotel is just over five minutes away. You'll also be 10 minutes down the road from the state's art gallery and museum.
We also recommend stays including the Majestic Roof Garden Hotel, Ibis Adelaide and Mansions on Pulteney. All three are perfectly located in the northern part of Adelaide so you can still explore the city by foot and visit the bigger attractions like the zoo and botanic gardens.
Best Adelaide Hills accommodation
If you're after an escape from all the hustle and bustle of Adelaide CBD then the Hills are just the destination for you. Mount Lofty is one of the main attractions and if you're after uninterrupted views of the hillside then you can't look past the Mount Lofty House. You'll wake up to the quiet scene of the Australian bush all from the comfort of your bed.
For a small-town stay that oozes history then Hahndorf is a great little stopover. The town has a big German influence and the Hahndorf Resort is perfectly located in the centre near the local winery (a 20-minute walk from the Hahndorf Hill Winery or a 2-minute drive). You'll also find the Cedars of Hans Heysen is just three minutes up the road.
Located in Mount Barker, Dalmeny Bed & Breakfast is just a 7-minute drive to the Ngeringa winery and 10 minutes away from the Summit and lookout. If you've brought the kids along then you'll conveniently have the Aston Hills Trail Park seven minutes away via car. We also recommend stays in the Mount Crawford region at the Beauchamp House; here you'll be in close proximity to the Mount Crawford Forest and Summit. The Forbes Wine Co, Edenmae Estate Wines, Cranford Wine Company and Poverty Hill Wines are also a short 15-minute drive away.
See more Adelaide Hills hotels
Best cheap hotels in Adelaide
If you're looking to save a few dollars here and there without compromising on location then these stays are for you. Accommodation at the Blue Galah Backpackers Hostel will have you a few minutes' walk away from the Art Gallery of South Australia, South Australia Museum, Adelaide Oval and the Botanic Gardens. You'll also be conveniently on the doorstep of the shopping district.
The Guest House
is situated just down the road from the famous Adelaide Central Markets, King Rodney Park, Ellis Park and GS Kingston Park. This stay alongside the
109 Flashpackers hostel
is just 10 minutes away from the Adelaide Himeji Garden which boasts beautiful views of ponds and intricate landscaping.
Location-wise you can't go wrong with Adelaide Central YHA or My Place & Adelaide Backpackers Hostel. Both located on Waymouth Street, you can organise tours and events from the front desk, including bus pick-ups and drop-offs to and from the Barossa Valley.
See more cheap Adelaide hotels
Best pet-friendly accommodation in Adelaide
If your furry friends are accompanying you on your Adelaide adventure then you have a wide range of accommodation options. From five-star hotels to hostels, there's a price point to match every traveller. One of the biggest things you'll want alongside the hotel is a place to take your pet outside and South Terrace Motel is just across the road from a small dog park next to the Adelaide Himeji Gardens. The Travellers Inn Backpackers Hostel is a few minutes away from the same park and if you're planning to head north up on Hutt Street you'll also have King Rodney Park.
The Hilton
may have come as a surprise on its pet-friendly policy. If you're after a holiday without needing to compromise on five-star luxury then you can't look past the Hilton. Much like the previously mentioned stays, you'll be a few minutes' walk from the GS Kingston Park.
Now these aren't the only stays that welcome your furry friends. The Adelaide Inn, Haven Marina Glenelg and the Kent Town Dress Circle Apartments will all happily accept your pets. The Inn is located just a couple of streets away from the Reservoir Park and Haven Marina Glenelg is right on the bay with plenty of walkways to explore. You'll find the Dress Circle Apartments are also in close proximity to Rymill Park Lake.
Our Adelaide accommodation reviews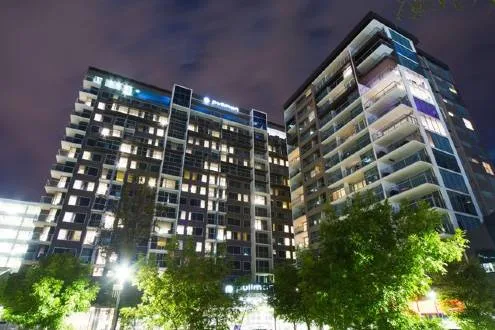 Pullman Adelaide
from Finder Hotels
Reviewed by: Amy Bradney-George, Editor
The Pullman Adelaide offers a relaxing place to stay right in the heart of the city. It's great if you want to get around on foot and also easy to get to by taxi or hire car – perfect if you're tired out from wining, dining and exploring everything Adelaide has to offer. And based on what I've seen, there's a lot happening in this city at any time of year.
Budget: Mid-High
Pros: Well priced for a 5-star hotel; Located right in the city; Stylish modern and inviting decor
Cons:No view from my room
Our rating: 4.5/5
Check availability
Alternate Adelaide accommodation options
Hotels aren't always everyone's cup of tea. If you're after accommodation that is all to yourself then we recommend Airbnb, Stayz and Homestay. These provide a home-away-from-home feel that will probably end up saving you a bit of money. They are also usually located in charming neighbourhoods you wouldn't have discovered otherwise.
Frequently asked questions about Adelaide hotels
Which sites let me book Adelaide accommodation with free cancellation?
These sites let you make a refundable booking for your trip to Adelaide, so there's less risk of losing the cost of your stay or deposit. Some sites only offer free cancellation on select Adelaide hotels or at a slightly higher rate, so it's best to check the terms on your booking before confirming your stay.
Most sites, like Wotif or Expedia, will clearly state whether each Adelaide hotel is non-refundable.
Which sites let me use a coupon code to book Adelaide accommodation?
Using one of our coupon codes at these sites will save you money on your Adelaide stay. Some may ask you to pay for your stay upfront rather than on arrival in order to apply the code to your Adelaide booking, but the same cancellation policy does apply so if you are able to cancel, you'll be able to get refunded.
Which sites let me book Adelaide accommodation without a credit card?
compare credit cards that offer hotel rewards here
.
Which Adelaide hotel booking sites have rewards programs?
Get access to cheaper prices, collect points toward free stays and get extra perks like Wi-Fi or breakfast if you book your Adelaide accommodation on sites like these:
What accommodation is near Adelaide Airport?
If you're taking off in the early hours of the morning and need a stay close to the airport you'll want to book either the Atura Adelaide Airport or the Adelaide Airport Motel.
Although the Nightcap at Findon Hotel isn't directly at the airport, it is just nine minutes away by car.
Which Oaks hotels are in Adelaide?
You can find the following Oaks hotels in Adelaide:
What accommodation is near Adelaide Convention Centre?
You'll find the convention centre along the Karrawirra Parri and these hotels are less than a few minutes away.
---