Free acting resume templates (Australia)
How to write a professional acting resume that creates a great first impression.
We're committed to our readers and editorial independence. We don't compare all products in the market and may receive compensation when we refer you to our partners, but this does not influence our opinions or reviews. Learn more about Finder.
If you're looking for work as an actor, a high-quality resume can help you stand out from the competition.
But what information should you include in your acting resume and what should you leave out? Keep reading to find out how to create a professional acting resume to help you score your next audition.
What is an acting resume?
A resume is an essential document for any job application. Also known as a CV, a resume is a document that provides a summary of your work experience, skills and achievements.
In the acting world, a resume showcases the key features a casting director will need to consider when deciding to invite you for an audition. This includes everything from your physical attributes to your prior acting experience, and a quality resume is essential to make a good first impression.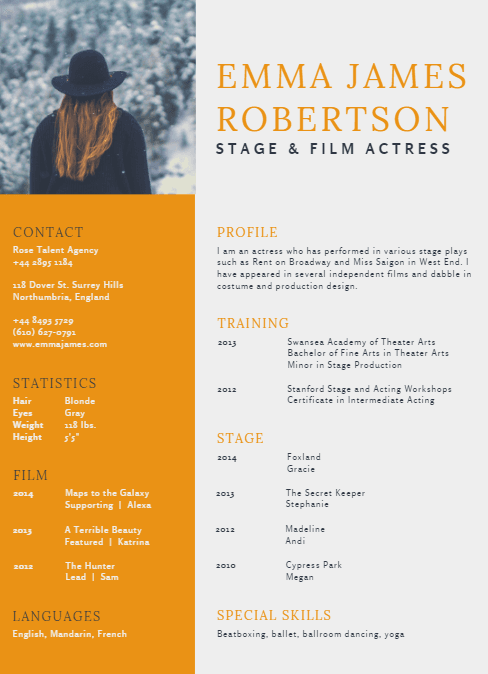 Download this acting resume template at Canva
What are the features of an acting resume?
An acting resume is a little different to the traditional resume you'd use to apply for a conventional job. Regardless of whether you're applying for work on the stage or the screen, the casting director needs to know some quite specific information about you to decide whether you may be suitable for a role.
This includes:
Your physical appearance, including everything from your height to the colour of your eyes
Your prior acting experience
Any acting training you've completed or qualifications you've received
Any special skills or hobbies you have, such as surfing or horse riding
By providing this information in a short and concise document, you'll help the casting director make a quick decision about whether you could be a good fit for the role.
What should I include in an acting resume?
Acting resume templates typically include the following information:
Name. Start with your professional name.
Contact details. Next, provide your contact details (or those of your agent) so the casting director can get in touch to arrange an audition.
Physical attributes. You'll need to provide your height, weight, ethnicity, eye colour, hair colour, hair colour and up-to-date measurements. Of course, including a great headshot is also a must.
Experience. Provide a list of all your acting work. The general rule is to start with the most recent role first, but you may want to lead with your most impressive role to date. Include the title, type and year of each production, as well as the details of each role. You can also divide your acting experience into sections, such as theatre, film, musicals and commercials.
Training. Next, list any relevant acting, singing or dance qualifications you have earned. Include the name of the institution, the year you completed training and any other relevant details.
Special skills. In this section you can list any special skills or hobbies which may be suitable for the role. For example, maybe you can juggle, ride a horse, speak a second language or waterski barefoot. Whatever it is, include it as long as it's relevant.
Summary (optional). Some people recommend including a brief summary of your skills and career objectives, while others deem it as unnecessary. If you decide to include one, keep it short and succinct and avoid stating the obvious ("my career objective is to become famous").
Get a resume template to meet your needs
How much does an acting resume cost?
If you want to pay to have a resume professionally prepared, prices can range anywhere from just a few dollars to several-hundred.
But an acting resume doesn't have to cost a thing. There are many free acting resume templates available online, including our own acting resume template. If you're willing to put in the time and effort to create a professional-standard document with all the essential information, it's free to write a quality resume.
Tips for creating the perfect acting resume
Remember these simple tips to help build a better acting resume:
Keep it short. Some casting agents will specify the maximum length of the resume. But even if no length is mentioned, keep your resume brief and concise so it's easy to scan quickly.
Keep it simple. Don't mess around with fancy fonts or outlandish designs — these will only make your resume more difficult to read. Keep it functional and easy to read and you can't go wrong.
Tailor it to the role. Make sure your resume highlights your skills and experience that are suitable for the role. For example, if you're applying for a theatre role, list your theatre experience first.
Update it regularly. Make sure all your recent credits are included in your resume. If you've lost weight, shaved your beard or changed your hair colour, make sure the description of your physical attributes (and your headshot) reflect this.
Take your time to create the perfect resume and you'll help ensure that your application stands out from the competition.
Frequently asked questions about acting resume
How long should an acting resume be?
Casting directors are busy people, so keep your resume short and sweet. As a general rule, try to limit it to 1-2 pages.
What if I don't have any acting experience?
The best thing to do is get as much experience as possible. From taking acting classes to working on a student film or working in a community theatre group, the more credits you have to your name, the better off you'll be.
More guides on Finder