Acer Predator X34 review: An electric Eye of Sauron that'll suck you in
It's the curve that deserves a perv.
We're reader-supported and may be paid when you visit links to partner sites. We don't compare all products in the market, but we're working on it!
Quick Verdict
The Predator X34 occupies a price tier where nothing short of excellence is expected. Though this unit is wanting for input options, Acer delivers exactly that.
The Good
Curved screen at this resolution sucks you right in.
Impressive results in terms of colour, contrast and response.
Commanding physical design.
G-Sync and 100Hz are always appreciated.
The Bad
One HDMI and a DisplayPort is a bit stingy.
I'd rather more ports than 7W speakers.
Pricey stuff for the average gamer.
---
I no longer need to go to the movies. In fact, I no longer need to leave my gaming chair for any reason, thanks to to the encapsulating curved embrace of the Predator X34. It's been 24 hours since I've moved. The threat of bedsores and bowel-related accidents are the only thing that will eventually cause me to detach.
Short of the latest VR headsets, the X34 is basically about as immersive as your games are going to get. Setting up a first-person shooter with the appropriate POV options and sitting the correct distance away will cause the 34 inches of this panoramic, 1900R screen to wrap to a point just beyond your peripheral vision. Better yet, this 21:9, IPS experience goes beyond your measly 1080p to deliver an UltraWide QHD resolution of 3440 x 1440.
Getting set up
Wasting no time, when the X34 arrived I lugged the box holding this 10kg, 82 x 31 x 58 cm beast upstairs. Once unpacked it's monolithic – an electronic Eye of Sauron that devours office space. Theoretically, you can lessen this footprint by affixing it to a surface (via a sold-separately wall mount) but I've never understood why you'd restrict yourself in this way with a curved screen. Achieving the perfect viewing angle has to be a give and take arrangement between your seat and the pivoting options that are (hopefully) offered by the included stand.
I guess I'm just a legs man when it comes to my monitors. I went with the X34's slim, aluminium gams which attached easily enough with a handful of screws. It's worth noting that I'm a big fan of the aesthetics of this stand, but I'll gush about it later in this review.
From there the process of tweaking the on-screen experience can be achieved via six physical keys that are tucked under the screen. You get one power button, previous/next selection buttons, enter/exit buttons and a mode cycle. I much prefer the single, clickable joystick approach of the Samsung units because Acer's tiny, closely-grouped button set-up makes navigating the OSD more annoying than it needs to be. Be that as it may, you have a ton of options to dig through, be it the usual picture fine-tuning sliders, mode selection, profiles, overclocking or just messing with the Christmas tree external lighting of this unit.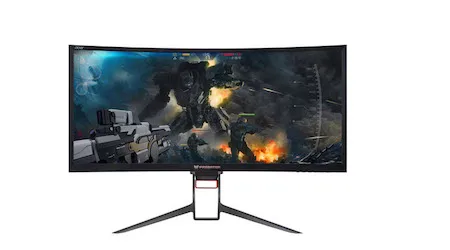 Order Acer Predator X34
from Amazon
Curved 34" Ultra-Wide G-Sync IPS Gaming Monitor
View details
Screen experience
An UltraWide screen calls for something cranked up to ultra, and so my first demoed games included The Witcher III: Wild Hunt and Far Cry 5. It's been many years since release but CD Projekt Red's efforts still shine in the former title. Having locales like the city of Novigrad effectively embrace you as you ride into them is a magical thing to behold. It puts you into the streets as a participant rather than an outside observer.
Similarly, bombing down the highway on a quad bike in Far Cry 5's Hope County is exhilarating. I tested the new Vietnam-based DLC that just released and removed all enemy indicators as I traipsed through the jungle. I'm telling you, man, there were moments when I was "in" that tropical nightmare. PTSD flashbacks for days.
Though it's not the prettiest belle at the ball, PUBG served as my tactical online shooter test. Having the additional peripheral vision worked wonders in keeping tactically aware in this battle royale. Responding to threats was a cinch, too, as the X34 is relatively low-latency stuff at 9ms.
With both titles I also appreciated the support for NVIDIA's G-Synch technology. Essentially, it's a means to eliminate unsightly screen-tearing in your games. That said, if you hope to leverage G-Sync at a resolution of 3440 x 1440@60Hz or at the higher 100Hz, you'll need an NVIDIA GeForce GTX650Ti or higher.
Being an IPS the colours are quite vivid with a 100% sRGB, though once or twice I caught my inner-Goth wishing these blacks could be a little blacker. However, I did appreciate replaying games like Alien Isolation with this unit's Dark Boost function, which offers a means to artificially lighten in-game environments and leverage the very decent 250 nit brightness of the X34. Also, and as I alluded to in the intro, this monitor is great for non-gaming purposes – 4K movies leap off the screen at you and using the extra real estate to multitask programs in Windows 10 is incredibly useful.
Ports and design
Typically when you hear the name "Acer Predator" you associate it with overly aggressive "gamey" design that's all about intimidating esport rivals at your next tournament. The X34 isn't about that. The Predator logo sits demurely on the bottom bezel and the screen itself is trusted to do all the wowing on its own. And what a window into strange and imaginary worlds it is, what with its enveloping nature maximised by a low profile, black matte bezels that are barely a centimetre thick.
Admittedly, the back of the unit is less impressive, thanks to some unflattering glossy black plastic. It's by no means ugly, but a step down from the secure and stylish metal framework lavished upon the business side of this unit. Clearly, it's a weight-cutting measure as the X34 is weighed down by a beastly two-prong stand whose footprint cares not for the size of your gaming desk.
Providing you have an aircraft-carrier-like table to accommodate it, the stand of the X34 offers perfect stability. I was impressed by the amount of monitor height, swivel and tilt I could get out of it, too. There's an inbuilt handle on the back to make shifting this around easier. Though why you'd ever want to lug this uber expensive and ungainly screen like a suitcase is beyond me.
On the rear of the X34 you'll find the all-important HDMI and Display Port inputs, with the former accepting (not expecting) HDMI 1.4 and the latter being a must for NVIDIA G-Sync functionality. Honestly, I'm a bit miffed that we didn't get more inputs here – a feature I enjoy on some of the much cheaper curved screens that have been sent my way.
Beyond video inputs you also get the obligatory headphone jack, four USB 3.0 ports and a USB Type B port. These can be hooked up to your rig to allow fast-charging. No fuss, no muss.
Deal-sweeting extras
Though they're never expected in a unit like this, it's nice to see the X34 come with some speakers. They're only 7-watters, nothing that will blow your eardrums but they're a whole lot better than nothing. Likewise, I appreciated the little s-shaped "Acer hook" that slots in at the point where the screen attaches to its base. Think: a hanger to discreetly hold your unused headphones behind the screen.
Last but not least, we have the built-in LED lights that are bottom-facing in order to help you find your stuff in a dark room (assuming you don't already have a gaming keyboard and mouse that light up like mini discotheques). If light displays are your bag, the X34 won't disappoint with its programmable RGB pulse effects. The one that does a technicolour cascade from left to right is particularly hypnotic.
Conclusion
This bad boy doesn't come cheap. At the time of writing it's going for $1100 - $1200. Be that as it may, it looks great with vivid colours and an impressive 100,000,000:1 contrast ratio, plus the X34 has got it where it counts in the online gaming space where life and death is measured in milliseconds.
Acer Predator X34 specs
Screen

34 Inches
Resolution

3440 x 1440 UltraWide QHD
Panel Type

IPS
Refresh Rate

60Hz – 100Hz Overclocked
Response Time

4ms
Input Types

HDMI, DisplayPort
---
Latest technology headlines