A Way Out review: Local co-op for life (or 25-years-to)
This is easily one of the best prison dramas in our medium.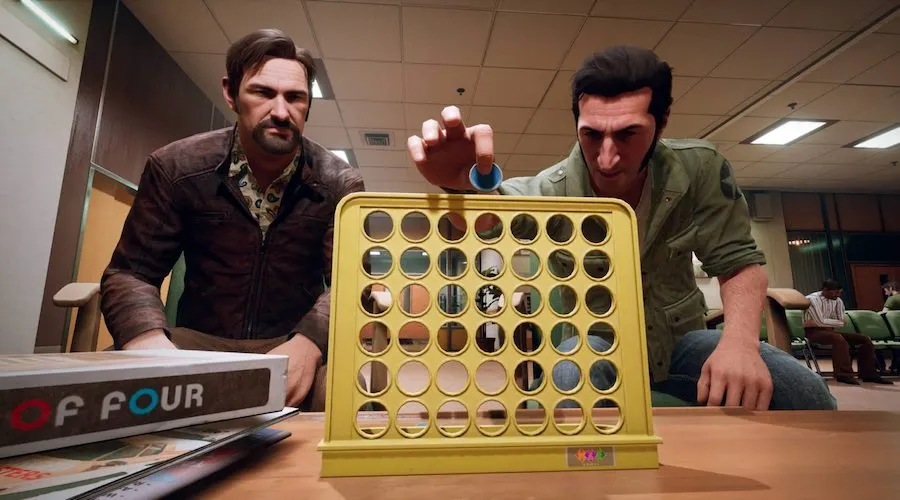 We're reader-supported and may be paid when you visit links to partner sites. We don't compare all products in the market, but we're working on it!
Prison movies are a captivating sub-genre. Especially if they're cast and well-written, like The Shawshank Redemption, Escape From Alcatraz and Cool Hand Luke, and are directed in manner that's visually arresting. Sadly, however, its a film category that's criminally under-used in the medium of games. Sure we got the odd gem, like The Chronicles of Riddick: Escape From Butcher Bay and The Escapists, but by and large jailbird fans have been made to wait long sentences between outings. My hopes were high then for A Way Out – an EA funded indie – to defy the odds and become a breakout success.
The concept and pedigree look pretty damn solid from the get-go. You're looking at the next project by the creators of Brother's – A Tale of Two Sons, one of the most emotionally moving and clever indie games you've probably never played (but should totally go back and find). Developer Hazelight has also been quite bold in its decision to make A Way Out a strictly two-person co-op affair. Couchplay is best, online works flawlessly (and with the latter only one of you needs to buy a copy of the game). No AI will pick up the slack for you if you're Neil No Mates. It's buddy up or bugger off.
---
---
No hot-swapping characters, either, ala any Lego co-op game you care to mention. Each player is permanently tied to one of two cons: Vincent, the brains over brawn "new fish" in jail, or Leo, a cocky, mutton-chopped veteran of the system who's a little over his head with the mob. Indeed, that shared piece of criminal history is how the two inmates bond in the first place – seems a ne'er do well named Harvey was the guy who set them up for their respective falls, and is responsible for murdering some of their loved ones. Recognising a common foe, these two mismatched men figure their chances would be greatly improved if they worked together, and so a daring escape plan unfolds.
What follows is a roughly six hour adventure that offers a linear story told through a dynamic split-screen experience. Take the opening scenes as an example: on one half of the screen Leo has to go about his usual grifting in the exercise yard, while on the other half Vincent has to be bused in to the compound and endure the usual buck-ass-naked orientation and delousing. A Way Out is well-directed and manages to feel quite cinematic outside of these hands-off moments, too. Being able to snatch glimpses of your other half, be it from an elevated gantry, or across a crowded lunchroom, makes the play-space feel deceptively larger than the relatively small, interactive pens you're corralled into.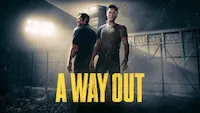 Buy A Way Out on PS4
from Amazon
A Way Out is an intense co-op adventure game where characters break out of prison and continue beyond.
View details
Weirdly, the simple act of spotting your literal partner-in-crime across a distance or barrier offers a little thrill every time. You'll also find yourself constantly craning your head to see what asymmetrical mini-game your pal's doing to aid in your current task. There are some choice moments early on where both cellies have to alternate between keeping a look out for the guards to allow the other to tunnel. In other moments, the split in your screen will stylishly slide away as you both inhabit a singular scene – typically to engage in quick-time action events.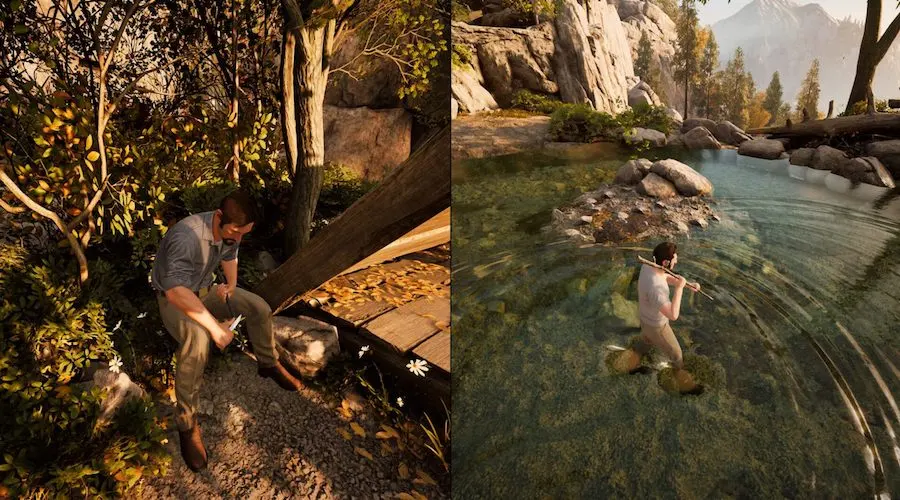 Speaking of, A Way Out invests heavily in the old contextual button pressing. Veteran gamers will be right at home with traditional twin-stick third-person controls, but all other interaction is achieved by hunting down point of interest markers that spawn within a certain distance of target. This may feel a little too connect-the-dots for hardcore types, but I often found the novelty of this co-op adventure had a way of neutralizing any mundanity. The various multi-option conversations you'll have with NPCs don't yield new and divergent paths, either, though I did feel compelled to replay A Way Out to retry scenarios. I wanted to see how Leo would brute force his way through, instead of finessing it like I did with Vincent on my first run through. And I wasn't disappointed.
You'll also be happy to hear that you won't be trapped in the big house for too much of the duration. Leo and Vince rather quickly go on the lam, and the slow-paced stealth and puzzle sections of the prison soon give way to car chases, white-water rafting, convenience store robberies, and shootouts with the fuzz. In each of these moments your controls are kept simple and your latitude constricted tighter than third-person titles like, say, The Last of Us. Be that as it may, and once again, the novelty of having to keep your cohort alive (by gleefully shrieking instructions at one another) serves to double the fun. I mean heck, A Way Out somehow manages to make Connect 4 and darts feel more enthralling than they have any business being.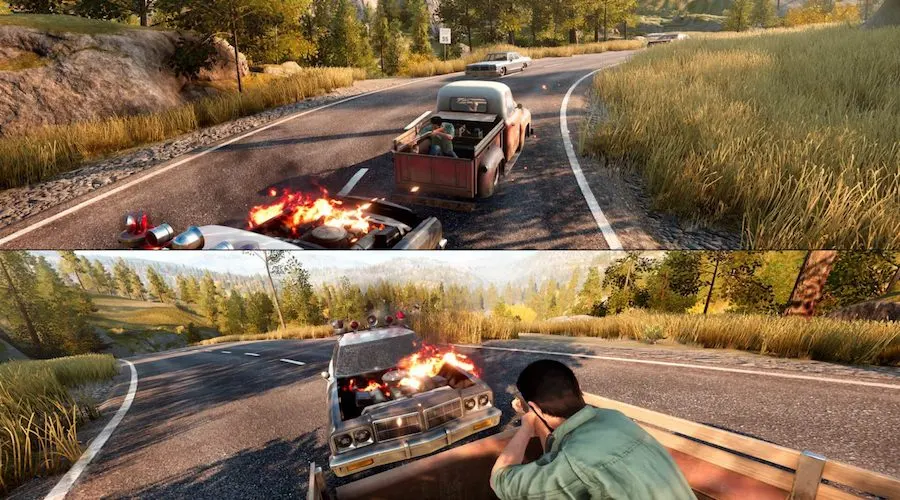 You can chalk most of that up to exceptional writing, extremely likeable characters, great directing, and an effortlessly cool '70s era backdrop. When the end comes, way sooner than it should, I challenge you not to be attached to these two reprobates. On paper, A Way Out may seem like a bite-sized offering that'll just get lost in your existing pile of shame, but in practice (with a friend who can game worth a damn and has a decent attention span) this in an utterly unique experience that is not to be missed. More importantly, though, it's just damn good fun and a salient reminder that modern gaming should never have put local co-op on the extinction list in the first place.
We reviewed A Way Out on PlayStation 4 with a copy provided by the publisher.
A Way Out
8.0 EXCEPTIONAL
What we liked...
Split-screen action and asymmetrical puzzling is a hoot
High production values across the board
Two players only need to buy one copy
One of the best prison dramas in our medium
What we didn't like...
On the short side at 6 hours
The odd "stuck on geometry" bug
VERDICT
A rollicking, narrative-driven adventure unlike anything out there. Big on puzzles, quick-time events and bombastic action moments that can be disappointingly one-off. That's heavily outweighed by tight-script, smooth directing and the sheer novelty factor of the best co-op in years.
For more information on how finder scores games, check our review guidelines.
---
More guides on Finder