A couple of travel makers: Four days in (R)Adelaide
A first timer's guide to eating, beaching and drinking your way around the city.
We're reader-supported and may be paid when you visit links to partner sites. We don't compare all products in the market, but we're working on it!
Adelaide is a destination that's been on my radar for years but one that I've never quite made it to. Everyone who's been raves about it, and everyone who hasn't seems to have it permanently stuck on their bucket list.
So when my husband was sent to the city for a week to work, it became the perfect excuse to pack my things to spend four days in the South Australian capital. Little did I know I was walking into a 38-degree heat wave and festival season.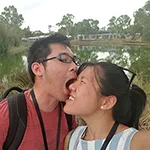 You'll often find Stephanie jetsetting with her husband. They both work full-time and are paying off their mortgage.
And while they count their dollars, they do spoil themselves, particularly when on holiday.
New blog posts every fortnight on Mondays | Follow us: @acoupleoftravelmakers
What's Adelaide like in early March?
Hot. Stinking hot. So hot that my attempt to visit a church so I could tick one off in the (former) city of churches (I like novelties like that) was met with near-dehydration and a sign stating that the church was closed due to the heat.
It's also busy, well for Adelaide that is. Coming from Sydney I found the crowds quite tame but according to the locals at this time of the year you really notice the visitors. They stick around throughout March and April and collect in all corners of the city for the Superloop Adelaide 500, Adelaide Fringe, Adelaide Festival and Adelaide Writers' Week. And then May arrives and the city falls dead, well at least that's what those in the know say.
However, the extra people in town mean that the buzz is nice and gives the city a sense of excitement. Having booked my flight last minute, I didn't have the opportunity to attend any festival events, but would love to return another time to catch some shows – slightly later in the month though, when the weather is bearable.
Budget tip:
Many of the festivals offer free events and if they are ticketed they are usually pretty affordable, starting as low as $18 per ticket for the Adelaide Fringe.
Where should I stay?
Well because my husband was already being called to visit Adelaide on business my little holiday hack was taking advantage of my +1 status and make the most of the free accommodation.
The downside to this tactic is that you can't choose your accommodation. We stayed at the The Mile End Hotel and Glenelg's Atlantis Tower Motor Inn. Both were standard budget accommodation with super friendly staff but if I had the choice, I would have stayed in the city close to the action where I could make the most of the free transport.
Stamford Plaza is a 5-star hotel in a good central option, right outside Adelaide Central station, next to Festival Tram station and not far from the River Torrens. A more budget-friendly option is the Adabco Boutique Hotel which lives inside a heritage building and has rooms from $99 per night.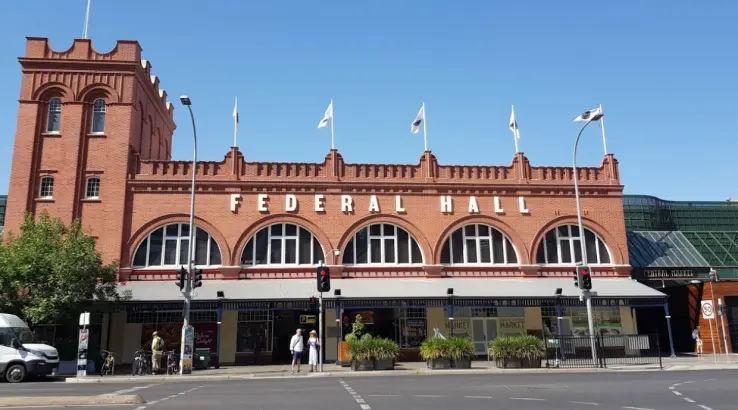 What's there to do in the city?
I spent half a day in the city before the heat sent me back to my hotel but in that time I covered all my mates' recommended spots.
The highlight was Adelaide Central Market, which is in the centre of the city. It features local produce and boutique dining such as Masterchef star Poh's Malaysian-French restaurant Jam Face and the healthy-meets-fun Jamu (try the kombucha spider).
For shopping Rundle Mall has all the big names and department stores. Swing by on weekends to see the area come to life with street performers and walk through Adelaide Arcade and Gays Arcade for a touch of glamour and history.
For an extra touch of history head north to The University of Adelaide. Established in 1874, it's the third oldest university in the country and sings with sandstone buildings and ancient trees. It's bordered by the famous River Torrens which you can boat ride on.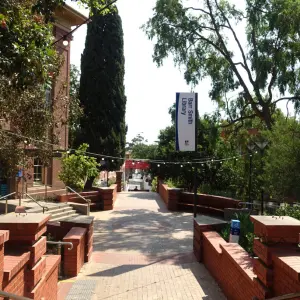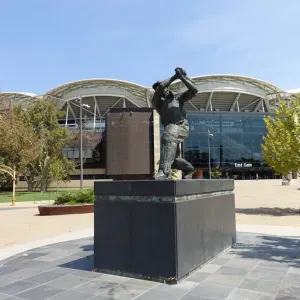 Cross the river and you'll find Adelaide Oval, Adelaide Zoo and St Peter's Cathedral. Bring a hat – it's hot and there isn't a lot of cover, oh and don't make my mistake and try to visit the Cathedral when the sun is out because all you'll wind up doing is stare sadly at closed doors.
Budget tip:
Tram transport is free in the CBD. The maps show you where this area is and sometimes tram announcements advise you when you're exiting the free transport area. Lime scooters have just landed in the city too and new customers can score a handful of free rides. All the above-mentioned venues are free to roam and experience as well, so they won't set you back a cent. Unless you go shopping.
---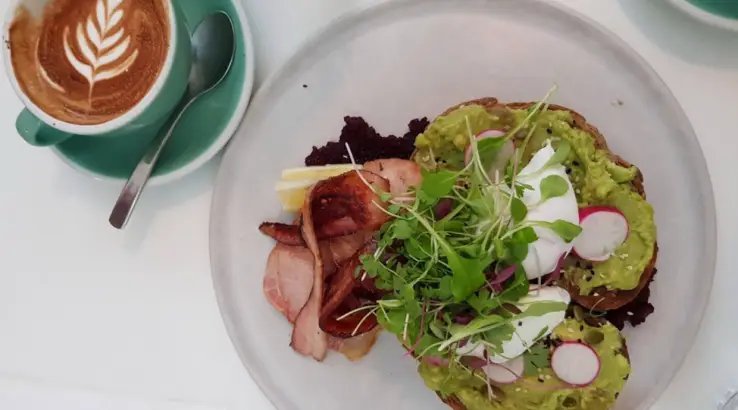 Where do I rate for food and drink?
I love trying new restaurants. I love trying new cuisines. And I love when someone takes me somewhere they've been wanting to go to for a while.
That's exactly what our friends in the city did with Parwana. It's an Afghan restaurant with rave reviews. It's all share plates here with the Banjaan Borani eggplant dish being the signature – and rightly so as it's flavoursome and melts in your mouth. I also recommend the manu dumplings.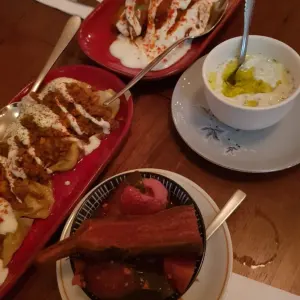 Our Parwana feast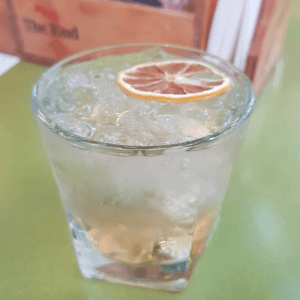 My gin and tonic with elderflower
For a local gastro-pub with friendly service and pep, head for Mile End Hotel. It's open for lunch and dinner and has more than a few customisable options. These include a build-your-own burger and a make-your-own gin fizz where you choose your gin, fruit puree or flavour and mixer. FYI gin is big in South Australia with numerous boutique distilleries peppered around the city, including Never Never Distilling, home to the world's best classic gin.
Breakfast in the city on a weekend is a gamble. Most cafes are closed but as always Google came through taking us to Crack Kitchen. Horrible name but it's a hipster joint and looks like it's housed within a former bank, so I'll give it some slack.
On a Sunday morning it was packed to the gills. I could attribute this to the lack of competition open on the day but honestly the coffee, brekky and speedy service are worthy of praise. Being small eaters we shared an avo on toast with poached egg dish called "The Mortgage" (pictured above) and yes, we had a chuckle when we ordered it, too.
---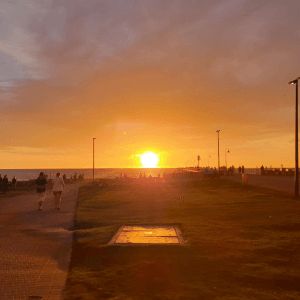 My top 5 activities for couples in Adelaide
Visit a winery: Spend a full day out in wine country with wines in hand, vineyard surroundings and a fancy lunch, if the budget allows.
Catch the sunset over the beach: Any beach will do.
Join in the festivities. It's more fun when you've got mate/s to enjoy it with.
Stroll through the University of Adelaide over the weekend. It's blissfully quiet and romantic being surrounded by the heritage sandstone buildings.
Cruise down the Torrens. While we didn't find time for this, it's a serene and beautiful ride flanked by greenery and some of the city's most iconic buildings.
---
Day trips: When in summer, head to the beach
Adelaide is not short on city beaches and one of the most accessible is Glenelg. It sits at the tram line terminus and takes a good 35 minutes to get to from the CBD.
Its sand is soft, the beachfront is wide and the promenade spills with shops and restaurants. We found a gem of an Italian restaurant called Capricio. It felt like a traditional Italian home and was quiet enough for you to have an intimate conversation in. The food was delicious and portions were just right.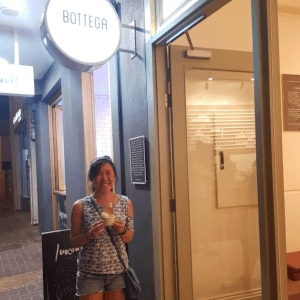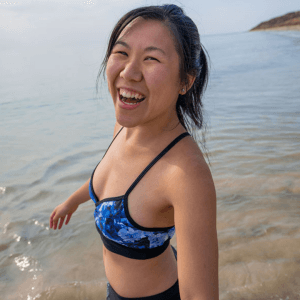 For somewhere quieter, I recommend Henley Beach north of Glenelg. It too has a wide beachfront and while still vibrant, features a smaller promenade. We followed the crowds to Bottega Gelateria for an ice cream fix and weren't disappointed. The menu isn't extensive or experimental but the offerings are creamy and hit the spot on a hot day.
What's unique about Adelaide's city beaches is that they face west. It's one of the few places this side of Australia where you can catch a sunset over the water. Gobble it up for free from the end of a pier or be a VIP and drink it up from one of the beachfront restaurants.
If you're really keen on a road trip, drive south to more secluded, quieter beaches like Aldinga Beach or Second Valley.
Budget tip:
My husband and I love ice cream and a cheeky way we keep costs down is by buying two scoops to share instead of one scoop each. It saves a good couple of bucks.
---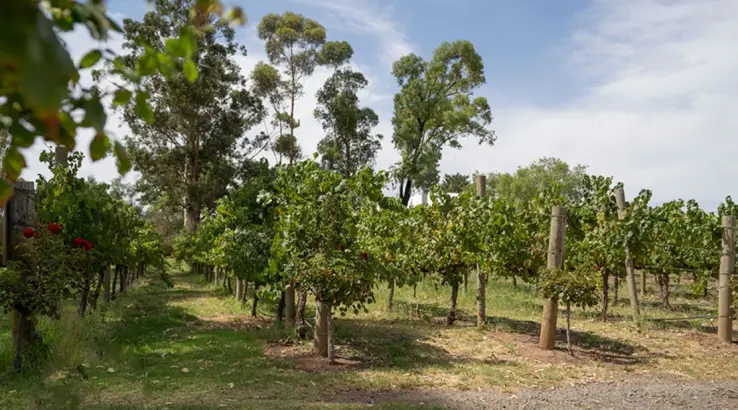 Day trips: When in Adelaide head to the winery
A local and a tourist both recommended the Trail Hopper hop-on hop-off bus to us. It services the Barossa, McLaren Vale and Adelaide Hills on different tours and ferries you between their respective wineries so you can drink and travel responsibly.
Being first-timers we opted for the Barossa. The mini-bus picks you up from outside the Stamford Plaza and is kept to small numbers. It's a great group activity but is particularly popular with couples.
The tour runs relatively on schedule and at max lets you visit four wineries, spending roughly an hour in each. Ask your guide for recommendations if you've come on board without a plan or do that Google research beforehand so you don't miss out on a favourite.
All the wineries do tastings. Some are free (like St Hallett and Lambert Estate) while others charge you (like Penfolds which costs $10). From our experience pourings were generous and tasting menus were long, lasting 10+ wines. Needless to say we came back with many a bottle (and many a merry demeanor). The bus holds your purchases until you return to Adelaide so you don't have to lug your spoils from winery to winery.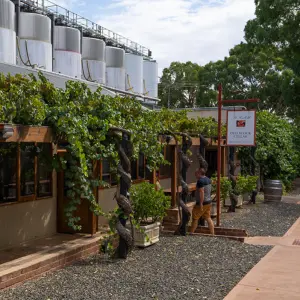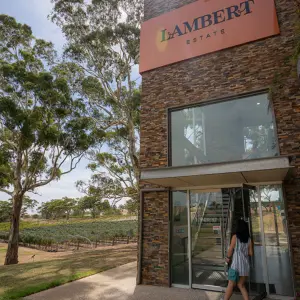 A few days before your tour, TrailHopper contacts you to book lunch at one of the wineries. Be advised: you DON'T have to. On our day out there were plenty of restaurants with plenty of seats available for a meal. You can also bring your own lunch to keep costs down. We splurged and dined at Lambert Estate.
What I liked about our choice was that Lambert has the TrailHopper schedule down pat. They sat us down immediately, took our order and while it was being prepared, moved us to the bar for the tasting.
When the meal was ready they called us back to eat. They also brought our final tasting to our table. All within an hour. It's impressive.
Budget tip:
You can book the TrailHopper direct for $70 per person, but it's also available for the same price on RedBalloon which had a 10% off code when we booked. That took our total down to $126 (or $63 each).
How much did I spend?
I have a confession: I like counting my dollars at the end of a trip to see how much I saved/spent. Here's my breakdown over the four days:
Flights: $366.56, flying out on Virgin Australia and back on Jetstar
Transport: $32.90 for tram passes and two Uber rides
Meals and drinks: $232.50
Souvenirs (aka wine): $270 (or $135 each)
Activities and experiences: $63 for the TrailHopper
Accommodation: Not applicable as this was paid for by my husband's work
Annual leave days taken: None. I flew in on Thursday morning and worked on hotel Wi-Fi on Thursday and Friday to save my leave for another day
Total per person: $829.96
Stay tuned every fortnight for more tips and tricks on travelling with A Couple of Travel Makers.
Love this? Hate this? Want to know more? Leave some feedback in the comments below.
More guides on Finder