A budget guide to a weekend snow trip in NSW: A couple of travel makers
You don't have to burn into your annual leave or your wallet to hit the slopes. Here's how we do it.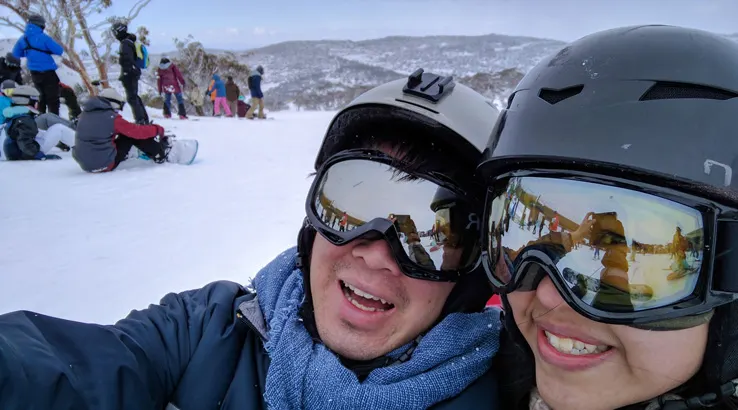 We're reader-supported and may be paid when you visit links to partner sites. We don't compare all products in the market, but we're working on it!
Every year around the start of winter at least one friend messages us crying out for a "dirty weekend at the snow". And every other request is typically granted.
My husband and I both snowboard and love making the most of the winter season to carve up the soft stuff. We've snowboarded in Japan and Australia but to keep costs and annual leave time at bay, staying local has worked best for us.
A weekend away tends to set us back around $1,200. This includes transport, food, two days of equipment hire, two days of lift passes and two night's accommodation. To keep your budget down, check out the latest snow deals for the 2020 season here.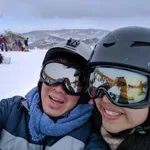 We're Stef and D, a pair of married jetsetters. Together, we've visited over 50 countries – though we're determined to see even more. All while working full-time and paying off a mortgage. We count our dollars at home and away and are here to share our tips on how you can travel on budget.
New blog posts every fortnight on Mondays | Follow us: @acoupleoftravelmakers
TL;DR Good to know before you go
Where to go skiing in NSW: Perisher and Thredbo are the larger resorts geared at all skill types. Charlotte Pass, Selwyn and Blue Cow are smaller resorts, geared at beginners.
When is snow season: June to October.
Where to stay: A cheaper alternative to staying in-resort is Jindabyne.
How to get to the slopes: Driving is easiest but you can also take a bus to Canberra and connect onto a coach service from there.
Where to eat: Jindabyne has a variety of food options as well as a supermarket.
Where to hire gear: In Sydney before you leave or at Monster Depot Ski Hire, Jindabyne.
Top tips to save money: Travel during shoulder season, stay in Jindabyne and pre-book your gear.
Where to go for a snow trip in NSW
Perisher and Thredbo are names you'll no doubt be familiar with. They're two of the biggest resorts in the state and are an hour's drive from each other. They're also equidistant from the Snowy Mountains town of Jindabyne, so you can literally push powder off on one day and ride the slopes on the other the next day.
Smaller ski resorts are Charlotte Pass, Selwyn and Blue Cow. Their runs are shorter and fewer in number making them ideal for beginners. Due to their size, they're often less crowded outside of the school holidays.
Being a mix of beginner (Stef) and intermediate (D) boarders we often find ourselves at Perisher as it offers enough runs to entertain us over a weekend and is slightly less packed than Thredbo.
Budget tip
Being the bigger players, lift passes at Perisher and Thredbo are much pricier than at Charlotte Pass and Selwyn. Of these, Selwyn is the cheapest with adult one-day lift passes starting at $95. Perisher and Thredbo tend to set you back around $130 per day, during peak season. Prices are based on 2019's season.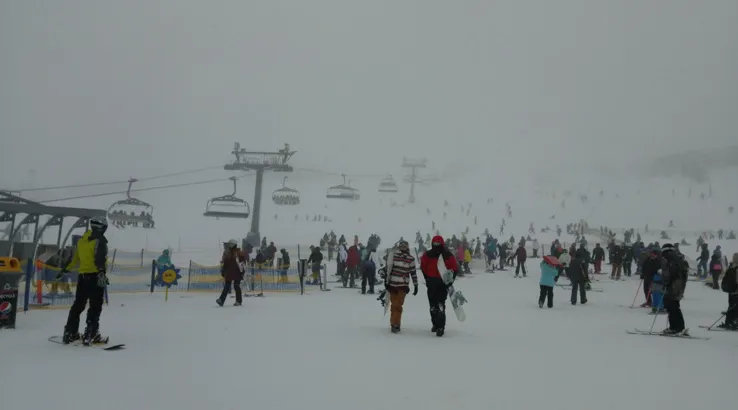 When is snow season?
The exact season opening date for NSW's slopes varies per year depending on when the snow dump arrives. Generally though the season runs from mid-June until mid-October.
Budget tip
The winter school holidays tie-in neatly with peak snow season (July and August) which is fantastic if you have tots but not so much if you don't. A few years back we jumped onto a cheap snow package during peak season. After battling the lines and the sludge we made a pact to never fall for that trick again. We've paid just as much during shoulder season (June and September) but enjoyed it tenfold for the shorter queues and consistent snowfall.
Where to stay in the Snowy Mountains
We don't need to tell you twice that the convenience of staying close to or on the slopes is going to cost you. For this reason, we've never stayed in Thredbo Village or Perisher, though if you're thinking of making this a romantic trip, go right ahead.
Instead, we've always hunkered down and stayed in Jindabyne, which is a 30-minute drive from both Thredbo and Perisher. It's got its own community feel with pubs, restaurants and a supermarket. There are also multiple equipment hire and snow chain stores here.
Our accommodation of choice is The Station. It's a budget traveller's favourite and is comprised of motel rooms and multi-room apartments for larger groups. Parking is ample and larger rooms include kitchenettes.
What to know about getting to the slopes
You can drive right up to the foot of the slopes at both Jindabyne and Thredbo and if you're considering this, you'll need to hire snow chains. You might not use them (we've only had to once) but if the snow is coming down you'll physically be stopped at a certain point on the road and required to attach these before continuing on your journey. So get them.
Parking is free but unless you get in early you'll find yourself lugging your equipment halfway across the lot. There might also be an overflow parking lot, which is further down the mountain. A shuttle will get you the rest of the way.
Another alternative to getting to Perisher is via the Skitube. It starts at Bullocks Flat which is a 20-minute drive from Jindabyne and is free to ride with a ski lift pass. Again, parking is free.
We've tried both options and honestly we'd recommend the Skitube. You don't have to wind up the last part of the mountain and search for parking, you don't have to pay the national park entrance fee and the tube drops you right at the foot of the ski resort ready to gear up and go. The Skitube also goes to Blue Cow.
Thredbo has a larger village area you can park in. Then, you can utilise the free village shuttle bus to get between lifts.
Budget tip
As Perisher and Thredbo aren't related, if you're only in for the weekend choose one or the other. You'll get a better discount purchasing a two-day lift pass to one over a one-day lift pass to each.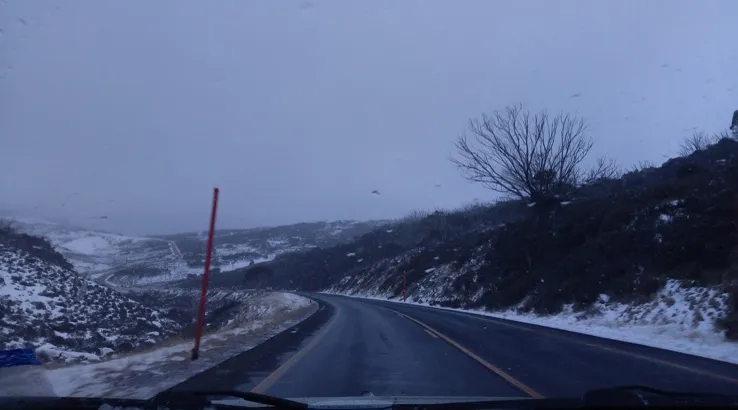 Where to eat
Both ski areas have cantinas where you can purchase food between runs. As with all ski resorts, they're cantinas with a marked-up price tag. If you're running a tight ship, you can budget this down by bringing your own food in and sticking it in a locker with your other possessions until required.
For larger meals, Jindabyne town centre has a mix of pubs and restaurants. Sticking to brands such as Beach Burrito Co. ensures you're not paying resort prices as these are generally regulated across the country.
Budget tip
If you're really feeling the pinch and are driving in, purchase food from home and drive it in. Rooms with kitchenettes generally have a hob, fridge, plates and cutlery for you to use.
Where to hire gear
You won't find any shortage of hire options on your way to and in Jindabyne, Perisher and Thredbo. If you book early you can tie up pretty affordable hire and lift pass packages, which we've done in the past. By hiring at the fields you don't have to drag your equipment to the snows and you can keep everything in the lockers at the slopes.
Another equipment hire option we recommend is Monster Depot Ski Hire. It's just outside of Jindabyne village and is super popular for its bargain prices. Again, Groupon has come to our rescue in the past offering $100 worth of hire for $55. This was enough to cover two days' worth of board, boot and helmet hire. Groupon also tends to partner with Rhythm in Cooma to offer discounts.
We've also been told that hiring in Sydney CBD at InSki is a cheap alternative. While we've never done it personally the website says it offers board and boots hire for two days for $80.
How much did we spend?
Transport. $40 of petrol.
Accommodation. $278 at The Station (we shared a five-bedder with three mates of ours).
Meals and drinks. ~$200.
Ski lift passes. $580 for both of us. We purchased at the slopes but you can save money by pre-purchasing online.
Equipment hire. $98 via Monster Depot Hire (using a coupon code on top of the Groupon deal)
Misc. $29 national park fee.
Annual leave days taken. None. This was a weekend trip.
Total for 2 nights: $1,225 for the 2 of us.
Figures are based on a trip to Perisher in August 2017.
For more visit Finder's guide to the best ski resorts in Australia.
Latest NSW snow deals:
More guides on Finder