5G in Australia
We've broken down how it works, where it's being rolled out and the 5G phones and plans being offered by major providers.
5G in Australia:
5G is the next generation in mobile network technology. It's much faster than 4G, with the lowest speeds rivalling the fastest of the NBN.
All three Australian mobile networks, Telstra, Optus and Vodafone, have started to activate 5G networks in limited areas around the country, and will continue widespread expansion.
Smartphone manufacturers, including Samsung and Oppo, have released 5G-compatible phones.
What is 5G?
5G is the next stage in mobile networks; it's essentially a step up from 4G. In the same way that 4G delivered faster speeds and reliability than 3G, 5G will lead to even faster speeds and the ability to handle more data for more users.
What are 5G speeds like?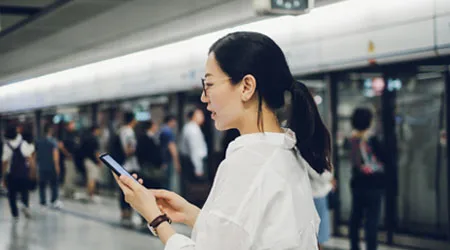 Right now for consumers, the typical evening speeds offered by the fastest NBN plans reach up to 80-90 Mbps, while theoretically, the top end of 5G is expected to hit 20GBps, over 200x faster than the NBN at its peak.
But it's not just about raw speed – 5G networks will allow for more devices to be connected at the same time, and in a growing population, this has never been more important. We should see something called "latency" being reduced. Latency is the "lag" that happens between a device and network when you're trying to gain access to something. On average, the latency for 4G is around 50 milliseconds, whereas 5G can be as low as 1 millisecond. This is very relevant when it comes to things where your response time can impact the outcome, like in gaming and virtual reality (VR).
So if it's faster and more reactive, why aren't we switching from the NBN to 5G?
5G vs NBN
In theory, 5G is capable of faster speeds than the NBN
It's unlikely to be a competitor to the NBN due to congestion, interference and cost
At a strictly technical level, both 5G and the various technologies that make up Australia's NBN perform the same task. They're both intended for high speed data transport, with most of the NBN's footprint in fixed line technologies such as fibre to the node (FTTN) and fibre to the premises (FTTP). 5G is an entirely wireless data broadcast medium and instead uses mobile technology to get you connected.
When your Internet connection is broadcast over the air (which is what happens when you use mobile technology), your network speeds can vary due to interference. A 5G signal won't be able to get through brick walls easily, and is a shared space, so if you're trying to get speedy access in a crowded area, the speed may still slow down.
It's unlikely that 5G will replace the NBN, but will instead be offered alongside it. Providers are starting to offer home wireless broadband options using the Australian 5G network, and we are likely to see more options become available to market as 5G coverage rolls out across the country.
Is 5G dangerous to your health?
The vast majority of credible science suggests that there's no real risk posed by 5G networks. As mentioned in our 5G health risks page,
While research is continuing, there's very little evidence over time of a real-world risk likely due to the adoption of 5G networks. The frequencies don't support it, the power levels used are so low to make it negligible and you get a much bigger blast of radiation from the sun stepping outside every day in any case.
How can I get 5G?
Australian 5G networks are currently being rolled out in limited metro areas across the country
All three telco providers are now live with 5G networks in Australia
Telstra and Vodafone have started offering 5G plans with compatible handsets
The precise time when you'll be able to hook into 5G networks in Australia will depend in a large part on where you live, and then on how you actually want to connect. Those living closest to metropolitan areas are likely to gain earlier access; however, it also depends on your choice of 5G provider.
Telstra 5G network
In May 2019, Telstra launched its 5G services in Adelaide, Canberra, Brisbane, Sydney, Hobart and Perth, as well as on the Gold Coast, Launceston and Toowoomba. We'll see more widespread coverage from Telstra as it continues to work on expanding its 5G network in Australia. For the moment, you can check if you're within their coverage area using Telstra's 5G coverage map. Telstra was the first to offer 5G mobile handsets in Australia, launching the Samsung Galaxy S10 5G, but has since expanded its range to include a variety of 5G compatible phones, which you can view below.
Optus 5G network
Optus is also in the process of rolling out its 5G network, with plans to switch on more than 1,000 5G sites by March 2020. Optus sells 5G-compatible handsets but has yet to introduce any 5G mobile plans. If you're looking to join its 5G network, you'll need to wait a little longer before it's ready to be connected. However, in addition to mobile handsets, Optus has also released 5G home wireless broadband plans, with some homes already being able to connect to the 5G network, so this may also be an option for you. Make sure you check out the Optus 5G coverage map to see if you can get access to 5G.
Vodafone 5G network
As of 5 March 2020, Vodafone has switched on its first 5G site in Sydney. With plans to continue working on their 5G network, we'll hopefully see more extensive coverage being rolled out throughout the year. They also announced that they will be working on offering 5G global roaming to be included with their $5 roaming deal with their postpaid plans for select countries. You can check out Vodafone's 5G offerings below, keeping in mind that you'll only receive 5G if you're within their coverage area.
What phones are 5G capable?
If you're looking to connect to the 5G network, you will need a 5G-compatible phone. Samsung and Oppo are currently paving the way in terms of 5G phones available on the Aussie market. Apple's range of iPhones currently don't feature 5G capability but there are rumours of it to appear in its next iPhone launch. As the 5G network continues to grow, we'll see more smartphone manufacturers offering 5G handsets in the future.
Is 5G right for me?
The lower latency being offered by 5G networks makes it a very attractive option for those who enjoy gaming and VR. It means more stable, fast connections for multiplayer mobile gaming, interactive streaming and enhanced experiences for VR and AR (augmented reality).
Although 5G is the next step in mobile networks, it will still take some time before it's widely available throughout Australia. If you happen to buy a phone that is 5G enabled, that's great! For the average user, we wouldn't recommend going out of your way to get your hands on a 5G device just yet.
For most people, 5G simply means faster speeds to load your content – stream your Netflix faster, scroll through your Instagram feed faster, and just do everything online a little bit faster. And while faster is great, you should really consider whether you need 5G now, or if you can wait until it's been more widely rolled out.
---
Related Posts