Finder makes money from featured partners, but editorial opinions are our own.
22 Inspirational Australian Female Entrepreneurs
Health

Long gone are the days when women stayed in the shadows. More and more women are developing their own business empires. Read on to find out about some of Australia's female success stories.

Diana Williams
Fernwood Fitness
Self-made and down to earth fitness mogul Diana Williams got off the starting blocks early, beginning a very successful chain of fitness franchises back in the eighties, when the gym was dominated by sweaty, grunting men. Inspired by the effect that light resistance training had on her own body, Diana realised a gap in the market for weight training that focused on women. Despite resistance and scepticism from potential investors and banks Williams, accompanied by local fitness centre manager John Clow, took a gamble and pumped her own savings into her very own first gym.
A successful empire grew from these humble beginnings, and franchises of the Fernwood Woman's Health Club sprung up across Australia. The empire has not developed without its problems, and Williams struggled with adapting her business to suit the franchise model it follows to this day. There are now an amazing 74 such Fernwood Gyms across Australia and the number is rising steadily. Many offer additional lifestyle advice and inspiring programs, geared to changing the way women look at their relationship with their bodies and exercise. Williams is now a much respected fitness consultant, approached by government and other public bodies on issues of health and fitness that effect women.
Fernwood empowers women to shine through pioneering health and fitness programs and expert advice. With over 70 clubs Australia-wide, Fernwood are modern full-service fitness clubs with a huge range of group exercise classes, excellent equipment and cardio gear, passionate personal trainers and food coaches, child minding (in most cases), a friendly and motivating environment. All of our clubs also offer FREE breakfast. Fernwood Fitness really is the key to feeling foxy.
Every year Fernwood offers a 12 Week Challenge program to motivate and help the members to maximise their New Year's resolutions. The 12 Week Challenge is a crucial self driven challenge and a fantastic opportunity for Fernwood Fitness members to build friendship with like-minded women and also to help each other to reach the fitness goals. The Get Foxy 12 Week Challenge includes personal training and food coaching, group activities, weekly challenges and specific workout plans with many prizes up for seize to promote a healthy competition between the members. Moreover, Fernwood Fitness is also offering a great joining deal. If you join before the end of February 2012, they will waive the joining fee for you.
More: Visit Website | Follow on Twitter | Like on Facebook |
Mining

Gina Rinehart
Hancock Prospecting
Gina Rinehart is not only an Aussie female entrepreneur; she happens to be the country's richest person, and if recent reports turn out to be correct, is fast on track to becoming the wealthiest person in the world. With an estimated personal fortune of $10.3 billion (AUD), Gina is benefactor to her fathers' multi-million pound mining empire, Hancock Prospecting, which turns over just under a billion AUD every year.
But her successes are her own. After her father's passing, Hancock Prospecting was forced to liquidate and mortgage assets to cover mounting debt. The breakthrough came when she entered into a joint venture with Rio Tinto that saw her net profit surpass her fathers total accumulative wealth in a single year, showing that the apple does not fall far from the tree, perhaps only shines a little brighter and tastes a little sweeter.
The powerful business woman learnt the ropes of her father's business from the bottom up, which is why her climb to the top* is such an achievement – although, it does help if your dad is the boss. After her fathers' death, Rinehart decided to pay tribute to him, and to the legacy that his mining company had left to the region of Pilbara. Instead of erecting a nice tomb stone or perhaps dedicating a tree to dad Lang Hancock, Rinehart did what every good daughter should and named an entire mountain range after her father – The Hancock Range.
Gina is also a prominent figure in certain environmental political circles, and is a notorious climate change sceptic and supporter of climate change deniers' activities.
More: Visit Website
Recruitment

Therese Rein
Ingeus
International employment guru Therese Rein certainly clocks up the airmiles. Her worldwide employment business Ingeus spans almost half the world, has offices in 100 countries, and is particularly successful in the United Kingdom. The independent wife of former Australian PM Kevin Rudd continued to work whilst he was in office, making her the first woman to do so in the history of Australia.
This busy mum and female entrepreneur still makes time for her family – she has three children with Rudd – and manages to squeeze in plenty of charity work. Much of her inspiration derives from the fact that her father was injured in a plane crash while flying for the Australian Air Force. This has driven her passion for rehabilitation and helping those who are disadvantaged enter the workforce. Therese has also won the prestigious Human Rights Medal for her work with the disabled.
It's hard to see where this busy woman fits in time for her family, never mind time for herself. Rein was the first prime minister's wife to keep her own surname and maintain her very own identity, so she deserves the kudos, and is living proof that women can have it all, and more.
Igneus has recently re-entered the Australian marketplace with the acquisition of Assure Programs, a business psychology services provider offering specialised organisational development services and employee assistance programs that are both designed and delivered by their team of registered psychologists.
More: Visit Website | Follow Therese Rein on Twitter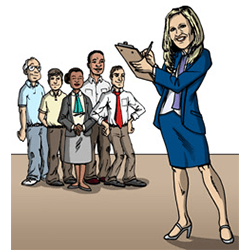 Julia Ross
Ross Human Directions
A real example of a self-made career woman who has climbed her way to the top*, Julia Ross is a true inspiration to all. Instead of wallowing in self pity and reaching for a bowl of ice cream after separating from her husband, Julia, who was pregnant at the time, decided to launch a recruitment business, which has gone on to become one of Australia's most successful.
By 2010, Ross Human Directions was generating a revenue of around $400 million and soon gained the eye of potential buyers. The company was taken over at the end of 2010 by Chandler Macleod, who insisted Ross resign as part of the bid. Of course, she pocketed the very handsome sum of $26 million as a result of the takeover, so things didn't turn out too badly.
Topped with her already vast personal wealth – recorded to be $75 million back in 2003 – Ross stands out amongst the handful of other women on Australia's rich list, having achieved her fortune completely by herself. Not bad for a women who 20 odd years ago had nowhere to live. Despite her success, Julia remains unaffected by her wealth, claiming only to have wanted to provide a decent upbringing for her son. And, despite having created an empire out of nothing, Julia still claims to feel that men dominate big business in Australia, and has been involved in trying to change the current situation. Looks like there's a long way to go to breaking the glass ceiling, but with women like Julia leading the way no doubt changes will come sooner rather than later.
More: Visit Website
Retail

Janine Allis
Boost Juice
Boost Juice founder and owner Janine Allis has a trip to the US to thank for giving her the idea for a smoothie chain. Inspired by the healthy bars she had seen in America, Allis and her husband decided to try their luck with their own version of the fad in Oz. Starting in Adelaide, Boost Juice franchises began to spring up throughout Australia, before going global as other countries joined in on the healthy lifestyle wagon. With food production giant Nestle on board in the United Kingdom, the company is going from strength to strength and continues to rack up awards every year,
In just 10 short years, Allis has developed a successful business empire which has taken others decades to replicate. From its humble beginnings in her own suburban home, where Allis conducted her original market research with one of her children on her knee, Boost Juice now has 88 stores worldwide and a turnover of $54 million AUD every year, Allis can certainly afford to sit back, put her feet up and enjoy a Strawberry Squeeze or Blueberry Blast.
More: Visit Website

Maxine Horne
Vita Group
Maxine Horne is co-founder and CEO of the Vita Group, one of Australia's electronic retail giants. From humble beginnings of one store in 1995, the company has branched out into mobile phones and computers, and is appears frequently on Australia's lists of fastest growing companies.
Taking home over half a million AUD per annum, Maxine enjoys focussing on the Phone Zone brand and developing the customer service network of the company. She is also committed to ensuring her staff feels valued, and that there is a positive work ethic. She even devotes a few hours a day to checking in with her staff to ensure they're happy with everything.
The idea for Phone Zone, as the Vita Group is also known, came on a trip back to Maxine's native UK. There, she realised that no one was selling mobile phones in a retail capacity back in Australia, and she, along with her husband, decided to take the market down under.
Beginning the company in her home whilst pregnant with her first child, Maxine has seen Phone Zone expand beyond expectations. Adopting a 'no business at home' rule (which is enforced by her son), Maxine somehow manages to maintain a healthy work-life balance, just like one of her female inspirations – Margaret Thatcher!
More: Visit Website | Follow on Twitter

Jan Cameron
Retail Adventures
Jan Cameron, creator of Kathmandu outdoor wear and accessories is, thanks to her empire, one of the richest women in Australia and New Zealand. She's notorious for her clear-headed, quick-thinking business decisions, a trait that must have helped her enormously when she began her forage into the strongly masculine outdoor equipment market in the dark days of the 1970s.
Having sold the business in 2006, Jan netted a very respectable $230 million, and managed to hold on to 49 percent of the company. Not a bad result! Since the sale, although most thought she was settling down for retirement years in Tasmania Ms Cameron instead bought out Australian Discount Retail Group in 2009, who went into administration. The chain were responsible for around 350 discount variety stores under the brand names Go-Lo, Crazy Clarks and Sam's Warehouse, but their Tasmanian Chickenfeed stores remained profitable, and continues to do well under the management of Jan Cameron. In fact, it's doing so well, as it's business owner, that 100 percent of profits are donated to charity. Something that is not common knowledge and will surely drive consumers to the store, and also something that goes to show many entrepreneurs are not just business people, but philanthropists too.
More: Visit Kathmandu Website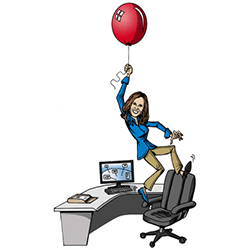 Naomi Simson
Red Balloon
Internet marketing guru Naomi Simson decided that she'd had enough working for the man and decided to launch her own web-based business Redballoon, selling quirky presents and gift experiences online to the Australian population. Like Julia Ross, founder of her hugely successful recruitment business, Naomi too took the self employment route for family reasons – she wanted more time to spend with her children.
In the running for BRW's Entrepreneur of The Year, it is clear that Naomi's vibrant and quirky personality is having not only a positive effect on the business, but also on the people around her – one of her best achievements is the fact that Redballoon has been voted one of Australia's best places to work.
Having won an accolade of awards, Naomi is now turning her hand to advising other women on how to make their own success stories. A true inspiration, her self-developed business has enabled her to indeed 'have it all'. Naomi is now trying to impart her knowledge onto others, in the aptly named book 'I Want What She's Having.'
If you're a budding entrepreneur looking to stamp your ground in the Australian marketplace, grab a free eCopy of Naomi's business book "I Want What She's Having". Rated an "essential business read" by The Australian, the e-version is available on her blog naomisimson.com for download.
More: Subscribe to Naomi Simson's Blog | Follow Naomi Simson on Twitter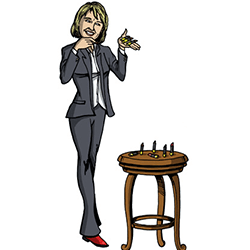 Gillian Franklin
Heat Group
Hugely successful marketer, manager and owner of the Heat Group Gillian Franklin learned the ropes whilst working for others, before taking her experience and setting up shop on her own. At 23, Gillian already had 23 juniors reporting for her, and she was Revlon's youngest general manager in history. Her company owns exclusive rights to the retail of many of the world's most famous brands, including Max Factor.
Originally from South Africa, Gillian's entrepreneurial spirit has helped her succeed in one of her many goals – providing employment opportunities for women and improving the quality of their lives whilst advising them on the largely male dominated world of business.
Set up in 2000, and now employing almost 100 members of staff, Gillian is proud to have seen the business grow from a home start-up to the thriving company it is today. Now worth almost $80 million, the company is at the forefront of women's cosmetics in Australia. Gillian's shrewd business planning, advanced thinking and can do attitude have convinced many, including industry giant Proctor and Gamble, that her company is the way forward. And, she's just about convinced us too.
More: Visit Heat Group Website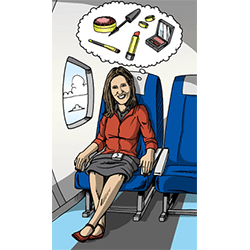 Jo Horgan
Cosmetics Cubed
London born and bred Jo, like Franklin, learned the tricks of the cosmetics trade whilst working for an industry giant (L'Oreal) in the UK and Australia. Whilst abroad, Jo realised there was a gap in the Australian cosmetics market for high quality, niche products, and thus her company Cosmetics Cubed, which incorporates the Mecca Cosmetica brand.
With 30 stores across Oz and New Zealand, Mecca Cosmetica leads the way in women's cosmetics. Like many of the successful women on this list, Horgan keeps herself to herself, but her products, which include her own branded ranges, are known to women and teenage girls throughout Australia.
Jo claims most of her business planning was done on long haul flights, but it turned out the ideas were more than just pie in the sky fantasy. Having built her business up and successfully passed the 10 year mark, Jo remains grounded, quoting her best achievements as her family, and speaking at industry conferences in front of some of the world big names in the beauty world. She also enjoys travelling and meeting her suppliers and business contacts. At least she'll have to hand plenty of creams and lotions to hide any jet lag and fatigue.
More: Visit Mecca Cosmetica Website
Property
Iris Lustig Moar
Lustig and Moar
Director of one of Australia's most luxurious property development chains, Iris Lustig Moar continues the vision that her late father and ex-husband had, that is, the creation of iconic and simply fabulous properties and buildings, including the Hyatt Hotel chains. Pulling in a cool $150 million dollars revenue a year, the company gives Lustig Moar a nice return, and plenty of spare cash to add to her magnificent modern art collection. Famously spending a whopping $5.5 million in a few months on some collectors items, including an $840,000 Albert Tucker Painting, Iris and ex-husband Ted are prominent movers in the art scene.
Iris takes an active role in the running of the property business, which has expanded to the development of high specification luxury apartments, fancy hotels, and high-end villas.
More: Visit Website

Caroline Treacy
CORE Architecture
Caroline Treacy is the managing director of successful and much in demand architecture firm CORE, based in Queensland. Despite being pestered by government, property developers and businesses alike, who all vie for Core's cutting edge building designs, Caroline also manages to support local women looking to find their way in the male dominated world of business, and is part of the Women in Business Network. She also mentors young up-and-coming architects in an apprentice scheme, and still has time to generate $9 million per year through CORE's innovative designs, including some of Australia's highest profile public buildings.
Caroline has been pivotal in the direction of the growth of the business, and now manages over 50 staff across the company's various locations in Australia, and is instrumental in the growth of the business and the management of staff. Caroline takes particular interest in the niche architectural sectors of education and care homes. She's also mother to two young children, and proved she can practice what she preaches when she successfully renovated and redesigned her own home to a very high standard.
More: Visit CORE Architecture Website
Hospitality

Charlotte Vidor
Toga Group
Joint owner of the massive Toga Group, Vidor has her finger in a lot of business-flavoured pies. Valued alongside her husband at $440 million, Vidor's company is involved mainly in the hospitality chain, but also fund management, the environment and property management, and includes the Medina and Vibe brands.
Spanning 45 years, the company hires almost 2000 people and has exported the brand to Europe and elsewhere. The business portfolio includes hundreds of hotels, apartments and businesses, including Travel Lodge Australia and New Zealand, and many others.
Given the companies interests, it's no surprise that Vidor has a heavy interest in the Australian tourist industry, and is a strong advocate for the development of the sector. She played a prominent role whilst a member of the New South Wales Tourism Board, and developed the concept of fully-serviced business apartments way back in 1982.
Unfortunately for Charlotte, a pitiful net worth of $440 million means she just scrapes into fourth position on Australia's rich list. Shame.
More: Visit Tega Group Website
Communications

Emma Isaacs
Business Chicks
Emma Isaacs is a busy, busy woman, and loves it. She is a long time entrepreneur, having never worked for anyone else – apart from a few coffee shops during her teens – and manages to juggle mommyhood with business quite nicely.
At just 18, Emma started her first business, a recruitment company, and by the age of 28 had bought four other businesses and sold one. One of her companies, Business Chicks, is an online community for business women in Australia wanting to connect with likeminded career women. Their ethos is to empower working women, whether from small home-based businesses or a large multinational corporation, through sharing ideas, knowledge and skills. Competitiveness is shunned – although that must be hard with a group of strong-willed women – and peer encouragement is embraced, with the aim of achieving better business results, while trying not to take it all too seriously. There are chances to meet up in real life, too, during national events programs, fundraising ventures and other initiatives. Ranging from the ages of 25 to 65, around 25,000 business women have joined the community so far.
When not in the throes of organising Business Chicks, Emma is an Ambassador for 1 Million Women, writes a regular column for Latte, the Business Chicks magazine, and has only recently given up the Presidency of the Sydney-based Entrepreneur's Organisation.
More: Visit Business Chicks Website | Follow Emma Isaacs on Twitter

Claire Moffat
Connected Women
While the term 'tech head' is usually reserved for men, Claire Moffat has knocked the idea firmly on the head by starting Australia's only technology site for women, Connected Women, and it's a big hit. Of course being CEO of Connected Media, which is responsible for Australia's leading online news service for the consumer electronics industry Connected Australia, would have helped.
Spanning a publishing career of 30 years, Claire has created and managed a number of leading magazines, electronic newsletters and websites across various industries, but Connected Women is closest to her heart. Her insight into the women's tech market niche is sought after by many in the industry and she relays her knowledge and expertise through a range of online editorials, her blog and presentations and events within the business and technology industry.
More: Visit Connected Women Website | Follow Claire Moffat on Twitter

Clare Lancaster
Women in Business
As Clare says: "When most people think of the words 'women in business' they think of women in 80?s power suits, or women climbing the corporate ladder while figuring out the balance between work and family." But things have changed, and Clare is key to that change.
Putting her background in Communication Design and SEO to good use, partnered with her experience in affiliate marketing and search and domain monetisation, Clare founded Dot Marketing. There, through strategy workshops, online business owners and bloggers with a business model learn how SEO, social media and marketing can benefit their business.
Helping online business owners is something Clare is passionate about, and her new venture Women in Business reflects that. It stemmed from wanting a life where work, home and play mingle easily, where women can have it all, do what they love, without having to give up too many things to be successful. If Clare's success is anything to go by, she seems to know what she's talking about.
More: Visit Website | Follow Clare Lancaster on Twitter | Subscribe to Blog
Catriona Pollard
CP Communications
With such an established career in developing and managing public relations and marketing programs, it was only a matter of time before Catriona would utilise her diverse skills to go it alone. In 2001, she set up CP Communications, a Sydney-based boutique PR agency, and hasn't looked back since.
Part of her repertoire is to manage public affairs and marketing for the federal and state governments, which must provide a few challenges, to say the least, and she regularly authors articles on PR and marketing for a number of business journals. Catriona is also tipped as one of the *top 100 people in PR to follow on Twitter, where she is active most days, and she is co-founder of Social Media Women – an online networking group that assists and encourages women to get more involved in social media.
More: Visit Website | Follow Catriona Pollard on Twitter | Subscribe to Blog
Helen Logas
Travelcorp
It's not often you hear of a high school teacher making the big bucks, well, not if they stay in education. A passion for travel coupled with a strong desire to be her own boss saw Helen Logus leave the teaching ranks and join the madness of entrepreneurism.
In 1994, Helen started her corporate travel business Travelcorp and within a year was in the position to employ commission-based staff and undertake a targeted advertising campaign. In 2003, Travelcorp was awarded 'Best Corporate Travel Agent' at the National Travel Industry Awards for Excellence, and by 2010 the company had a recorded revenue of $65 million, with an average annual growth of 38 percent.
Her obvious knack for negotiating and seeking out a deal played a key role in the growth of her business, but so too did the technology behind Travelcorp's booking system, which was customizable to each client. This allowed corporate clients to not only retain a certain amount of control of their travel plans, but also analyse their costs and spending patterns over the year.
The biggest deal of her life was to come when, in 2010, Helen was approached by Corporate Travel Management (CTM) with an offer for the company. By the end of that year Helen was a whole lot richer and freed up to pursue her next venture, which should be due to launch any time soon.
More: Visit Travelcorp Website
Suzy Jacobs
SHE Business
Having worked for many years in large corporations, Suzy Jacobs was keen to test the waters of the small business world and do something which demanded her real passions – building relationships and women in business. In 2009, she brought the UK's Athena Network to Australia – the Athena Network provides business women with opportunities to make strategic connections with other professionals and encourages members to develop their business potential through a series of workshops. Now Suzy has gleaned from her past experiences and set up her own community for business women within Australia.
Toted as "the new kind of business club for women", SHE Business offers a holistic approach to success based on a gender science model developed from months of research. Sounds fancy, but what it means is that the SHE Business recognises that women work quite differently from men in the business world, and therefore have different needs.
SHE Business offers members various paths to professional success through a range of events led by other successful female entrepreneurs. There are numerous opportunities to network – although Suzy is keen to label it as 'nurturing not networking' – and lively discussion and debate are positively encouraged so that others may draw on collective experience.
More: Visit SHE Business Website | Follow SHE Business on Twitter | Connect with SHE Business on Linkedin
Up and Coming Entrepreneurs
Finalists in AusMumpreneur of the Year 2011

Laura Trotta
Sustainababy
It's often true that if you want something done you may as well do it yourself. When environmental professional Laura Trotta was pregnant with her son Matthew she spent hours researching where she could find sustainable products and clothes, but found that the items while available were not collected in one place. This led her to start her own online business Sustainababy just last year, and so far it's a great success.
Offering one of the most comprehensive selections of organic and eco-friendly baby and children's products, Sustainababy is a valuable resource for environmentally conscious parents. A large portion of the items available have been either designed or made in Australia or New Zealand, too.
Laura's previous professional experience as an environmental engineer reducing the environmental impact of large organisations has meant she was able to not only transfer her knowledge to the online world, but is able to help others to lessen their family's environmental impact whether they're aware of it or not – a certain portion of the profits of sales goes to towards the regeneration of degraded South Australian landscapes. Customers also have the opportunity to offset emissions for delivery of their goods, a first in terms of service in online stores in Australia.
Laura is constantly loading new products and brands on the site and is pleased to welcome new products from Petit Collage and Apple & Bee in addition to new season stock from Purebaby, Baobab and Cheeky Little Soles. Laura is also pleased to announce that Sustainababy has expanded to now cater for children aged up to 6 years rather than just toddlers as was the case in the past.
You also can check out the following offers from Sustainababy
They have their FINAL summer clearance on now (until mid Feb) where most of their summer stock is reduced by 50%.
Autumn/Winter stock will all be available in the online store from mid March.
They will be continuing to post eco-parenting articles written by environmental professionals (who are also parents) on their blog. As the only eco-parenting store operated by environmental professionals, they really are the credible information resource out there.
Sustainababy's Facebook fans enjoy tuning into daily eco-parenting tip where they get the latest and greatest ideas to help them build a more sustainable lifestyle.
They will be running an eco-tip competition during March through their blog and Facebook page which gives the fans the opportunity to submit their best eco tip for the chance to WIN a $250 Sustainababy voucher. Details will be released by week end.
More: Visit Sustainababy Website | Like Sustainababy on Facebook
Michelle Wright
Mishfit
The path to achieving professional success is not always easy. There are peaks and troughs along the way, which mostly make us stronger; some stronger than others. It was a after a personal setback that Michelle Wright found her strength and carved a totally new, successful career.
Michelle is the owner of Mishfit, a personal training service that educates and provides safe exercise care to pregnant and post-natal women. It means women, especially those with a gym phobia, can partake in exercise when they need it most without having to worry what they look like, and in the knowledge that their trainer is specifically trained to meet their needs.
Spurred on by a bout of post-natal depression that was only remedied with exercise, Michelle was quick to recognize that she would not have been the only new mum to feel that way. So she ditched the decision to go back to teaching and instead became a fitness guru, which surprised her more than anyone considering she had previously abhorred exercise.
Now, Mishfit is a growing business with franchise opportunities, and is pitted as a true child-friendly business – Mishfit is one of the few exercise establishments that allows mothers to bring their children with them to classes, meaning they don't have to worry about the added cost of child care; a rare find indeed.
Starting in February this year there is a new franchisee running Mishfit in Ringwood Victoria. Moreover, Michelle has also just released a new double CD Called Active Pelvic Practice - The Gift of Inner Strength. This is to help women remember and to correctly contract their pelvic floors. It is available from either the Mishfit website or from iTunes.
More: Visit Mishfit Website | Like Mishfit on Facebook | Follow Mishfit on Twitter
Yvette Adams
The Creative Collective
Yvette Adams' quest for the "ideal lifestyle" – to be able to juggle her family and professional life – was fulfilled much quicker than she thought. In 2007, Yvette decided to set up her online marketing services business, The Creative Collective, from home so she could still spend time with her two young children, yet within six months the increasing demand for web marketing meant she was able to employ five contractors.
The Creative Collective recognises that business owners can't possibly do it all themselves and so provides a platform for outsourcing certain components of the business, from website design and SEO management to social media and market research, to highlight a few of the services available.
The company's success was evident very quickly and by December 2009, the company was granted Federal Government funding through the AusIndustry Small Business Online in conjunction with TRAC Consulting, which has led to The Creative Collective being able to research and develop a wide range of webinars, full day events and e-lessons to business owners in the Whitsunday, Bundaberg and Sunshine Coast regions.
Now Yvette manages a team of 25 contractors in addition to a small team of permanent staff, and services clients locally, nationally and internationally. All that and she still manages to find time for her family, which is part and parcel of being a female entrepreneur.
The Creative Collective hosts a stack of full-day workshops and webinars (online seminars) offering key advice on how to run a successful online business. Yvette is a regular guest speaker at many of these events. Visit the Creative Collectives events page for details of all upcoming events.
More: Visit The Creative Collective Website | Follow The Creative Collective on Twitter
Back to top