20XX (2018) review
Domo arigato, Mr Roboto.
We're reader-supported and may be paid when you visit links to partner sites. We don't compare all products in the market, but we're working on it!
Domo arigato, Mr Roboto.
Outside of a bunch of recently released cash-in "remasterings", Mega Man fans have been hungering for a true modern sequel. Thus far, no spiritual successor has managed put its hand up and been up to the task, either. The hope (and money) we invested in Keiji Inafune's Mighty No.9 was more or less wasted.
Today's study, 20XX, slips into a very Mega Man-like suit that's been enhanced with contemporary upgrades. Key to these is some hectic two-player co-op and procedurally randomising "roguelike" levels. Because apparently, the Mega Man formula wasn't controller-snappingly difficult enough already...
The overwhelmingly good news is that while Mighty No.9 raised over US$4 million worth of Kickstarter money and delivered mediocrity, 20XX scrimped together US$20,551 and is the far better Mega Man experience. Go figure.
Out of all of the many games in the series, 20XX is most like Mega Man X as you're given a choice between two playable characters: Nina and Ace. The former is a projectile specialist with a mega-blaster-like arm. Ace is a melee-centric character who's rocking a plasma sword.
Beyond that their stats are the same, they both have access to charge up attacks and have the same life pool depending on the difficulty chosen. Level options include "Revenant" (three lives), "Normal" (one life, sudden death mode) and "Defiant", which suits MLG-level masochists and applies a bunch of sadistic modifiers.
When you do meet your maker in this hectic 2D platform, everything you've built will evaporate prior to the next run. Insult to injury: you'll also get to read some snarky observations made by an auditing scientist from the "Department of Snuff Results". Lovely.
The only thing going in your favour are soul chips, a resource which will actually increase in frequency the more times you live, die and repeat. These allow your defeated self to skulk back to HQ and invest in some permanent upgrades that will, theoretically, allow you to stay alive for a tiny bit longer.
---
---
Choice upgrades include having a decent weapon spawn right at the start of a run (otherwise you'll need to loot chests as you go). I'd also recommend increasing your paltry maximum health as well. Either way you'll need to splurge on the spot as unspent soul chips vanish upon exiting through the gift shop. This simple back and forth of earning and inching your way into better runs proves to be highly addictive stuff. I loaded up 20XX for "a few quick runs" many times, only to find myself still at it an hour later.
Is this a good two-player experience? It depends on who you drag along with you. If you have a cohort who knows how to verbally communicate what they're doing and has the hand-eye coordination needed to pull off their jumps, 20XX is a bloody fantastic experience for all involved. Play this with somebody who isn't at your skill level and it'll doom you both. Though 20XX generously zooms out to give both players enough view to navigate, too much straggling will create a camera distance that makes your bots look like ants. Best of luck nailing jumps then.
The simple fact is that these environments are too dangerous as it is. Platforms rapidly shift and reconfigure under your feet over bottomless chasms. The randomisation element also means that some sections deliver very unique problems. You'll need to develop an instinct for when a regular jump will suffice and when nothing but a super jump (R1 + X) will do. Patience is required for moving platforms that have a tiny window of success where their orbits correlate just right. It's intense.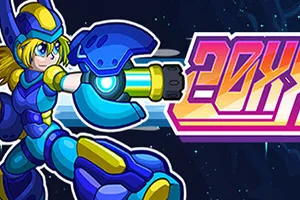 The on-hand (on-arm?) weaponry is just as gratifying. You have the
Mega Man
shtick that is inheriting the special power of any boss you defeat, plus you can tackle them in any order you feel like. Knowing which power is "super effective" on which other boss will make your life much, much easier. Definitely Google into this before you play
20XX
.
When it comes to faults this robot has been put together well but not perfectly. The nature of randomised levels can result in brutal spikes in difficulty which feel like the algorithm won't always give you a fair shake at things. I saw moments in bullet hell and platforming purgatory where nobody but a purpose-built gaming cyborg would have prevailed. Fortunately these instances were few and far between, but that's incredibly annoying stuff in a game where so much is at stake.
Beyond those minor peccadilloes 20XX is still this Mega Man fan's hope for the future. Here's hoping our feedback will be funnelled back into the institute and get used in a Mk. II product that fully eclipses its inspiration. For what it's worth: Batterystaple Games isn't too far off as it is.
We reviewed 20XX on PlayStation 4 with a copy provided by the publisher.
20XX
7.0 VERY GOOD
What we liked...
Lovely art style and endearing characters
Roguelike gameplay loop is crack
Two-player co-op is intense with the right buddy
What we didn't like...
Level generator can spit out no-wins
Some boss fights lack complexity
VERDICT
The next evolution of the punishing Mega Man series is here. Addictive in solo and a friendship enhancer/destroyer in co-op. That said, the roguelike level algorithm can be too sadistic.
For more information on how finder.com.au scores games, check our review guidelines.
---