Complete ATP and WTA 2020 Tennis Schedule
Here is the full schedule for the men's and women's world tennis tours from January to November 2020.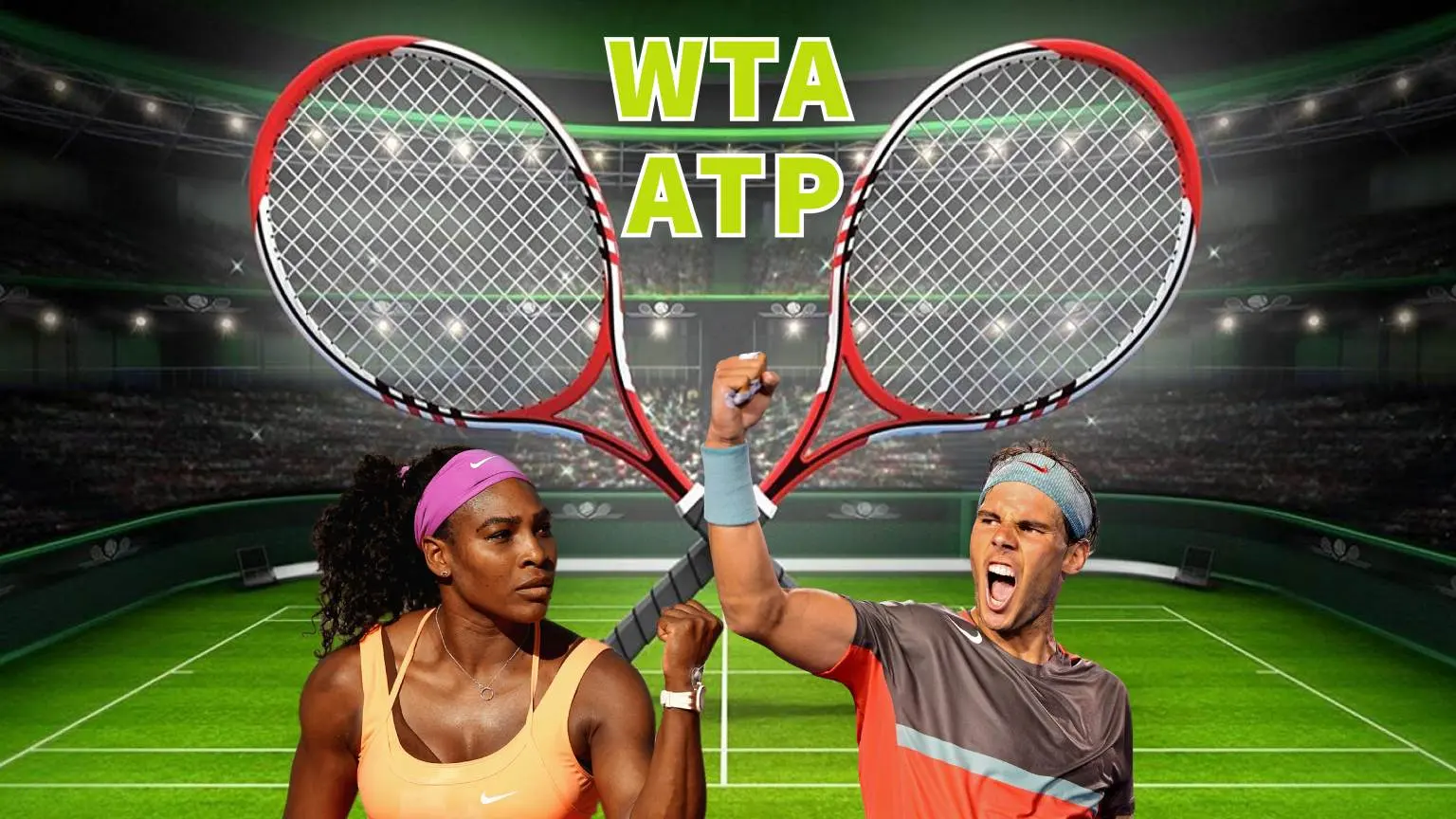 We're reader-supported and may be paid when you visit links to partner sites. We don't compare all products in the market, but we're working on it!
New balls! In fact, new decade! It was a wild ride through the 2010s as three men and one woman etched their names into sporting folklore. You know who I'm talking about. Federer, Nadal, Djokovic and one Serena Williams. There were many other brilliant players, of course, but these were the names that dominated a decade.
They won't dominate the 2020s; age will see to that.
And didn't some exciting new names step up at the end of 2019 with an eye to being the next big thing in tennis? Both the ATP and WTA tennis tours are jam-packed with young, exciting talent. Barty, Pliskova, Halep, Andreescu, Svitolina, Osaka, Bencic, Thiem, Medvedev, Tsitsipas, Zverev, Kyrgios, De Minaur… who will rise to the top?
The good news is, there are 128 tournaments unfolding through 2020 with a combined prize pool of over US$400,000,000 on offer. Below you will find every tennis tournament of 2020 across the ATP and WTA tennis tours. This includes the brand new ATP Cup. Which is joined by the four grand slams (Australian Open, French Open, Wimbledon and US Open), Davis Cup, Laver Cup and Fed Cup. Not to mention the Tokyo Olympics.
If you want to tune in to watch any of the matches from the 2020 tennis schedule below, try our how to watch guide. Needless to say, the most comprehensive option in Australia is Kayo Sports, which is free to trial for 14 days.
Store
Discount

Kayo Sports

Stream Kayo Sports for 14 days FREE and no lock-in contract

Take Kayo Sports' Basic or Premium plan for a spin and stream new sports content daily plus 15,000+ hours of on-demand archives.

Last verified
Full ATP and WTA 2020 tennis schedule of events
* The prize money is predominantly paid out by the ATP and WTA in US dollars or in euros depending on the region of the tennis tournament. While all the ATP prize money is updated for 2020, a handful of WTA events list 2019 prize money at the time of writing. These will likely inflate slightly for the 2020 tennis tournaments.
Please note some events have been cancelled due to coronavirus.
| Event No. | Start Date | Tournament | Venue | Tour | Court | Prize Money (USD/EURO/Pound)* |
| --- | --- | --- | --- | --- | --- | --- |
| 1 | 3-Jan | ATP Cup | Brisbane, Perth, Sydney, Australia | ATP Cup | Hard | $15,000,000 |
| 2 | 6-Jan | Qatar Open | Doha, Qatar | ATP Tour 250 | Hard | $1,359,180 |
| 3 | 6-Jan | Brisbane International | Brisbane, Australia | WTA Premier | Hard | $1,000,000 |
| 4 | 6-Jan | Shenzhen Open | Shenzhen, China | WTA International | Hard | $775,000 |
| 5 | 6-Jan | Auckland Open | Auckland, New Zealand | WTA International | Hard | $275,000 |
| 6 | 13-Jan | Adelaide International | Adelaide, Australia | ATP Tour 250 | Hard | $546,355 |
| 7 | 13-Jan | Auckland Open | Auckland, New Zealand | ATP Tour 250 | Hard | $546,355 |
| 8 | 13-Jan | Adelaide International | Adelaide, Australia | WTA Premier | Hard | $848,000 |
| 9 | 13-Jan | Hobart International | Hobart, Australia | WTA International | Hard | $275,000 |
| 10 | 20-Jan | Autralian Open | Melbourne, Australia | Grand Slam | Hard | $50,000,000 |
| 11 | 3-Feb | Open Sud de France | Montpellier, France | ATP Tour 250 | Hard | €542,695 |
| 12 | 3-Feb | Maharashtra Open | Pune, India | ATP Tour 250 | Hard | $546,355 |
| 13 | 3-Feb | Córdoba Open | Córdoba, Argentina | ATP Tour 250 | Clay | $546,355 |
| 14 | 3-Feb | Fed Cup Qualifying Round | Multiple Locations | Fed Cup | Multiple | NA |
| 15 | 10-Feb | Rotterdam Open | Rotterdam, Netherlands | ATP Tour 500 | Hard | €2,013,855 |
| 16 | 10-Feb | New York Open | Uniondale, United States | ATP Tour 250 | Hard | $719,320 |
| 17 | 10-Feb | Argentina Open | Buenos Aires, Argentina | ATP Tour 250 | Clay | $611,420 |
| 18 | 10-Feb | St. Petersburg Ladies Trophy | Saint Petersburg, Russia | WTA Premier | Hard | $848,000 |
| 19 | 10-Feb | Thailand Open | Hua Hin, Thailand | WTA International | Hard | $275,000 |
| 20 | 17-Feb | Rio Open | Rio de Janeiro, Brazil | ATP Tour 500 | Clay | $1,759,905 |
| 21 | 17-Feb | Open 13 | Marseille, France | ATP Tour 250 | Hard | €691,880 |
| 22 | 17-Feb | Delray Beach Open | Delray Beach, United States | ATP Tour 250 | Hard | $602,935 |
| 23 | 17-Feb | Dubai Tennis Championships | Dubai, United Arab Emirates | WTA Premier | Hard | $848,000 |
| 24 | 17-Feb | Hungarian Ladies Open | Budapest, Hungary | WTA International | Hard | $275,000 |
| 25 | 24-Feb | Dubai Tennis Championships | Dubai, United Arab Emirates | ATP Tour 500 | Hard | $2,794,840 |
| 26 | 24-Feb | Mexican Open | Acapulco, Mexico | ATP Tour 500 | Hard | $1,845,265 |
| 27 | 24-Feb | Chile Open | Santiago, Chile | ATP Tour 250 | Clay | $604,010 |
| 28 | 24-Feb | Qatar Open | Doha, Qatar | WTA Premier 5 | Hard | $3,240,445 |
| 29 | 24-Feb | Mexican Open | Acapulco, Mexico | WTA International | Hard | $275,000 |
| 30 | 2-Mar | Davis Cup Qualifying Round | Multiple Locations | Davis Cup | Hard | NA |
| 31 | 2-Mar | Lyon Open | Lyon, France | WTA International | Hard | $275,000 |
| 32 | 2-Mar | Monterrey Open | Monterrey, Mexico | WTA International | Hard | $275,000 |
| 33 | 9-Mar | Indian Wells Masters | Indian Wells, United States | ATP Tour Masters 1000 | Hard | $8,761,725 |
| 34 | 9-Mar | Indian Wells Open | Indian Wells, United States | WTA Premier Mandatory | Hard | $9,000,000 |
| 35 | 23-Mar | Miami Open | Miami, United States | ATP Tour Masters 1000 | Hard | $8,761,725 |
| 36 | 23-Mar | Miami Open | Miami, United States | WTA Premier Mandatory | Hard | $9,000,000 |
| 37 | 6-Apr | U.S. Men's Clay Court Championships | Houston, United States | ATP Tour 250 | Clay | $604,010 |
| 38 | 6-Apr | Grand Prix Hassan II | Marrakesh, Morocco | ATP Tour 250 | Clay | €542,695 |
| 39 | 6-Apr | Charleston Open | Charleston, United States | WTA Premier | Clay | $848,000 |
| 40 | 6-Apr | Copa Colsanitas | Bogotá, Colombia | WTA International | Clay | $275,000 |
| 41 | 13-Apr | Monte-Carlo Masters | Monte-Carlo Masters | Monte-Carlo Masters | Clay | €5,572,875 |
| 42 | 13-Apr | Fed Cup Finals | Budapest, Hungary | Fed Cup | Clay | NA |
| 43 | 20-Apr | Barcelona Open | Barcelona, Spain | ATP Tour 500 | Clay | €2,661,825 |
| 44 | 20-Apr | Hungarian Open | Budapest, Hungary | ATP Tour 250 | Clay | €542,695 |
| 45 | 20-Apr | Stuttgart Open | Stuttgart, Germany | WTA Premier | Clay | $886,077 |
| 46 | 27-Apr | Estoril Open | Estoril, Portugal | ATP Tour 250 | Clay | €542,695 |
| 47 | 27-Apr | Bavarian International Tennis Championships | Munich, Germany | ATP Tour 250 | Clay | €542,695 |
| 48 | 27-Apr | Prague Open | Prague, Czech Republic | WTA International | Clay | $275,000 |
| 49 | 27-Apr | Morocco Open | Rabat, Morocco | WTA International | Clay | $275,000 |
| 50 | 4-May | Madrid Open | Madrid, Spain | ATP Tour Masters 1000 | Clay | €6,901,635 |
| 51 | 4-May | Madrid Open | Madrid, Spain | WTA Premier Mandatory | Clay | $7,800,000 |
| 52 | 11-May | Italian Open | Rome, Italy | ATP Tour Masters 1000 | Clay | €5,572,875 |
| 53 | 11-May | Italian Open | Rome, Italy | WTA Premier 5 | Clay | €958,055 |
| 54 | 18-May | Geneva Open | Geneva, Switzerland | ATP Tour 250 | Clay | €542,695 |
| 55 | 18-May | Lyon Open | Lyon, France | ATP Tour 250 | Clay | €542,695 |
| 56 | 18-May | Nuremberg Cup | Nürnberg, Germany | WTA International | Clay | $275,000 |
| 57 | 18-May | Internationaux de Strasbourg | Strasbourg, France | WTA International | Clay | $275,000 |
| 58 | 25-May | French Open | Paris, France | Grand Slam | Clay | €42,661,000 |
| 59 | 8-Jun | Stuttgart Open | Stuttgart, Germany | ATP Tour 250 | Grass | €702,780 |
| 60 | 8-Jun | Rosmalen Grass Court Championships | s-Hertogenbosch, Netherlands | ATP Tour 250 | Grass | €658,000 |
| 61 | 8-Jun | Nottingham Open | Nottingham, Great Britain | WTA International | Grass | $275,000 |
| 62 | 8-Jun | Rosmalen Grass Court Championships | s-Hertogenbosch, Netherlands | WTA International | Grass | $275,000 |
| 63 | 15-Jun | Halle Open | Halle, Germany | ATP Tour 500 | Grass | €2,134,520 |
| 64 | 15-Jun | Queen's Club Championships | London, Great Britain | ATP Tour 500 | Grass | €2,134,520 |
| 65 | 15-Jun | Grass Court Championships Berlin | Berlin, Germany | WTA Premier | Grass | $1,340,000 |
| 66 | 15-Jun | Birmingham Classic | Birmingham, Great Britain | WTA International | Grass | $275,000 |
| 67 | 22-Jun | Eastbourne International | Eastbourne, Great Britain | ATP Tour 250 | Grass | €708,025 |
| 68 | 22-Jun | Mallorca Championships | Mallorca, Spain | ATP Tour 250 | Grass | $900,000 |
| 69 | 22-Jun | Eastbourne International | Eastbourne, Great Britain | WTA Premier | Grass | $753,900 |
| 70 | 22-Jun | Bad Homburg Open | Bad Homburg, Germany | WTA International | Grass | $275,000 |
| 71 | 29-Jun | Wimbledon | London, Great Britain | Grand Slam | Grass | £38 million |
| 72 | 13-Jul | Hamburg European Open | Hamburg, Germany | ATP Tour 500 | Clay | €1,770,865 |
| 73 | 13-Jul | Hall of Fame Open | Newport, United States | ATP Tour 250 | Grass | €542,695 |
| 74 | 13-Jul | Swedish Open | Båstad, Sweden | ATP Tour 250 | Clay | $604,010 |
| 75 | 13-Jul | Bucharest Open | Bucharest, Romania | WTA International | Clay | $275,000 |
| 76 | 13-Jul | Ladies Open Lausanne | Lausanne, Switzerland | WTA International | Clay | $275,000 |
| 77 | 20-Jul | Los Cabos Open | Cabo San Lucas, Mexico | ATP Tour 250 | Hard | $834,630 |
| 78 | 20-Jul | Swiss Open | Gstaad, Switzerland | ATP Tour 250 | Clay | €542,695 |
| 79 | 20-Jul | Croatia Open | Umag, Croatia | ATP Tour 250 | Clay | €542,695 |
| 80 | 20-Jul | Baltic Open | Jūrmala, Latvia | WTA International | Clay | $275,000 |
| 81 | 20-Jul | Palermo Open | Palermo, Italy | WTA International | Clay | $275,000 |
| 82 | 27-Jul | Summer Olympic Games | Tokyo, Japan | Summer Olympic Games | Hard | €44,535,500 |
| 83 | 27-Jul | Atlanta Open | Atlanta, United States | ATP Tour 250 | Hard | $719,320 |
| 84 | 27-Jul | Austrian Open | Kitzbühel, Austria | ATP Tour 250 | Clay | €542,695 |
| 85 | 3-Aug | Washington Open | Washington, United States | ATP Tour 500 | Hard | $1,953,285 |
| 86 | 3-Aug | Silicon Valley Classic | San Jose, United States, United States | WTA Premier | Hard | $876,183 |
| 87 | 3-Aug | Washington Open | Washington D.C., United States | WTA International | Hard | $275,000 |
| 88 | 10-Aug | Canadian Open | Toronto, Canada | ATP Tour Masters 1000 | Hard | $6,104,210 |
| 89 | 10-Aug | Canadian Open | Montreal, Canada | WTA Premier 5 | Hard | $2,830,000 |
| 90 | 17-Aug | Cincinnati Masters | Cincinnati, United States | ATP Tour Masters 1000 | Hard | $6,458,545 |
| 91 | 17-Aug | Cincinnati Open | Cincinnati, United States | WTA Premier 5 | Hard | $2,944,486 |
| 92 | 24-Aug | Winston-Salem Open | Winston-Salem, United States | ATP Tour 250 | Hard | $743,085 |
| 93 | 24-Aug | Albany Open | Albany, United States | WTA International | Hard | $275,000 |
| 94 | 24-Aug | TBD | TBD | WTA International | Hard | TBD |
| 95 | 31-Aug | US Open | New York City, United States | Grand Slam | Hard | $57,000,000 |
| 96 | 14-Sep | Zhengzhou Open | Zhengzhou, China | WTA Premier | Hard | $1,000,000 |
| 97 | 14-Sep | Japan Women's Open | Hiroshima, Japan | WTA International | Hard | $275,000 |
| 98 | 14-Sep | Jiangxi Open | Nanchang, China | WTA International | Hard | $275,000 |
| 99 | 21-Sep | Laver Cup | Boston, United States | Laver Cup | Hard | NA |
| 100 | 21-Sep | St. Petersburg Open | St. Petersburg, Russia | ATP Tour 250 | Hard | $1,243,790 |
| 101 | 21-Sep | Moselle Open | Metz, France | ATP Tour 250 | Hard | €542,695 |
| 102 | 21-Sep | Pan Pacific Open | Tokyo, Japan | WTA Premier | Hard | $823,000 |
| 103 | 21-Sep | Guangzhou Open | Guangzhou, China | WTA International | Hard | $525,000 |
| 104 | 21-Sep | Korea Open | Seoul, South Korea | WTA International | Hard | $275,000 |
| 105 | 28-Sep | Chengdu Open | Chengdu, China | ATP Tour 250 | Hard | $1,134,955 |
| 106 | 28-Sep | Zhuhai Championships | Zhuhai, China | ATP Tour 250 | Hard | $963,935 |
| 107 | 28-Sep | Sofia Open | Sofia, Bulgaria | ATP Tour 250 | Hard | €542,695 |
| 108 | 28-Sep | Wuhan Open | Wuhan, China | WTA Premier 5 | Hard | $2,828,000 |
| 109 | 5-Oct | China Open | Beijing, China | ATP Tour 500 | Hard | $3,573,220 |
| 110 | 5-Oct | Japan Open | Tokyo, Japan | ATP Tour 500 | Hard | $1,953,285 |
| 111 | 5-Oct | China Open | Beijing, China | WTA Premier Mandatory | Hard | $8,200,000 |
| 112 | 12-Oct | Shanghai Masters | Shanghai, China | ATP Tour Masters 1000 | Hard | $7,875,885 |
| 113 | 12-Oct | Hong Kong Open | Hong Kong | WTA International | Hard | $525,000 |
| 114 | 12-Oct | Linz Open | Linz, Austria | WTA International | Hard | $275,000 |
| 115 | 12-Oct | Tianjin Open | Tianjin, China | WTA International | Hard | $275,000 |
| 116 | 19-Oct | Kremlin Cup | Moscow, Russia | ATP Tour 250 | Hard | $972,095 |
| 117 | 19-Oct | Stockholm Open | Stockholm, Sweden | ATP Tour 250 | Hard | €658,000 |
| 118 | 19-Oct | European Open | Antwerp, Belgium | ATP Tour 250 | Hard | €658,000 |
| 119 | 19-Oct | Kremlin Cup | Moscow, Russia | WTA Premier | Hard | $1,032,000 |
| 120 | 19-Oct | Luxembourg Open | Luxembourg City, Luxembourg | WTA International | Hard | $275,000 |
| 121 | 26-Oct | Vienna Open | Vienna, Austria | ATP Tour 500 | Hard | €2,349,180 |
| 122 | 26-Oct | Swiss Indoors | Basel, Switzerland | ATP Tour 500 | Hard | €2,135,350 |
| 123 | 26-Oct | WTA Elite Trophy | TBD | Year-end championships | Hard | $2,419,844 |
| 124 | 2-Nov | Paris Masters | Paris, France | ATP Tour Masters 1000 | Hard | €5,572,875 |
| 125 | 2-Nov | WTA Finals | Shenzhen, China | Year-end championships | Hard | $14,000,000 |
| 126 | 9-Nov | Next Gen ATP Finals | Milan, Italy | Exhibition | Hard | $1,455,000 |
| 127 | 16-Nov | ATP Finals | London, Great Britain | ATP Finals | Hard | $9,500,000 |
| 128 | 23-Nov | Davis Cup Finals | Madrid, Spain | Davis Cup Finals | Hard | NA |
More guides on Finder