2019 Razer Blade Stealth 13 review: A slice of heaven for gamers on the go
It's a great tool for an enhanced gaming experience.
Quick Verdict
Stepping up to deliver a dedicated GPU over its last incarnation, this 2019 edition is sleek, sexy and a monster for its diminutive size. If your chief desire is battle royaling when out and about, the Razer Blade Stealth will prove to be a cut above the portable competition.
The Good
Vivid FHD screen looks a treat
Crisp sound with Dolby Atmos speakers
Lovely low travel keyboard and responsive MS Precision trackpad
Robust build quality
The Bad
HDMI out would be nice
Considerable battery drain while gaming
We're reader-supported and may be paid when you visit links to partner sites. We don't compare all products in the market, but we're working on it!
Anybody even halfway serious about gaming on the go will have no doubt cast their eye over Razer's line of products now and again. Of particular green-eyed interest are the Blade Stealth sub-series of Ultrabooks. I've watched them consistently deliver on all fronts over the years, be it in terms of compact and sexy form-factor, performance grunt or expandability into a desktop role via an External Graphics Enclosure (eGPU).
Recently, I managed to get mitts-on with the 2019 iteration of the Razer Blade Stealth 13, a little Quad-Core 8th generation beast packing an i7-8565U processor (1.8 GHz/4.6 GHz). Initial impressions were that it was business as usual; however, upon firing up my latest AAA games, it became clear that what we have here is a moveable feast of delicious visuals. Razer's new secret sauce: for the first time we have NVIDIA GeForce dedicated graphics to play with. And, better yet, a battery that can better handle your away-from-mains excursions.
The test
Razer Blade Stealth 13
Fire Strike
Sky Diver
CINEBENCH
GEEKBENCH (Single Core)
Multi core
OpenCL Score
3DMARK
3344
11564
80.27 fps
684 cb
5189
17048
47319
---
If looks could slice
Personally, I think Razer should score points early out of the gate for not blindly following the "HARDCORE GAMERZ" aesthetic that's so overdone by its many competitors. What we have here is a minimalist design that ultimately comes across as more confident and classy. The somewhat lozenge shape of the previous model has been swapped for a modern, squared-off looking 13.3-inch laptop whose only adornment is a tone-on-tone logo that doesn't sully the charcoal frame.
Indeed, the only thing that'll blemish this unit will be the day-to-day grease marks coming off your fingertips. But, to be fair, the new anodised finish fares better than my previous Stealth review unit. After a two-week trial, that sucker looked like an ongoing crime scene investigation.
Pop the lid and the 13 continues to impress over its predecessor. Screen-wise, we have a lovely Full HD (1920 x 1080) matte display that has a thin bezel (4.9mm). Word is you can shell out for a 4K touchscreen variant, but this review is keeping to the shallower end of the pool (because a 4K screen on a 13-inch screen is overkill). Those of you with modest means won't be disappointed with the trade-off as both screen options offer 100% sRGB colour saturation and are individually calibrated in the factory. This is a more-than-decent viewing experience for the premium price you're paying. Yes, it's not the whole super wide colour gamut, but the 1070:1 contrast is perfectly acceptable as is the 60Hz gaming experience you'll be getting.
That FHD window into gorgeous worlds is also complemented by a glass Microsoft Precision touchpad and Razer's standard issue Chroma keyboard. For any newcomers to the Razer experience, Chroma is a backlit RGB offering that can either be disengaged for serious work meetings or set to "miniature dance rave for your fingers". Also, you could feasibly lose an entire afternoon just creating your own custom 16 million colour lightshow, courtesy of the Synapse3 software assistant. The only downside I can see is the ability to colour individual keys has mysteriously been lost. It's one zone only for the show-offs, but it noticeably improves battery consumption.
Input, Output and Extras
Resting on either side of this disco floor for your digits are four stereo speakers hidden under discreet meshing. Those keeping score will already know this is two more than the last generation Razer Blade Stealth, and the end result is a Dolby Atmos-powered experience that better replicates 3D sound at higher volumes (before the inevitable distortion sets in). They sound great and are nice to have as a backup. That said, they are in no way a substitute for a good pair of gaming cans on your melon.
I also love that you can now hook the power charger on either side of this unit as there's one Thunderbolt 3 port on both sides. (And, while we're on this topic, additional points are awarded for having a charger that's half the size as the last generation Stealth and one that is also 65W plane-connection friendly.) Obviously, said ports are perfectly positioned to facilitate Razer's external GPU solutions (the latest being the Razer Core X) if you want to seriously boost the gaming grunt of this unit.
The lovely symmetry continues with two USB 3.1 ports resting on either side of the Blade Stealth. Call me old fashioned, but I still miss having an SD card port or similar somewhere on this unit, and a HDMI out sure would have been nice, too. It should also be noted that this screen is flanked by a 720p, IR Windows Hello camera. It functions quite well and the facial recognition it offers is a first for this line of Ultrabooks.
Gaming Performance
When it first came out, the old 13-inch Razer Blade Stealth Ultrabook was touted as a gaming laptop, but it was pushing the limits of that term (no dedicated graphics tends to do that). What we have here is something more respectable in the form of dedicated graphics with the 25W NVIDIA GeForce MX150 with 4GB of GDDR RAM. Yes, that's an introductory level GPU; however, it's a sizeable leap over the last version of this unit.
Being a decent shot in the arm compared to the previous Blade Stealth is one thing, but it's important to manage expectations here. You'll definitely see a considerable increase in playability in any modern game that only asks modest things from this Ultrabook. For example, your weekday commuter sessions with titles like League of Legends, Fortnite, Rocket League, Apex Legends and Overwatch will run a heck of a lot smoother compared to the 2018 edition of the Blade Stealth.
That said, if you want to take on something more recently released, you're going to have to make one or two compromises along the way. For example, in order to find a 30 fps sweet spot for Far Cry New Dawn, I had to drop from 1080p down to 720p and dial back the detail to medium. Likewise, in order to keep a respectable 30-40 fps for CPU/GPU intensive games like Shadow of the Tomb Raider and Witcher 3 at 1920 x 1080, I had to drop most of their settings down to low. So yeah, as a general rule of thumb: any game released in the last two years that has intensive, realistic graphics won't be able to look its ultra-best on this Ultrabook. You'll need the extra grunt of an eGPU to get them where they need to be.
Conclusion
All that being said, this is a fine step up from what we saw from the last model. On the surface, the sharper aesthetic of this Razer Blade Stealth looks the goods with its slick, understated design. Honestly, I can find very little wrong with what's on offer here. You'd have a hard time finding an Ultrabook in this price range that better balances premium design with a gorgeous display and gaming performance. Could it be more powerful? Sure. But when isn't that the case?
Pricing and availability
The Razer Blade Stealth 13 is available at Razer Store and select partners. It retails for AUD$2,191.21.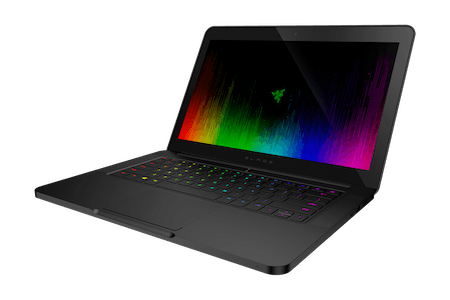 Razer Blade Stealth 13.3"
from Amazon US site
The Razer Blade Stealth was crafted to deliver incredible performance in an impossibly thin form factor.
View details
Razer Blade Stealth 13 Specs
Screen size

13.3 in Full HD LCD (1920 x 1080)
Processor

Intel Core i7-8565U 1.80 GHz up to 4.60 GHz
Memory

8GB 2133 MHz – 16GB 2133 MHz
Hard drive size

256GB SATA SSD | 256GB NVME | 512GB NVME
Operating system

Windows 10
Audio

Dolby Atmos
Video

Intel UHD Graphics 620 – NVIDIA MX150
Ports

2 USB 3.1 | 1 Thunderbolt 3 USB Type-C | Headphone output/microphone input combo jack
Battery

3-cell lithium-ion | 53Wh
Camera

HD 720p Windows Hello-compliant infrared camera
Wireless

802.11a/b/g/n/ac
Dimensions

14.8 mm x 304.6 mm x 210 mm (HxWxD)
Weight

1.28 kg
---
Latest technology headlines