1Cover Discount Code, Vouchers and Promos
Save on your travel insurance with a 1Cover discount code.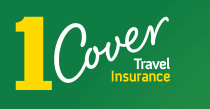 1Cover is an Australian-based travel insurance intermediary, which means they provide travel insurance solutions as an authorised representative of Lloyd's, one of the world's largest insurance groups. 1Cover prides itself on providing a range of affordable travel insurance products that cater to the different needs of travellers taking domestic and international trips.
Pros and cons of 1Cover Travel Insurance
24 Hour Emergency Assistance: 24 hour global assistance is provided to 1Cover policyholders, including emergency evacuation of Australians overseas.
Diverse range of products: 1Cover knows that not everyone will require the same level of cover for their trip and has a range of different products offering comprehensive, essentials and basic options to suit both your cover needs and budget. Cover can also be taken out as a single, family or group policy.
Fast and secure application process: 1Cover has created an interface for their users that is easy to use and allows for cover to be purchased entirely online in a matter of minutes.
Straightforward claims process: Details for the conditions and how to make a claim are outlined clearly in the 1Cover product disclosure statement. Claim forms can be downloaded directly from the 1Cover website and there is a 24 hour hotline to assist with any claim enquiries you may have.
Cons
Exclusions: Each policy will have its own set of exclusions for when a claim cannot be paid. It's critical that every applicant is aware of these before finalising payment for their policy.
Making a claim with 1Cover
In the event that you need to make a claim, you must contact 1Cover as soon as possible to notify them of the lost that has occurred. Claim forms can be provided by a 1Cover claims officer or downloaded directly from the 1Cover website. The claim form is to be submitted with any necessary documentation to verify the loss that has occurred. Typical documents that may be required for a claim to be processed include:
Receipts
Proof of high priced items value documentation
Medical reports from a certified medical practitioner for medical expenses
Police reports for stolen property
A statement from airport or transport officials following loss/damage of luggage and other belongings
Conditions for claiming
Claims must be submitted within 30 days of your return to Australia
All claims are paid in Australian dollars unless advised otherwise. If another currency is used, the exchange rate at the time of claim will be applied
1Cover will take into account depreciation of items
In the event that a liability claim is made, you must do all you can to provide the right support to 1Cover in any legal proceedings that occur
In the event that you are eligible to receive compensation from another form of cover you have, you must notify 1Cover of the benefit that you are entitled to. This will be offset against the amount that is payable by 1Cover
Policies offered by 1Cover
Overseas trip: 1Cover's comprehensive overseas single trip policy offering comprehensive, essentials and basic cover for single travellers, groups of six or more and families. Includes overseas emergency medical assistance cover, luggage and personal effects cover and cover for trip cancellation and lost deposits
Domestic trip: Provides cover for domestic trips within Australia. Includes cover for luggage and personal effects cover, cancellation Fees and lost deposits, rental vehicle excess, additional accommodation expenses, family emergency cover and disruption to you journey cover
Annual-multi trip: Provides cover for an unlimited number of trips in any 12-month period under a single policy. Trips must be no longer than 90 days each. This option can be highly convenient and affordable for people who travel at least three times a year for work.
Ski and snow cover: Comprehensive cover for the winter sports enthusiast. Includes cover for emergency evacuation from the slopes, bad weather and avalanche closure, cover for prepaid ski passes, ski lessons and equipment hire and cover for your snow gear and equipment
Visitors to Australia: Provides cover for non-Australian residents coming to Australia or travellers already in the country.
Australians overseas: Provides cover for Australian's already overseas that do not yet have a travel insurance policy in place. A waiting period of seven days will apply before cover can be put in force.
Related Posts