Compare travel money options to discover the *best way to take your cash overseas
Holidaying overseas involves much planning and preparing your travel money options before you leave is vital for a stress-free trip. There is no such thing as the one ideal travel money strategy, so it's best to compare your options to find the right one for you. Discover how you can access your cash with convenience while cutting costs by using our guide to compare your travel money options below.
Which travel money option is right for you?
A quick comparison of travel money features
Type
Security Features
Fees for Withdrawing Money

Fees for Over the Counter Purchases

Debit Cards for Travel

Protected by PIN & chip
Can be blocked
Zero Liability Guarantee
Emergency cash

Currency Conversion Fee
Local ATM Fee
International ATM Fee

Travel Money Cards

Backup card
PIN
Can be blocked
Zero Liability Guarantee

Local ATM fee
Travel card ATM fee
No fee - Assuming cardholder is spending on a currency loaded onto the card

Credit Cards for Travel

Protected by PIN & chip
Can be blocked
Zero Liability Guarantee
Emergency cash

Currency Conversion Fee
Cash Advance Fee
Cash Advance Interest
Local ATM Fee
International ATM Fee

Travellers Cheques

Unique serial number
Photo I.D. needed to cash cheques

Currency Conversion Fee
Purchase interest rate*
*Excluding interest free days on credit card
Back to top
What are my travel money options?
Are you looking to shop in multiple currencies? Do you need a card with a card with a line of credit for emergencies? Or would you prefer a card that lets you earn rewards points as you spend? Compare your options to find the right card for you below.
Travel money cards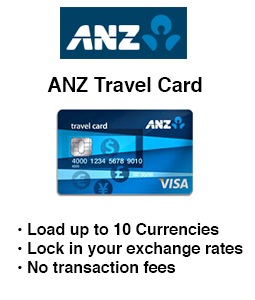 ANZ Travel Card
The ANZ Travel Card is a prepaid card that can be loaded with up to 10 foreign currencies to make purchases overseas at over 36 million locations.
Lock in your exchange rates and know how much money you have to spend
No transaction fees for electronic purchases in Australia and overseas
Multiple reload options - online, over the phone or in person
Manage your money online or over phone 24/7
Spare card if in case one is lost or stolen
A comparison of travel money cards
Rates last updated November 25th, 2015
Rates last updated November 25th, 2015
What are the benefits of using a travel money card?
Some of the perks you can expect from using a travel money card include:
Multiple currencies. Many Australian travel money cards allow you to load Australian dollars which can then be converted to a number of supported currencies, which will help you avoid currency conversion fees when making purchases in foreign currencies.
Locked-in exchange rates. When you load funds onto the card, they'll be locked into the current exchange rate to protect your funds from rate fluctuations as you're travelling.
Prepaid funds. Travel cards allow you to load your funds on the card rather than giving you a line of credit. Knowing that you're spending your own funds can help curb overspending to maintain your travel budget.
ATM alliances. If your card provider offers an ATM alliance, this can help keep your ATM costs to a minimum while travelling overseas.
Rewards. Travel money cards connected with a rewards program will allow you to rack up points as you spend. Depending of the rewards scheme you're with, you can either redeem your points for travel-related rewards such as flights and accommodation or for merchandise, gift cards and more.
What fees come with a travel money card?
These fees will vary from card to card, so you'll need to consider these when comparing your options.
Purchase fees. You may be charged a one-off fee at the time of purchase. You can purchase some cards for free, though.
Currency conversion fees. Most travel money cards don't charge currency conversion fees when cardholders make purchases in loaded and supported currencies. However, if you make a purchase in a currency that isn't loaded on your card or isn't included as a supported currency, you may be charged a currency conversion fee of around 3%.
Load and reload fees. Some cards will charge a fee when you first load funds on your card, whereas others offer the initial load for free and charge any thereafter. Some cards may not charge for either, so make sure to check the T&Cs to confirm these details.
ATM withdrawal fees. If your card isn't linked with an ATM alliance or you can't access a partnered ATM, you may be charged an ATM withdrawal or balance check fee. Keep in mind that local ATMs may also charge an additional fee.
Cashout fees. If you have remaining funds left on your card when you return from your trip, you can transfer them to AUD and either withdraw them from an ATM, use them for online purchases or organise for the amount to be directly debited into your account. However, a cashout fee or card closure fee may apply.
Do your homework first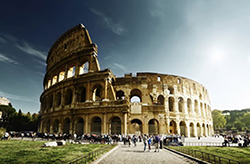 Jeremy stood shoulder to shoulder with locals and tourists, trying to keep his footing as the metro made its way towards the Colosseum. As more and more people packed onto the train, Jeremy lost his girlfriend to the glacial movement of the crowd pulling her towards the back. When he felt a brush against his rear, he was a little surprised but thought nothing of it and put it down to one of those 'packed train moments'. A moment was all the pickpocket needed to steal Jeremy's wallet.   Jeremy got on the phone to his card protection service, Secure Sentinel. A call to this service is supposed to be the 'one stop shop' for cancelling cards, but Jeremy ended up having to call each bank separately, which led to a number of frustrating hours spent on the phone, instead of hours negotiating in Italy's famous tourist traps. Luckily for Jeremy, he had done his homework. Jeremy is a publisher at finder.com.au, so he knew to get a travel money card before he left - they come with a backup. To his girlfriend's delight, the backup card saved their trip and they were back on the streets of Rome the next day; albeit with an eye on their pockets. It almost wasn't such a sure thing. Like any smart traveller should, Jeremy had done his research before he left the country and he knew to spread his money between a couple of cards and his girlfriend. Be like Jeremy and do your homework before you leave Read more about our Europe travel money guide
Fees you can avoid
---
ATM withdrawal fees
Currency conversion fees
Purchase, reload fees & inactivity fees
Currency conversion fees
Pros for using a travel money card
---
Multiple currencies can be loaded onto the card, avoiding the currency conversion fee common with credit cards and debit cards.
These accounts come with two cards. One to use as a backup.
They are not linked to your primary bank account. This allows you to control your spending.
Cons for using a travel money card
---
There can be fees for card issue and reloading funds onto the card.
These cards may not be accepted by all merchants because your name is not usually printed on the front (this depends on the card).
Travel money card reload time.
Compare and learn more about Travel Money Cards
Back to top
Travel Credit Cards
A comparison of travel-friendly credit cards
Rates last updated November 25th, 2015
Pros, cons, fees and charges: what every credit card holder needs to know
Taking your plastic overseas? Read this before you leave
Most credit cards will charge extra for transactions that take place in a foreign country. There are some accounts that do not charge international transaction fees; however, the majority of credit cards do. The cards listed in the comparison table do not charge a currency conversion fee when you carry out a transaction in a currency other than Australian dollars. Note that other fees and charges - like ATM withdrawal charges may still apply. The cost of using a credit card overseas depends on how you use it. All the international transaction fees on credit cards can be avoided — go for a credit card with no foreign currency conversion fee, don't use your card to withdraw from an ATM, make sure you pay your balance in full each month and only use your card for purchases only — avoid cash advances - but whether this is feasible to your situation depends entirely on your travel plans and how you spend. If do you use your card for a cash advance, cash advance fees may be able to be avoided by preloading your own money onto the card. Check the table in the 'frequently asked questions' section of the article to find out which providers allow you to pre-load funds onto the card and won't charge a cash advance fee for withdrawing your own money from the credit card account.
Fees you can avoid
---
ATM withdrawal fees
Currency conversion fees
Foreign transaction fees
Cash advance fee
Cash advance and purchase rates of interest
Pros for using a credit card
---
Easy to carry, secure and accepted almost everywhere.
Emergency access to cash through a cash advance facility.
If cards are lost or stolen, a call to the bank will be enough to have it blocked. If a dodgy transaction has been discovered, cardholders are covered by a money back guarantee if they take certain measures to properly prevent fraud.
Cons for using a credit card
---
Just as credit cards are easy to carry, they're easy to lose.
International transaction charges can get expensive
Interest charges will also apply if you're using the bank's money.
The bank will block transactions in a new country if you have not notified them of your travel plans.
Back to top
Travel Debit Cards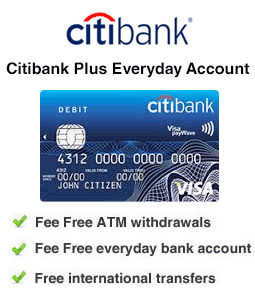 Citibank Plus Transaction Account
Experience fee free international banking with the Citibank Plus Transaction Account. Citibank will not charge you currency conversion fees when accessing your own money and allows you to transfer money overseas for free.
Monthly Account Fees: $0
Debit Card Access: Yes, Visa
Interest Rate: 0.00% p.a.
Minimum Balance: $0
Minimum Deposit: $0
Travel debit card comparison
Rates last updated November 25th, 2015
We all have a debit card, but is this the best card to use overseas?
Debit cards are as safe as any other type of plastic, but few debit cards are designed for international travel
Many people use their debit card linked to their day-to-day transaction account to access their money while they're on holiday. Debit cards are convenient to take overseas. Most of us have a debit account, and using this account as our day to day source of funds while overseas means one less thing to do before heading off. But for the most part, the majority of debit cards are an expensive piece of plastic to take on holiday. The vast majority of debit cards are not 'travel-friendly'. Currency conversion fees and international and local ATM fees can quickly eat into your bank balance. There are accounts that do not charge currency conversion fees and some don't charge for ATM withdrawals. If you're lucky, ATM fees can also be avoided if your bank has an international ATM alliance. But international ATMs that are partnered with Australian banks are few and far between. The debit card accounts we compare in this section have either no currency conversion fee or no international ATM fee; some accounts have both.
Fees you can avoid
---
ATM withdrawal fees
Currency conversion fees
Foreign transaction fees
Cash advance fee
Cash advance and purchase rates of interest
Pros for using a debit card
---
Use your debit card overseas like you would at home.
Some debit card providers have an international ATM presence.
If lost or stolen, debit cards can be blocked by calling the card provider. Visa and MasterCard offer emergency cash to cardholders.
Cons for using a debit card
---
International transaction charges can get expensive
International ATM charges can be substantial.
A debit / transaction account, in many cases, holds the majority of a traveller's budget. This can be a security concern for some.
Back to top
Cash and Foreign Exchange
International money transfers comparison
Rates last updated November 25th, 2015
Only carry a small amount of cash at a time
The important thing is not to carry too much cash at once. Losing a large amount of cash will hurt, and it can't be replaced. So, if Fred's 'shorts within pants' option isn't for you, spread your funds amongst your travelling companions. But make sure to always have a little cash handy; it's a universal language. It may just save your neck one day too.
What every traveller wish they knew about foreign exchange services
When changing over cash, your first option should be to get it changed at a bank. They will charge a commission, usually 1% or $10, whichever is greater. If you can't get to a bank, any other legitimate currency exchange business will be fine, but these places are likely to cost you more because of the margins they earn of the difference in exchange rate. What you want to avoid at all costs is the type of business where foreign exchange is not their primary purpose. Common sense will alert you to these rip-off merchants a mile away — think shops with glass counters containing watches, jewelry and other easily pawned items. These places will charge a commission, give you an inaccurate exchange rate, and have been known to keep a couple of notes for themselves when their 'customer' isn't paying attention.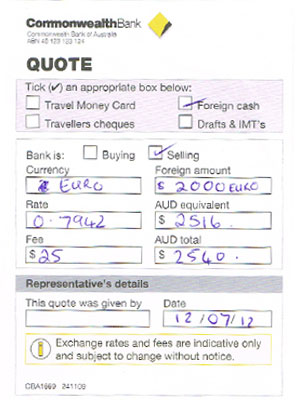 Banks are by far the safest option for exchanging cash
Here's what it looks like buying and selling $2,000 in Euros and USD at the Commonwealth Bank:
Trusted foreign exchange
A trusted foreign exchange company shouldn't charge you a commission when you buy or sell a foreign currency. There are range of places like this online, like Travelex, and a number of stores in shopping centres that provide this service. They may not charge a commission but they will make a cut through a margin applied to the exchange rate.
Avoid shop attendants and 'foreign exchange artists'
Avoid shop attendants who say it's okay for you to pay in Australian dollars. You will lose out on the deal. You will also want to avoid exchange artists like the plague. These are the type of people who will count your money in front of you with a smile, but pocket it all when you turn your back.
Fees you can't avoid
---
Currency exchange fees / commission / rates
Pros for cash & foreign exchange
---
By far, cash is the most convenient way to travel. It pays for fuel, meals, taxis, drinks, and a multitude of other expenses; however, convenience aside, cash is the loudest international language. When you're out in a foreign country, the last thing you want to worry about is finding an ATM. Trust us, having enough cash can be the difference between a good or a bad night, day, week or trip.
Getting cash changed at a foreign currency exchange gives instant access to the local currency.
Cons for cash & foreign exchange
---
Having too much cash is a bad thing; you only want to have enough money on you for a day or two. It's bulky, and thieves are observant and will go for an easy target.
There's no protection if you lose cash or it's stolen. Unless you lose a couple of million, don't ever dream of seeing stolen cash again.
When money is changed anywhere except a bank, you're likely to lose out with a dodgy exchange rate, and even then the rates aren't going to be the same as what you hear quoted on the news.
Back to top
Travellers Cheques
Pros for travellers cheques
---
Travellers cheques are extremely secure, they can be easily replaced if lost or stolen. The person who wants to cash travellers cheques must also show identification to show that they are the ones who bought them.
Cons for travellers cheques
---
Travellers cheques are a costly way to spend money. There is an initial charge when you buy travellers cheques. The cost will depend on the amount you wish to change over.
Travellers cheques can be bulky and awkward to carry.
Not everyone will accept travellers cheques.
You will still need to carry cash.
Back to top
Travel money FAQs
Travel fees explained
What's a cross currency conversion fee?
A cross currency conversion fee is charged when you use your Australian card with Australian dollars to make a purchase in a foreign country. The money is exchanged from Australian dollars into the local currency electronically and a series of fees are charged along the way by the card schemes and providers. The way currency conversion fees work is like this:
The exchange rate is set by external market factors. This is the figure you hear quoted on the evening news.
The card scheme currency conversion fee is applied. Say you're in France and looking to make a purchase with your credit card. You have Australian dollars on your card but must pay with Euros. The money must be exchanged electronically in order to make the purchase. The first fee is applied by Visa (1.1%), MasterCard (0.2%) and American Express (1.5%), and is passed on to the card provider.
The card provider then applies to a margin to the figure passed on by the card scheme. The fee is then passed onto the cardholder.
The image below explains this process

Using a credit card with a positive balance, what fees will apply?
If you're thinking of loading money onto your credit card to put it into credit, you will want to have a look at the table below. If you make a withdrawal from an ATM using a credit card with a positive balance, fees and charges will still apply for some credit card providers.
| Provider | CA Fee | CA Interest | Notes |
| --- | --- | --- | --- |
| Bankwest | Yes | No | Minimum cash advance fee is $4 where the customer has a positive balance (after transaction is completed). This fee is currently waived if withdrawal done at Bankwest or CBA ATM, in a Bankwest Store or online. Therefore the $4 fee will apply when this transaction is performed overseas. In addition when the cash advance is done overseas a foreign currency conversion fee (2.95%) will apply — this is waived for Platinum cardholders. |
| Citibank | Yes | No | |
| CBA | Yes | Yes | This can be avoided by speaking to one of their team members and getting them to put the transaction through manually. If done through an ATM or over the internet it goes through their automatic systems and fees and interest will apply. |
| ANZ | No | No | For cash advances made overseas at an ATM, bank or ANZ office, the 2% fee will be calculated with reference to the cash advance amount, any ATM operator fee plus any Overseas Transaction Fee charged. |
| Westpac | Yes | No | |
| St.George | Yes | No | |
| BoM | Yes - $2.50 | No | To be able to do a cash withdrawal and not be affected by the cash advance, you must factor in the $2.50 flat fee into your withdrawal. (Normal cash advance fee is 2.00%). Please see the 'ANZ Personal Banking General Fees and Charges' booklet for the Overseas Transaction Fee description. |
| BankSA | Yes - $2.50 | No | |
| Aussie | | | |
| Coles | Yes | No | You can contact the lender and get them to refund the cash advance fee. This can be credited to your account if the amount is up to $500. |
| CUA | Yes | No | |
| GE Money | Yes | No | |
| HSBC | Yes | No | |
| American Express | N/A | N/A | Do not offer cash advance |
| HSBC | Yes | No | Cash advance usage charge 3% |
| NAB | Partial: $1.75 flat fee | No | You'll pay 1.75% or $1.75 whichever is greater when carrying out an overseas cash advance. |
| Virgin Money | Yes | No | |
Fee free overseas ATM withdrawals
Westpac by far have the largest ATM alliance out of any Australian Bank. In fact, they're the only Australian bank with an ATM alliance that allows you to withdraw from an ATM overseas that isn't 'own-branded' (for instance ANZ have a couple of ATMs scattered throughout Asia). Global lenders like Citibank and HSBC have a number of ATMs worldwide, and Citibank do not charge for international ATM withdrawals. So if you're a Citibank customer looking to use your card overseas, head to a Citibank ATM and all you'll pay for the withdrawal is the currency conversion fee. The table below outlines some of the countries and institutions where you can save on ATM fees. There's no point changing your travel plans to save a couple of bucks on an ATM withdrawal, but if you find yourself in the area, why not withdraw from a free ATM?
| Institution | Country | ATM Network |
| --- | --- | --- |
| Westpac | | |
| | New Zealand | Westpac NZ |
| | Fiji, Vanuatu, PNG | Westpac Pacific Banking |
| | France & Italy | BNP Paribas |
| | Germany, Spain, Poland | Deutsche Bank |
| | UK and Gibraltar Africa - Botswana, Ghana, Kenya, Mauritius, Seychelles, Tanzania, Uganda, Zambia and Zimbabwe | Barclays Bank |
| | South Africa | ABSA |
| | USA | Bank of America |
| | Canada, Chile, Guyana, Mexico, Peru Caribbean - Anguilla, Antigua & Barbuda, Bahamas, Barbados, British Virgin Islands, Cayman Islands, Dominica Grenada, Jamaica, Netherland Antilles (St Maarten), St Kitts-Nevis, St Vincent & The Grenadines, Trinidad & Tobago, Turks & Caicos and the US Virgin Islands. | ScotiaBank |
| | Ukraine | Ukrsibbank - Private Bank |
| | China | Bank of Nanjing |
| | Singapore | DBS, POSB |
| NAB | | |
| | N/A | N/A |
| CBA | | |
| | New Zealand | ASB Bank (There will still be a fee for Commonwealth Bank cardholders carrying out a transaction at an ASB Bank ATM — it is discounted from $5 to $2.) |
| ANZ | | |
| | ANZ have representative branches in the following countries and territories: The UK, Germany, the UAE, India, Loas, Thailand, Cambodia, Vietnam, Malaysia, Singapore, Indonesia, East Timor, Papua New Guinea, The Soloman Islands, Vanuatu, New Caledonia, Fiji, Tonga, American Samoa, the Cook Islands, New Zealand, Bonriki, Guam, Philippines, Hong Kong, Taiwan, Japan, South Korea, China and The United States. | |
It's worth mentioning that for most of the countries listed there is only one branch or office per country and you may not be able to use the offices for everyday banking services. This information may be of better use if you find yourself stuck in an emergency.
How much will I pay when...?
Make a withdrawal from an ATM? 
If you use your credit card to withdraw from an overseas ATM, the following fees and charges will apply:
International ATM fee (see above);
Cash Advance fee (Some lenders will waive this fee if you've preloaded your own funds onto the card);
Currency conversion fee (this amount is calculated based on the total of the international ATM fee and the amount being withdrawn); and
Local ATM operator fee (this can be avoided by using an ATM with your bank's overseas ATM Alliance [if they have one]); The cash advance rate of interest will apply from the day the transaction takes place.
ATM Fees
When making an ATM withdrawal overseas, the foreign currency conversion fee is calculated on the total value of the amount being withdrawn from the ATM in addition to any fees charged by the ATM operator and international ATM fees.
Make a purchase? Purchases are a little more forgiving on the hip pocket than an overseas cash advance. This applies to everything from booking a hotel or a flight while abroad through to buying goods from overseas from the comfort of your living room back home.
Currency conversion fee; and
Purchase rate of interest (excluding interest free days).
Travel card inactivity fee
If you have a travel card that has an inactivity fee (a fee that's charged every month when your account is inactive for a period of time), you will lose any remaining funds on the card, but your account won't go into a negative balance. Once the card has no funds left on it, this fee will not be charged.
Protection against the unexpected while you're away
Am I protected against getting ripped off?
Yes and no. If you end up in a similar situation to Fred, then your cash is gone. If the fraud is more like Greg's, then you will get your money back. This includes getting your card skimmed at an ATM and online purchases too.
MasterCard and Visa Zero Liability Policies
This is a money back guarantee when a fraudulent transaction on your debit/travel/credit card is reported to Visa, MasterCard and your bank; and
You have exercised vigilant care in safeguarding your card from risk of loss, theft, or unauthorised use; and
You immediately and without delay notify your card issuer upon discovery of the loss, theft, or unauthorised use; and
You have not reported two or more incidents of unauthorised use in the preceding 12 months; and Your account is in good standing; a
You have complied with the terms and conditions of the cardholder agreement.
Insurance
Are you considering travel insurance for your trip?
Finding the right travel money option for your trip overseas is just one of many boxes to tick before leaving the tarmac. Whether you are just heading off for a weekend getaway or a six month backpacking adventure, it's crucial to have the right cover in place to ensure you don't have to endure financial hardship in the event of a loss. Most people that have travelled will have their own story of when things didn't go exactly to plan and were forced to hand over funds to cover the loss. What am I covered for? Travel Insurance will generally provide cover for the following events:
Overseas medical expenses: Covers the cost of emergency medical assistance including emergency medical evacuation, hospital expenses and medical costs.
Theft of cash: Cover in the event that the following are stolen from you: cash from your person, banknotes, currency notes, postal orders and money orders.
Cover for loss or damage to personal items: Cover for loss/damage to luggage and personal items.
Cancellation fees: Cover for cancellation fees or lost deposits.
Rental vehicle fees: Cover for rental vehicle excess that may be applied in the event that you have an accident while you are travelling.
Credit card fraud or replacement: Cover for the replacement of credit cards lost or stolen from you on your journey.
Receive a quote from a travel insurance provider
Travel insurance from credit cards or from a travel insurance provider
Many premium credit card providers will offer complimentary travel insurance as an added bonus for successful applicants. The decision on whether to go with this complimentary cover or to purchase a standalone policy will really come down to your cover requirements and budget. While the cover provided on credit cards may not offer the same comprehensive level of cover as that from a travel insurance provider, you may already have other cover in place from other insurance and feel that your trip requirements don't need the cover options available on standalone policies. Either way it's important to compare the benefits available from both options and get a clear understanding of the exclusions for payment. The last thing you need when travelling is the nasty surprise that you are not actually covered for losses in the event that you need to make a claim. Or you can compare credit cards with free international travel insurance here.
How do I activate travel insurance on my credit card?
The eligibility requirements will differ between policies, but a general rule is that you have to pay for a percentage of your prepaid travel expenses with your card. Once you've done this, you're automatically covered under the policy agreement — although keep in mind that each policy has a list of exclusions that you should check before travelling. You can read about the activation requirements for different credit card providers that offer complimentary international travel insurance below.
Westpac
HSBC
ANZ
American Express
Bankwest
Commonwealth Bank
Bank of Queensland
Wherever you plan to travel, you're there to have a great time, not go bankrupt — so remember that most bad things happen when you're not paying attention. Lock those doors, carry multiple money items, spread them out between friends and family, and make sure that you at least know some of the language. Being safe is much better than being sorry.
You have your plane ticket, you've booked insurance but have you sorted your finances?
Most of us don't go on holiday to be tight with our cash, but there are a thousand better things to spend your money on than fees and charges. Who better to offer guidance through the tips and traps of using money in a foreign country than the people who have been there before, made the mistakes and learnt the lessons the hard way?
What do we think?
Whether you use a credit card, debit card or travel cards, you should be aiming for a card that gives you the least amount of hassle combined with the lowest fees and charges. And this all depends on what you plan to do and where you plan to go. Shopping in the E.U? Look for a card with low currency conversion fees and easy access to one currency. But if you want to visit the world, you'll want to load a travel money card with multiple currencies at a set exchange rate - you can save on currency conversion fees by loading up to ten 'currency buckets' at a time.
Use a combination for best results
Many people carry two or three of forms of the payment methods discussed in this article so they have a backup if something goes wrong. Knowing the advantages and disadvantages of each will help you decide which form of money you want to use as your primary source of funds.
Back to top
Compare Travel Insurance Quotes from Australian Providers
It's critical to compare quotes from a range of providers to ensure you get adequate cover for your trip at the right price. Use the form below to compare quotes from Australian travel insurance providers and access coupon codes to help you save even further.
Miscellaneous travel tips
Safety Tips
Remember that when you are travelling, you will encounter others who want cash, as well as your identity. Here are some smart tips to keep you safer.
Airplane ticket stubs
Dispose of them because they have personal information on them and Identity thieves will grab at anything to get your identity.
Airline:
Book flights in advance, and during a special or lower rate period – it could save hundreds in fares, and don't forget to sign up for a frequent flyer account! Frequent flyer rewards are huge, especially if you love to travel.
If you lose your wallet
Keep credit cards and cash in a separate place, so you won't be without cab fare or other necessities.
Hotels
Use comparison sites for discounted hotel rates such as priceline.com as this could save money if you book in advance and do some serious searching prior to leaving.
Food
To find the best prices on meals or shopping for food, check out YELP or Eatability. There is nothing worse than finding a great restaurant at the last minute and finding out it's way overpriced.
Money belt:
It sounds a little paranoid, but in reality everyone should be! A money belt is nearly impossible to steal or lift. And, you'll have your cash, cards and necessities close. Each traveler should have one.
Mobile Broadband
Virgin Mobile, offers a mobile broadband service and for minimal cost, allowing you to have virtually unlimited Internet access from anywhere you travel, which could save a lot in the long run. Internet connections overseas can get costly.
Cell Phone:
Make sure you contact your cell phone provider to inform them that you plan to travel abroad. They can set up your phone so you don't incur huge international roaming fees, as well as web fees. It's a little pricey, but worth the cost in the long run.
Bank international phone number:
Save this number to your cell phone, you will need it, especially with money travel cards.
Travel Insurance:
People scoff at this necessity, but it really is a necessity- it covers you if your luggage is lost, you are mugged, or anything else happens that you have no control.
Open up an account with an international bank:
Some are Citibank or HSBC so that you can gain access without fees in some countries and it might just save you should something happen.
Additional Cardholders:
Give your fellow travellers an additional cardholder credit card so that you will always have one, if one gets lost or stolen.
Compare!
Make the decisions for travel money based on what is best for your travel needs, and compare prices and fees. If you add all of the exchange rates, foreign currency fees, bank fees and ATM withdrawal fees – as well as load fees you could save quite a bit of cash getting the lowest rates and best deals.
ATMs:
Make sure the ATM you are using is an actual bank ATM, and when you enter your pin, be sure that there is nobody who can observe. As well as taking cash out, never, ever take a large amount of cash out of an ATM – it is much too tempting to thieves.
Skimmers:
Watch for them, they are the people out there trying to steal your identity – they've gone as far as putting little webcams at the ATM's focused on the keys so that they can gain your PIN and card number.
Cover keys when entering information, and don't use the ATM if you see someone close by, or notice anything unusual.
Wherever you plan to travel, you're there to have a great time, not go bankrupt – so remember that most bad things happen when you're not paying attention. Lock those doors, carry multiple money items, spread them out between friends and family, and make sure that you at least know some of the language. Being safe is much better than being sorry.
Back to top