Compare home loans side-by-side
Are you buying a home or investment property, or refinancing your existing home loan? Our 100% free Home Loan Finder® service allows you to compare Australian home loans from a range of lenders including well known banks and exciting new online lenders.
The best part is that you can compare loans from different lenders side-by-side, which saves you the time and hassle of creating spreadsheets and lists. Try it for yourself and compare loans based on advertised rates, comparison rates, upfront fees and monthly repayments below.
Find a great value mortgage with our home loan comparison table
Rates last updated December 2nd, 2015.
Interest rate dropped by 0.10% p.a.

November 11th, 2015
Interest rate cut by 0.14%

November 17th, 2015
Interest rate increased by 0.12%

November 20th, 2015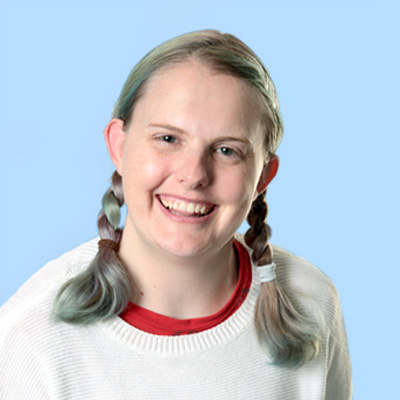 Jodie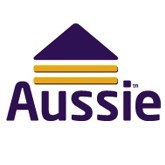 Aussie's Mortgage Brokers can save you time and effort by helping you research, organise and apply for your home loan, at no cost to you. They compare hundreds of home loans to help find the right deal for you. Fill out the form on the left and an Aussie Mortgage Broker will contact you at a time of your choosing to discuss your needs and help you find the right loan.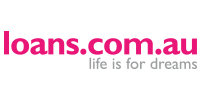 loans.com.au Essentials - P&I
3
.99
%
p.a.
variable rate
4
.01
%
p.a.
comparison rate
Home Loan Offer
The Loans.com.au Essentials Home Loan offers a low variable rate and $0 application or ongoing fees.
Interest Rate of 3.99% p.a.
Comparison Rate of 4.01% p.a.
Application Fee of $0
Maximum LVR: 80%
Minimum Borrowing: $50,000
Maximum Borrowing: $1,000,000
Comparing home loans
Get a great home loan by first finding out how they work
Buying a residential property can be expensive, making it hard to afford one in full. A home loan is one way to overcome this obstacle, and is a long-term loan taken out to help you buy a property, whether this is a home or investment, and pay it off over the course of between 25 - 30 years.
In exchange for the loan, your lender will charge you an interest rate which is usually lower than a credit card, but higher than a savings account. This rate can be either variable or fixed. If the rate is variable, it can change as your lender sees fit, usually in response to economic factors and the cost of funding. If it's fixed, you can enjoy a rate which won't change over the course of the fixed term, usually between one and five years.
You'll pay your home loan off in weekly, fortnightly or monthly repayments. Repayments are usually made up of a bit of the principal (the amount of money you've borrowed), plus an interest charge. Some lenders will allow you to pay only the interest potion, which is referred to as 'interest only' repayments and is explained below.
A home loan can also be known as a mortgage or as home finance.
Compare loans effectively by learning how to use finder.com.au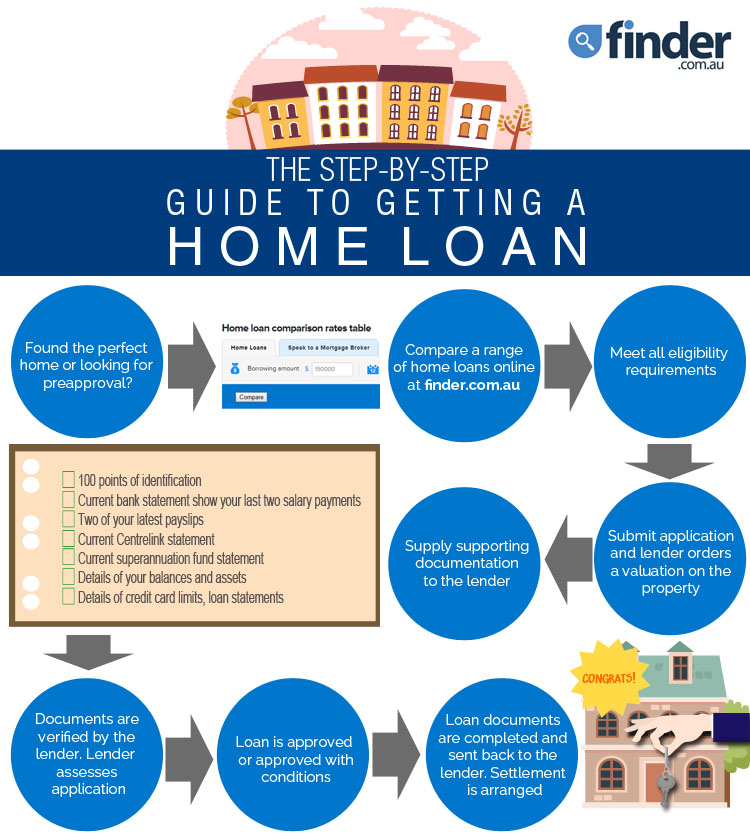 How much does a home loan cost?
The total cost of a home loan depends on how much you borrow, as well as the interest rate and any fees you need to pay. Interest rates can change over the course of the average 25 - 30 year loan term, so it's difficult to get a completely accurate estimation of how much your home loan will cost you. Below are some general ideas of what the monthly repayments would be for different size loans at different interest rates. In the last column you can see what interest costs would total over the 30 year period. You can also use the calculator below to get an idea.
| Loan size | Rate | Payments (p.m) | Interest over 30 years |
| --- | --- | --- | --- |
| $250,000 | 4% | $1,193.54 | $179,674 |
| $250,000 | 5% | $1,342.05 | $233,139 |
| $500,000 | 4% | $2,387.98 | $359,348 |
| $500,000 | 5% | $2,684.11 | $466,279 |
| $750,000 | 4% | $3,580.61 | $539,021 |
| $750,000 | 5% | $4,026.16 | $ |
Back to top
Know the basic home loan types available to you
In Australia there are only a few different home loan products - but they'll be dressed up differently and marketed by lenders to appeal to different types of borrowers. Here are the basic loan types available in Australia and some brief information about how each works:
Back to top
Use this advice to get the most out of your comparison
How to best compare home loans depends on your situation, and while we can't provide personal advice (a mortgage broker is a good person to see if you do need some personal advice), these are some good questions to get you comparing loans effectively:
Does the lender have a branch network? Some loans may offer a lower rate but might not have a branch network. Is speaking to someone face-to-face important to you? Do you like to do your banking at a branch or are you happy to do it online or over the phone?
Does the loan have package benefits? Package loans offer discounted interest rates and other perks such as discounted insurance and credit card annual fees. Unlike regular home loans, these loans usually come with an annual fee. Some package loans even offer bonus Qantas Points or credit cards which earn Qantas Points.
Can you change your splits when you want to? If you choose a split rate, can you later change the split portions of your loan when necessary?
Can you make extra repayments? If you intend to put extra cash towards your home loan to pay it off earlier, check that you can do so and that it's free and unlimited each year.
Can you make interest only payments on your home loan? Some borrowers will switch to interest only payments and combine this with a 100% offset account to make tax savings, whereas some investors can use fixed rate interest only home loans to maximise their cashflow.
Do you need a guarantor on your home loan? Some loans offer the option of using a family member's property to help minimise the deposit required for a home loan.
Can you bring your loan with you if you decide to sell it later on? This is called loan portability and means you can avoid some of the fees which come with opening a new loan.
What's the feedback on the internet and mobile banking application? Speak to others who have banked with the lender and see what their thoughts are of the lender's online banking platform. Read the reviews of the mobile app in the iTunes App Store or Google Play Store.
Back to top
What are 'Key Facts Sheets' and do I need to read them?
Key Facts Sheets are required to be provided to you by every lender for any home loan you request them for. They're informational sheets designed to give you a baseline way to compare home loans without the advertising language lenders usually use. They only include the most important information, including the upfront fees, the interest rates (including the comparison rates) and the loan term in years, as well as the repayment method (whether it's principal and interest or interest only), and information about what will happen to your repayments if rates increase. The most prominent feature of a Key Facts Sheet is the estimated costs section, which shows you the total amount you will repay, your repayments during the first year and thereafter. You're entitled to read a Key Facts Sheet so be sure to ask your lender for one before signing anything.
Below is a sample key facts sheet which shows some of the information you can expect on these sheets.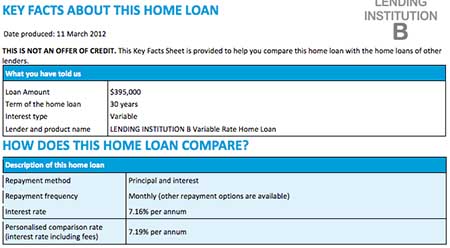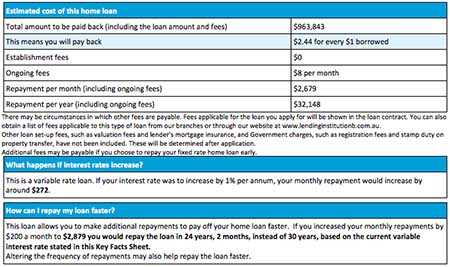 Back to top
Avoid an overpriced home loan by comparing comparison rates
A comparison rate is an interest rate which includes many of the fees and charges you'll pay on your home loan. The regular advertised interest rate doesn't include information about fees, meaning a home loan with a low advertised rate could still be hiding large fees. A comparison rate allows you to get an indication of a home loan's value at a glance. It's made up using the interest rate, loan amount, length of the loan, how often you'll make repayments, and the upfront and ongoing fees and charges associated. The following example shows how a loan with a seemingly lower interest rate can actually have a higher comparison rate when fees are added in.
| | Advertised interest rate | Fees & charges (% of total home loan cost) | Comparison rate |
| --- | --- | --- | --- |
| Loan 1 | 5% | 0.7% | 5.7% |
| Loan 2 | 5.25% | 0.4% | 5.65% |
| Loan 3 | 4.8% | 1% | 5.8% |
Most home loans calculate comparison rates using the same example, regardless of how much you're borrowing. This example is a $150,000 loan taken out over 25 years. Because of this, the comparison rate you're paying can change when larger loan amounts and different loan terms are introduced, so while it can be useful when comparing loans, it should not be the only method you use. You can compare these in the home loan comparison rates table above.
Back to top
What's pre-approval and do I need it?
Pre-approval for a home loan simply means your lender will 'conditionally' approve you for a specific amount based on the information you've given them, namely your income, debts and liabilities. It's usually extended for a number of months, allowing you to look for a property with a bit more confidence. A pre-approval is not an offer of credit, so your lender is still under no obligation to approve your loan when it comes to crunch time, but on the plus side, it can signal to agents and property vendors that you're serious about buying a property. It's very important to note that pre-approval conditions can differ depending on the lender, so read our expert guide to find out what to look for.
Back to top
I haven't saved much of a deposit, can I apply with nothing?
At the time of writing, Australian lenders don't offer 'no deposit' loans to borrowers unless you have a guarantor. If you don't have a guarantor, you'll need a minimum deposit of 20% (many lenders will go as low as 5% if you pay lender's mortgage insurance). A guarantor is a close family member such as a parent who has guaranteed a part of their property to cover a portion of your home loan, usually your deposit. In these situations, you would be able to purchase a property without a deposit. Not every lender will offer these types of loans, but we've compared them and written a guide about how they work.
Back to top
Should I go with a major bank or smaller bank/non-bank lender?
Even if your lender goes bust, your loan can be purchased by another lender, meaning that you'll continue paying your loan off as usual. Home loan lenders, regardless of whether they're a bank, credit union or building society all have to abide by the same strict guidelines and laws. The competitiveness of the industry means that almost all lenders offer a range of loans which have appealing interest rates and features. This makes choosing between the two a matter of personal preference. Ask yourself:
How do you bank? Major banks will usually have extensive branch networks, whereas smaller lenders may operate online only, or have a small number of branches in only one region or part of Australia.
What kind of customer service do you expect? If you like to receive help when making banking decisions, you may want a lender with a branch network or highly rated phone service. If you prefer to carry out your banking and home loan decision making yourself, this might not be as important to you.
What sort of feedback has the lender received? Product reviews can be a good way of finding out how a lender actually treats their customers, as can speaking to family, friends and mortgage brokers. Customer service is difficult to rate, so asking around can help you get a feel for how a lender will treat you.
Back to top
What's the difference between a bank and a not for profit credit union?
Unlike a bank, a credit union is owned by its members, meaning profits go back into its products and services. In some cases a credit union might also be limited to only offering products to workers in a specific industry. The final difference between the two is that a credit union, while still able to accept deposits in the form of savings accounts and term deposits, will not hold a banking licence. Compare credit union home loans
Back to top
Is there a catch with online or non-bank lenders?
You might see many smaller and less known lenders offering what seem to be rock bottom interest rates on their home loans. In most cases, these lenders are just trying to attract new customers, and are offering competitive rates to do so. In the case of some lenders, in order to offer low rates they may not offer branch banking, or not offer features such as an offset account. Many of these lenders are in fact backed or funded by large well known banks. These include UBank, which is the online arm of NAB, and loans.com.au, which is an online lender backed by mortgage giant Firstmac. If you're ever concerned about a lender, search them online and see what others are saying about it. Check message boards and also read through the terms and conditions for the loan to see if there are any catches.
Back to top
Am I eligible for a home loan if...
I'm self-employed? Most home loan lenders will offer loans to those who are self-employed, and these can be called low doc or alt doc home loans, which will usually require business bank statements, BAS and/or accountant's letters verifying your income.
I don't have a deposit, but have a home with equity in it? You might be able to use a line of credit loan to buy a home. A line of credit or home equity loan allows you to borrow money from a lender using the equity in your home as security.
I'm on a pension? You might be: many lenders will see a pension as they would a regular salary or wage but not all will.
I'm a casual or seasonal worker? You could be eligible, but as above, you will need to select the appropriate lender.
One of us is on maternity leave? You might be, although whether or not your lender approves your loan will depend on your income taking this into account.
If I've recently gotten a new job? Some lenders will only want to see borrowers at least out of probation, while others will want to see a borrower in the same job for at least six to 12 months.
I'm on a single income with a child? As always, lenders want to know you can afford repayments, so will approve or deny your application taking into account your income, debts and liabilities.
If have a low income? Whether your income is large enough to afford a home loan depends on the size of your deposit, the amount you're borrowing and more.
I have bad credit? Many home loan lenders today offer solutions to those with credit impairment, even if you have been rejected, have defaulted, are a discharged bankrupt or have a Part IX debt agreement on file. Also, note that most regular banks will consider some bad credit applications if you explain your situation and the steps you've taken to solve it. These loans generally have higher interest rates than regular home loans.
I have an overseas income? Some larger banks will offer loans to you if you're earning an income from overseas, but might reduce the amount of this they actually accept, e.g they might reduce your income by 15 - 20% when calculating your borrowing power. A broker can be a good person to speak to find out which banks might be able to help you.
I have a temporary visa? Those on visas such as the 457 subclass can still get a home loan, with the amount you can borrow and the requirements changing depending on the lender. Also keep in mind that you might require approval from the Foreign Investment Review Board (FIRB). As recommended above, a specialist broker can provide valuable information and guidance if you have a temporary visa and are looking for a mortgage.
In most cases, the simplest way to find out what home loans are suitable to you is to speak to a mortgage broker. They are experts who have knowledge of the different lenders and their eligibility requirements, and can save you the hassle of applying for a loan and getting knocked back. They're usually free to you, as they earn a commission from the lender when you take out the loan. You can speak to a mortgage broker by filling out this form, or you can use the home loan comparison table above to start your own search. Sometimes it's also useful to make your own home loan comparison spreadsheet by selecting a few of the loans you're interested in and comparing them side-by-side.
Back to top
Applying for home loans
What should I consider before applying for a home loan?
Is your credit file in order? A lender will look at your credit file before approving or rejecting your application. Make sure all credit cards you're no longer using are closed, and try to remove any negative marks using a credit repair agency if they're serious.
If you're applying with someone else, consider your relationship with them. Before you enter into a long term agreement like a home loan, think about how strong your relationship is with the person you're buying with. Changes to your relationship could spell a difficult time organising your home loan and the property once one borrower wishes to sell their portion of the property.
What are your plans for property over the next few years? Match your home loan to your future plans. For example, avoid taking out a fixed rate loan if you plan to sell the property shortly after buying it. Fixed rate loans can come with high break costs which could reduce any profits you make by selling your property.
Have you looked at the eligibility criteria for the loan? Each lender has an eligibility criteria for their loans. Usually this will require a borrower to be over 18 years of age and other basic requirements, but it can also require a good credit rating, or for example that the loan is not used to purchase inner city apartments. Always read these before applying.
Back to top
Can I negotiate my home loan rate?
The home loan market is highly competitive, and this means that the majority of lenders will provide discounts to advertised rates if you ask. The following helps when negotiating:
Get your credit file in order. A good credit file, in addition to your employment type and income, can demonstrate that you're a good risk for the bank to take on.
If you plan to purchase further properties or apply for more banking products in the future, let the lender know, as they might offer a better rate to secure your future business.
Let the lender know you're in no rush, have done your research, and have no qualms with walking away from the deal.
Also know that in general, the more you borrow and the larger your deposit, the better the discount.
Back to top
What fees will I have to pay on my home loan?
Home loans can come with upfront fees, ongoing fees and exit fees, which are explained more in the section below. Not every loan will charge these fees.
Upfront fees
Application fees - This fee pays for your lender to process and finalise your application. This can also be called an establishment fee.
Settlement fees - The settlement fee covers the cost of transferring funds from your lender to you when the loan settles.
Valuation fees - Your lender will have your property independently valued to make sure that the purchase price is reasonable.
Legal fees - A legal professional will need to look over your application to make sure it's compliant.
Ongoing fees
Annual fees - Package home loans offer a discounted rate and fee waivers, but usually charge an annual package fee of a few hundred dollars.
Monthly fees - Some loans can charge account keeping fees each month, which are usually below $20.
Redraw fees - Certain home loans may have a fee if you use redraw (a facility which lets you withdraw extra repayments you've made on your home loan). This might be waived if you conduct your redraws online.
Offset account fees - An offset account is linked to a home loan and helps you save money. This feature can also come with a monthly fee, although this is now less common.
Exit fees
Title discharge fees - These are charged when you decide to close your home loan, and can cost between $150 and $700. These are not to be confused with early exit fees, which are now only charged on fixed rate home loans or loans entered into before the ban in 1 July 2011.
Lenders Mortgage Insurance (LMI) - What is it and do I have to pay it?
LMI is an upfront fee charged to cover your lender in the event that you default on your home loan - it doesn't cover you. It's generally only charged for high risk borrowers - those that have a deposit less than 20%. If you defaulted on your loan your lender would sell your home and try to recoup as much money as possible, but there's a chance the sale might not pay off your outstanding loan, leaving the bank out of pocket. LMI reimburses the bank if this were to happen. The LMI provider would then seek the outstanding money from you. LMI varies depending on the value of your property, where it is, the size of your deposit in relation to the property's value, and also whether or not you're a first home buyer. Find out more about LMI with our guide.
Back to top
What paperwork do I need to give my lender when applying for a home loan?
Your lender will want to work out whether or not you can afford a home loan, so will want to see a bit of information from you. This includes:
Personal details. This includes your tax file number; the numbers of your accountant, solicitor and conveyancer; your driver's licence number, phone contact numbers, address and your full name. These details are used to identify you.
Employment details. Your lender wants to know your income is enough to cover the loan, and that it's also as much as you say it is. This means they'll want to know where you work, what you do there, how long you've been there, your employment type, and your employer's contact details. You may have to supply a letter of confirmation from your employer and your tax return or group certificate. If you work for yourself, you'll need to provide more information, such as your BAS, ABN and more.
Financial details. As mentioned above, your lender will want to know how much you earn. They'll want to see recent payslips to know how much you earn, as well as details of your expenses and debts. How many dependent children do you have? What's your credit history like? Do you have any personal loans or credit cards? Your lender will want to see bank statements, your credit file (they'll get a copy for themselves) and any relevant information from your past lenders.
Information about your property. The exact paperwork required will depend on the type of property you're buying. If you're buying a home, you'll need to give your lender a copy of the sale contract. You'll also need to tell your lender information such as: the address of the property you're buying, it's market value, the type of property, the number of rooms in the property and more. If it's an investment property, you'll need to give your lender a statement from the real estate agent which mentions the rent the property is currently earning, or has the potential to earn.
Back to top
Will my credit report impact my application?
The short answer is yes, your credit history will be important when your lender evaluates your application. Lenders want borrowers who have good track records when paying back their credit cards and past loans, as this can be a good indication that they'll pay back this new home loan. The long answer is that your credit file can be treated differently depending on the lender. Some banks will automatically decline applications with defaults, while others might give you a chance to explain why you defaulted on a loan, and the steps you took after defaulting. Other specialist lenders like Pepper, Bluestone Mortgages and Liberty consider a range of borrowers with credit impairment issues, but might raise the interest rate to accommodate the extra risk they're taking on. How important is your credit history when applying for a home loan
Back to top
Buying a property
Should I buy a property with my partner, family member or friend?
Buying a property with someone else can mean you afford a better property than what you would've previously, as there are now two deposits and incomes ready to be put towards the property rather than one. Going into a co-ownership agreement with someone else should be carefully thought about. Honestly evaluate your relationship with the person you're going to buy with and know that your goals may not align in five years time. This makes it important to have legal documents created to manage all the contingencies which could take place during the time you own the property. We've written an in-depth guide about this topic with property expert Michael Yardney and mortgage finance specialist Kim Narayan, so be sure to read this to find out more.

Back to top
What stamp duty costs will I pay?
Stamp duty is a tax charged on a range of purchases, including cars and real estate. When buying a property, you'll usually have to pay this tax as an upfront fee within 30 days of settlement. It's calculated in a number of ways depending on what state you live in. For example, in Victoria it's charged as a percentage of the dutiable value in most cases, while in New South Wales on a property over $1 million and under $3 million, you'll pay a dollar amount ($40,490 at the time of writing) plus $5.50 for every $100 of the dutiable value of the property over $1 million. The easiest way to find out how much stamp duty you would have to pay is to use a stamp duty calculator.
Back to top
Managing your home loan/paying it off early
Can I pay my loan off early?
All loans can be paid off early, although the type of loan you have might mean the difference between paying expensive exit fees or not. If you have a variable rate home loan, early exit fees aren't charged, as they were banned by the government in 2011, but with a fixed rate home loan, you'll still have to pay exit fees if you decide to leave your loan during the fixed term. The actual act of paying your loan off early is simple. Just contact or visit your lender, and tell them you want to make a lump sum payment to pay off your home loan, or alternatively just make larger regular payments until your loan is paid off early.
Easily pay your home loan off earlier with these tips
Make bi-monthly repayments. If you split your monthly repayment into two and pay this every two weeks, you'll effectively make an extra monthly repayment every year. This can have a dramatic effect on your loan, saving you thousands of dollars in interest and repayments.
Pay more when rates are low. If rates are cut, keep your repayments at the same level as before. This means you'll be making extra repayments on your home, and it won't stretch your budget as you were already making them comfortably.
Put your bonuses and other unexpected cash windfalls towards your loan. Any extra amounts put towards your loan can help you pay it off early. The earlier in your loan term you make extra repayments, the better - this is due to compound interest.
Use an offset account. As mentioned above, an offset account is a linked transaction account which you can pay your salary and other extra amounts into. Any amounts in this account will offset interest on your home loan. This means if you have a 100% offset account, and put $10,000 into it, your home loan interest charges will be calculated minus $10,000. If you have a home loan of $200,000 for example, this means your interest would be calculated on $190,000. Offset accounts can reduce the interest you pay on your loan, which can reduce the time taken to pay off your home loan.
How to pay your loan off earlier
Is it better to make extra repayments or put money into an offset account?
Putting extra money towards your home loan goes towards paying off your principal, whereas putting it into an offset account simply reduces the amount of your home loan interest is charged on. The differences between the two come into play later on once you want to withdraw your money. If you make extra repayments, you can get access to these payments again if need be through a redraw facility if your loan has one. Compare the differences between this and an offset account below.
Redraw facility
Can access money using the redraw facility debit card
Generally offered on basic and no frills loans
Can have a minimum withdrawal amount and redraw fees
Some loans might have limits on how many redraws you can do per year
Some loans can limit the amount of extra repayments you can make each year, especially fixed rates
Offset account
Can access your offset money through your linked debit card
Usually no minimum withdrawal amounts or fees
Can come with tax benefits in certain situations
Are not always offered on no frills loans
Back to top
Can I increase my home loan?
Many lenders will let you 'top up' your home loan to get extra money to pay for renovations, pay off debts or just to enjoy your lifestyle e.g going on a holiday. Some lenders will make this top up a separate loan, while others will simply just increase your existing home loan. Either way, you can access this money at the same rate as your home loan, and it's still secured by your property. The amount you can borrow will depend on what you're using the money for, how much equity you have, and more, so it's best to contact your lender directly to find out what options you have. Note that some lenders, like the Commonwealth Bank, will not allow top ups when you have a fixed rate home loan. Also know that topping up your home loan can see your repayments rise, and can also add to the time taken to pay your loan off, so speak to a broker or financial advisor if you're unsure. If you've built up a large amount of equity in your home by making extra repayments, you can get access to these with a redraw facility, which can eliminate the need to even get a top up in the first place.
Back to top
More frequently asked questions about home loans
Can I switch from a fixed rate to a variable rate or vice versa?
Most lenders will allow you to switch from a fixed rate to a variable rate or vice versa. If you're switching from a fixed rate loan, be aware that you'll usually have to pay a break cost, because you'll be leaving your fixed term before it's completed.
If I make extra repayments, can I access that money?
If your home loan has a redraw facility, this is possible. You'll simply have to contact your lender to request the redraw, or in most cases, conduct the redraw online.
Am I eligible for the first home owners grant (FHOG) and what benefits does it come with?
The FHOG is handled by your state or territory office of revenue. You can read more about if it applies to you in our guide.
How long will my home loan take to approve?
This differs depending on the lender and your application. If you can provide all the required information promptly and have a pretty clear cut situation, your bank can approve your loan between 2 - 3 business days. Some lenders like CBA even advertise that they will provide a decision in some cases in as little as 60 minutes once all the required paperwork has been submitted.
Why does my lender need a valuation of my property?
Your lender will want to get an independent valuer to find out what the value of your property is. They'll then use this valuation to work out how much they will lend to you.
Back to top
Back to top
Where to from here?
You can now compare home loans or speak to a mortgage broker by viewing our comparison table. This lists loans and their interest rates, comparison rates, maximum LVRs, application fees and upfront fees. There's also a calculator at the top of the table which you can use to find out how much your monthly repayments might be.